Getting Here & Getting Around
Getting to the Sunshine Coast is part of the adventure.
The Sunshine Coast is located on the mainland of British Columbia, Canada (just northwest of Vancouver) and stretches 180 km (110 mi) along the Salish Sea, from Howe Sound to Desolation Sound. Although it's part of BC's mainland, access to the region is by air or by water only due to the mountainous terrain. There are no bridges connecting the Sunshine Coast to the Vancouver or Vancouver Island regions.
 
Getting Here
If you're bringing a car:
To bring your vehicle to the Sunshine Coast, you must take a car ferry via BC Ferries' scheduled service for vehicles and pedestrians from either Vancouver (to Gibsons) or Vancouver Island (to Powell River). These ferries take all vehicles (including bicycles) as well as foot passengers, and pets are welcome too. Check the BC Ferries website for information on fares, schedules, and ship amenities and services.
Reservations are available, but not required, on most Sunshine Coast sailings to and from Vancouver and Vancouver Island. Part of the ship is always available on a first come first served basis. Extra sailings are added during peak periods, but reservations can be very helpful during the summer and holidays when you want to sail at a specific time and avoid waits at the terminal.
BC Ferries also provides transportation to Texada Island, Keats Island, Gambier Island and between the north and south sections of the Sunshine Coast (Earl's Cove to Saltery Bay).
You can find up to date webcam footage of the current conditions at each terminal, along with the arrival and departure times of each boat throughout the day.
If you're travelling by bus, bike, or foot:
As mentioned above, you can utilize BC Ferries' scheduled service as a walk on passenger (pedestrian) and bring a bike as well. There are also other transit options available to you, including the Sunshine Coast Connector (operating seasonally)—a convenient bus service between downtown Vancouver and the Sunshine Coast (all the way up to Powell River) via select BC Ferry sailings. Translink also provides ample service allowing travellers to easily connect from metro Vancouver via the SkyTrain & public bus connections to get to the Horseshoe Bay ferry terminal or the float plane terminals. Translink service between Vancouver and Horseshoe Bay via the 257 Horseshoe Bay Express or 250 Horseshoe Bay routes will be your go-to options—just be sure to check ahead for ferry departure times to ensure you make your connection, and take into account that buses may not always be exactly on time.
Never travelled with your bike on the ferry? Not to worry! This short video will tell you all you need to know about loading and unloading, as well as where to store your bike during the ride.
Cyclists can buy their tickets at the foot passenger ticket office in Horseshoe Bay—be sure to let them know you are a cyclist. The bike will add an extra $2 to your foot passenger cost. You should then be given directions to the security gate across the street from the ticket office. Walk your bike to the gate and follow signs to the berth. There is a small waiting area for cyclists.
Bikes are loaded before the vehicles. Watch for directions from staff. You will be asked to walk your bike across the loading ramp, and can mount the bike in a rack once you're on the main ferry deck.
If you're travelling by air:
If you don't plan to bring a car, skip the boat altogether with a short flight. You can fly direct from Vancouver International Airport (YVR) to Powell River via Pacific Coastal Airlines or to Sechelt via Harbour Air or Fly! Coastal. You can also fly straight from downtown Vancouver to Sechelt or Powell River with Harbour Air. And over on Vancouver Island, both Sunshine Coast Air and Harbour Air operate regular flights from Victoria and Nanaimo to Sechelt. Not only is flying quick and convenient, but it's a beautiful way to experience more the Sunshine Coast's landscape.
Getting Around
Highway 101, also known as the Sunshine Coast Highway, is the main highway to all communities in the region.
If you have your own vehicle, travelling within the region is as simple as putting wheels to the pavement. Our highway is suitable for all vehicle types, from motorcycles to large commercial trucks.  Current conditions can be viewed on DriveBC, which includes highway webcams, construction and incident notices.
Ferry crossing times:
| | |
| --- | --- |
| Horseshoe Bay (West Vancouver) to Langdale (Gibsons) | 40 minutes |
| Earls Cove to Saltery Bay | 50 minutes |
| Westview (Powell River) to Blubber Bay (Texada Island) | 35 minutes |
| Westview (Powell River) to Little River (Comox) | 85 minutes |
Driving times:
| | |
| --- | --- |
| Langdale to Gibsons | 10 minutes |
| Gibsons to Roberts Creek | 14 minutes |
| Roberts Creek to Sechelt | 12 minutes |
| Sechelt to Halfmoon Bay | 13 minutes |
| Halfmoon Bay to Madeira Park | 15 minutes |
| Madeira Park to Earls Cove | 20 minutes |
| Madeira Park to Egmont | 27 minutes |
| Langdale to Earls Cove | 84 minutes |
| Saltery Bay to Powell River | 30 minutes |
| Powell River to Lund | 30 minutes |
*A water taxi or small passengers-only ferry is required to get to most islands on the Sunshine Coast. 
Public Transit, Rides & Car Sharing
Buses
BC Transit offers regular bus transit service between the BC Ferries terminal in Langdale and Halfmoon Bay, including many stops in between in Gibsons, Roberts Creek, & Sechelt.  BC Transit also provides service on the North Coast, with service throughout the town of Powell River, and limited service to Lund, Stillwater, and occasionally Saltery Bay.  Be sure to check schedules when planning your trip. Buses are wheelchair accessible and are equipped with bike racks. You can find a bus route map below. A DayPASS for the bus can be purchased on the ferry at the gift shop, as well as a number of other locations.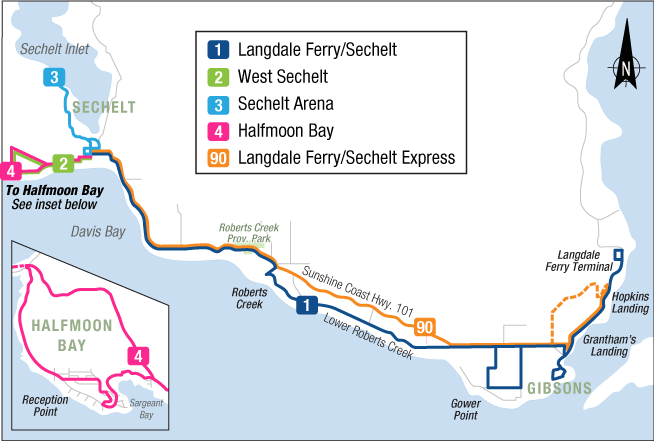 *Please note that if you are planning a trip to the Coast without a car and are hoping to explore to the North Coast, there is no public transit past Halfmoon Bay. If you are without a car the Sunshine Coast Connector can help you on your way to the North Coast. There is public transit once you arrive in Powell River as well as the new Zunga Bus. A new pilot on-demand transit service operated by the City of Powell River. It's open to anyone and offers fast, fun, easy travel.
Another option for those travelling by bus is to take the Sunshine Coast Connector, which operates a convenient bus service between downtown Vancouver and the Sunshine Coast through to Powell River via select ferry sailings.
Ride hailing
Sunshine Coast's first ride-hailing + delivery service, Coastal Rides provides a safe and affordable transportation option on the Sunshine Coast from Port Melon, Langdale and Gibsons on the south coast to Powell River and Lund on the North coast, and all points in between.
Shuttles
Sunshine Coast Shuttles is based in Powell River. They can shuttle guests to just about any location on the North Sunshine Coast that is reasonably accessible by 4×4 vehicles.
The Harbour Air – Sechelt Sunshine Shuttle is available for private charters in Sechelt and throughout the South Sunshine Coast. The Sunshine Shuttle is ideal for transporting groups in one vehicle safely, making your travel arrangements easier, more efficient and affordable. Please phone 1-800-665-0212 for details and to book.
Car share
Interested in car sharing? The Coast Car Co-Op car sharing service on the South Coast has membership options for regular visitors.  Save the ferry fees and pick up a car when you're here, just when you need it. Ride sharing is also available via Share-There, especially for events and festivals on the Sunshine Coast.
If you're looking for a more unique way of exploring the Sunshine Coast, rent a scooter or e-bike from Scotty's Rentals in Gibsons and enjoy an unencumbered view as your explore coastal communities.
Bikes
If you plan to explore the Sunshine Coast on two wheels, there are a few tips and tricks to keep in mind to ensure your trip is as safe and enjoyable as possible! If you are disembarking with your bike from the ferry, you will be riding on the road alongside the cars. It is often a good idea to pull to the side and wait until the bulk of the vehicles have offloaded, especially if you are not comfortable riding in close quarters with cars and trucks. This is true regardless of the ferry you are on.
Once you have firmly arrived on land, there are many opportunities to explore. Check out our cycling page for more info on routes and bike shops. You can also rent scooters/e-bikes directly in Gibsons from Scotty's Scooters, adding some extra excitement to your travels. Some of the roads can be quite narrow, so please make sure to wear your helmet and familiarize yourself with some safe cycling tips from Bike Sense.
Boats
There are a number of locations on the Sunshine Coast that are accessible by boat only. 
Transportation to Gambier and Keats Islands is provided by BC Ferries from the Langdale Ferry Terminal. to Gambier and Keats Islands by boat. If you're heading to Thormanby Island, both Buccaneer Marina  and Thormanby Transportation provide water taxi service. When travelling in the North Sunshine Coast to Savary Island, Cortes Island, Sarah Point (start of the Sunshine Coast Trail) and Desolation Sound you can catch a ride with Savary Island Ferry or Lund Water Taxi.
Ground transportation to and from all water taxi services is available via Coastal Rides on both the North and South Sunshine Coast. Easily book your transfer to any of these operators from anywhere on the Sunshine Coast including: Sechelt Airport; Harbour Air & Sunshine Coast Air Terminal in Sechelt; Powell River Airport; any BC Ferries Terminal or your local accommodation.