While the Sunshine Coast boasts 180km of Salish Sea coastline, sometimes you just need a lazy lake day. So if you are trying to cut back on your sodium intake, we've got your freshwater guide all ready to go!
Trout Lake: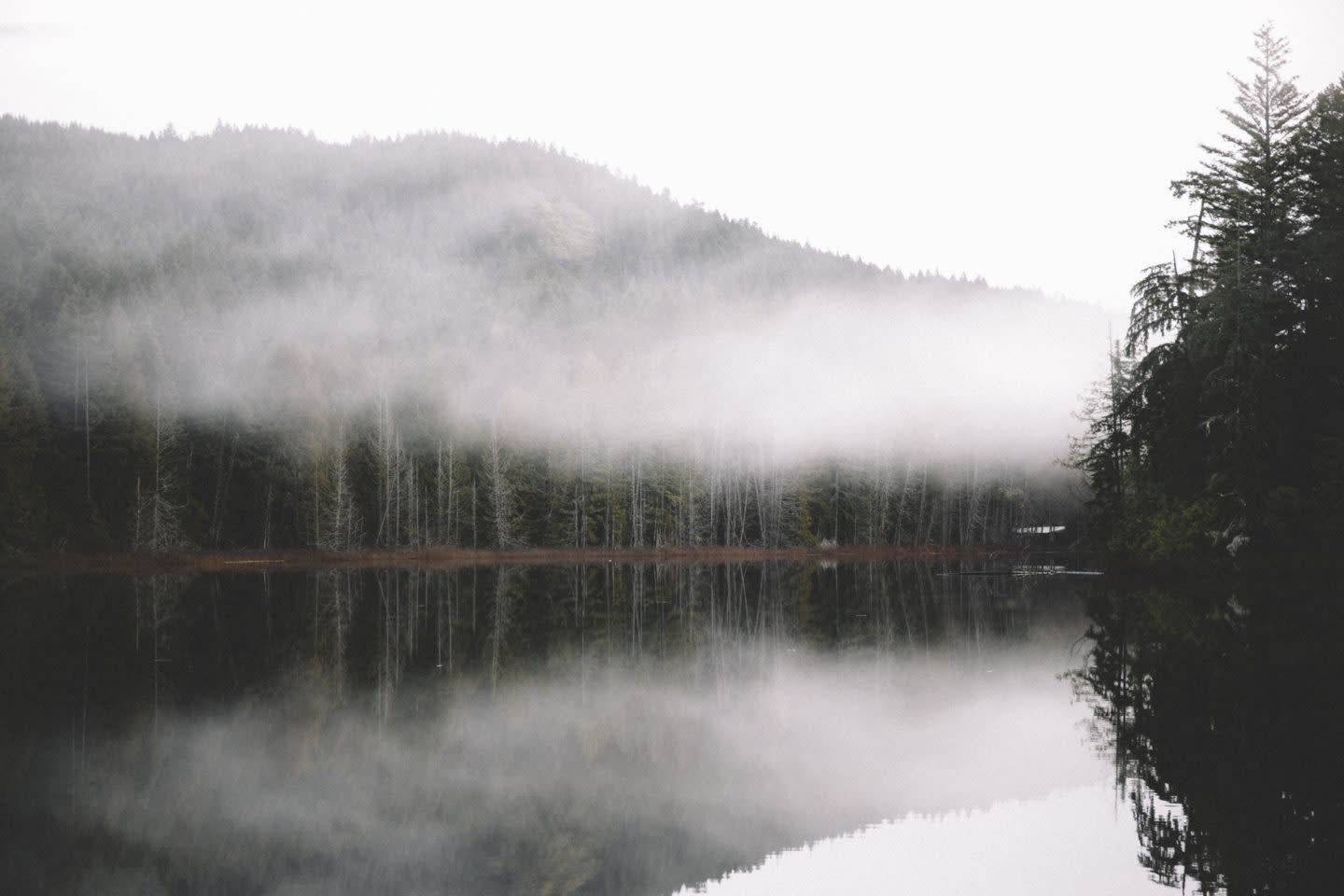 If you are travelling north along the Sunshine Coast - as in coming from the Gibsons/Langdale direction - the very first lake you will hit is Trout Lake. Bordering the highway in the Halfmoon Bay/Secret Cove area, Trout Lake is a favourite pit stop for travellers and locals alike. With plenty of parking along the way there is room for everyone! Bring your kids, your pooch, your floaties, your kayaks, your fishing poles (see where I'm going with this) and enjoy the calm warm water. While there is no direct boat launch, there are a few clearings to launch small crafts such as dinghys or kayaks. The lake is not very big, so please be respectful and refrain from using motorized boats when others are enjoying the water.
Nearby amenities - Trout Lake is approximately a 15-20 minute drive from Sechelt, and another approximately 20 minute drive from Madeira Park (these are the largest supply - ie. food, fuel, floaties - restocking locations). The nearby community of Halfmoon Bay is home to two general stores, as well as a cafe that can be accessed by either road or water, and a government wharf just steps away.
Garden Bay Lake:
Tucked away in the jewel of Pender Harbour and bordered by forest and mountain, you will find Garden Bay Lake. This expansive lake always has room for everyone, and multiple parking/picnic spot options. There is a main T-shaped dock next to a small sandy beach that is perfect for dogs and children, as well as a floating dock prior to that as you are driving along the road. Drive carefully though, as the road is quite twisty and contains multiple blind corners. Kayaks and SUPs, as well as small crafts (dinghys) are easily launched from most of the stopping locations along the lake.
Nearby amenities: The lake is a short jaunt down the road from the only gas station between Sechelt and the ferry terminal in Earl's Cove, so if you are in need of a refuel this would be the place! Madeira Park is approximately a 15-20 drive southbound down the Sunshine Coast Hwy, and Egmont is a northbound approx. 30 minute drive, as is the Earl's Cove ferry heading to Powell River. If you are feeling ambitious and want to combine your lake day with a hike, Skookumchuck Narrows Provincial Park is just before you hit Egmont. Accommodations and other activities can be found in either Egmont or Pender Harbour. 
Katherine Lake
With one of the largest sandy beaches on the Coast, Katherine Lake is a family favourite. The lake itself is not overly large (please do not use any motorized crafts here) and the beach extends into the water with a gentle slope, so it is perfect for children as there is significant shallow space for safe splishing and splashing. More confident swimmers can venture offshore to one of two floating docks.
Nearby amenities: An adjoining campground and washroom/shower facilities makes Katherine Lake a perfect play-and-stay location. There are 26-RV sites and 10 campsites, as well as a small playground and picnic facilities. Additional nearby amenities are the same as for Garden Bay Lake.
Ruby Lake:
Just about as far from a misnomer as you could find, Ruby Lake is an absolute Sunshine Coast gem. This massive lake has room for all, and the possibilities are endless. A proper boat launch sets you up for water-skiing, tubing, or simply cruising in your motorized craft - please be mindful of other lake users and adhere to posted speed limits. Kayak and SUP rentals are also available, or bring your own and take off from either the boat launch or nearby Dan Bosch Park. Ample parking can be found at Dan Bosch Park, and quick walk down a wide dirt path finds you at a nice sandy beach and swimming area - perfect for kids and suntanning adults. With endless shoreline to explore and some of the warmest water around, you may want to bring extra sunscreen and plan to stay a while. *Please note that dogs are not allowed on the beach*
Nearby amenities: The boat launch for the lake is along Ramp Road, just a short two minute drive from Ruby Lake Resort.  Additional accommodation can be found in the community of Egmont, just a short 10-15 minute northbound drive away. The Earl's Cove ferry terminal with service to Powell River is approximately a five minute drive northbound. In the southward direction, Madeira Park offers grocery shopping and a showcase of local artisans.
Klein Lake:
One of the better kept secrets of the Coast, Klein Lake lays hidden away in the forest on the northern end of the Sunshine Coast, and can be reached by taking North Lake Road, accessed from Egmont Road just south of the Earls Cove Ferry terminal. A very popular camping spot with a seasonal caretaker, there are 25 tenting sites, a few small RV site (note there are no RV hookups or sanitation flush facilities), public washrooms, and a lovely day use picnic area. There is one campsite and washroom facility that is wheelchair accessible. Camping season runs from April 15 through September 30, at a cost of $12 per night per party (cash only) *Reservations are not available at this lake, as the site runs on a first come first serve basis.
Nearby amenities: The communities of Egmont (an approximate 10-15 minute drive) and Pender Harbour (an approximate 30 minute drive) offer additional accommodation and exploration options. *Please drive very carefully, as there are blind corners along this route
Sakinaw Lake: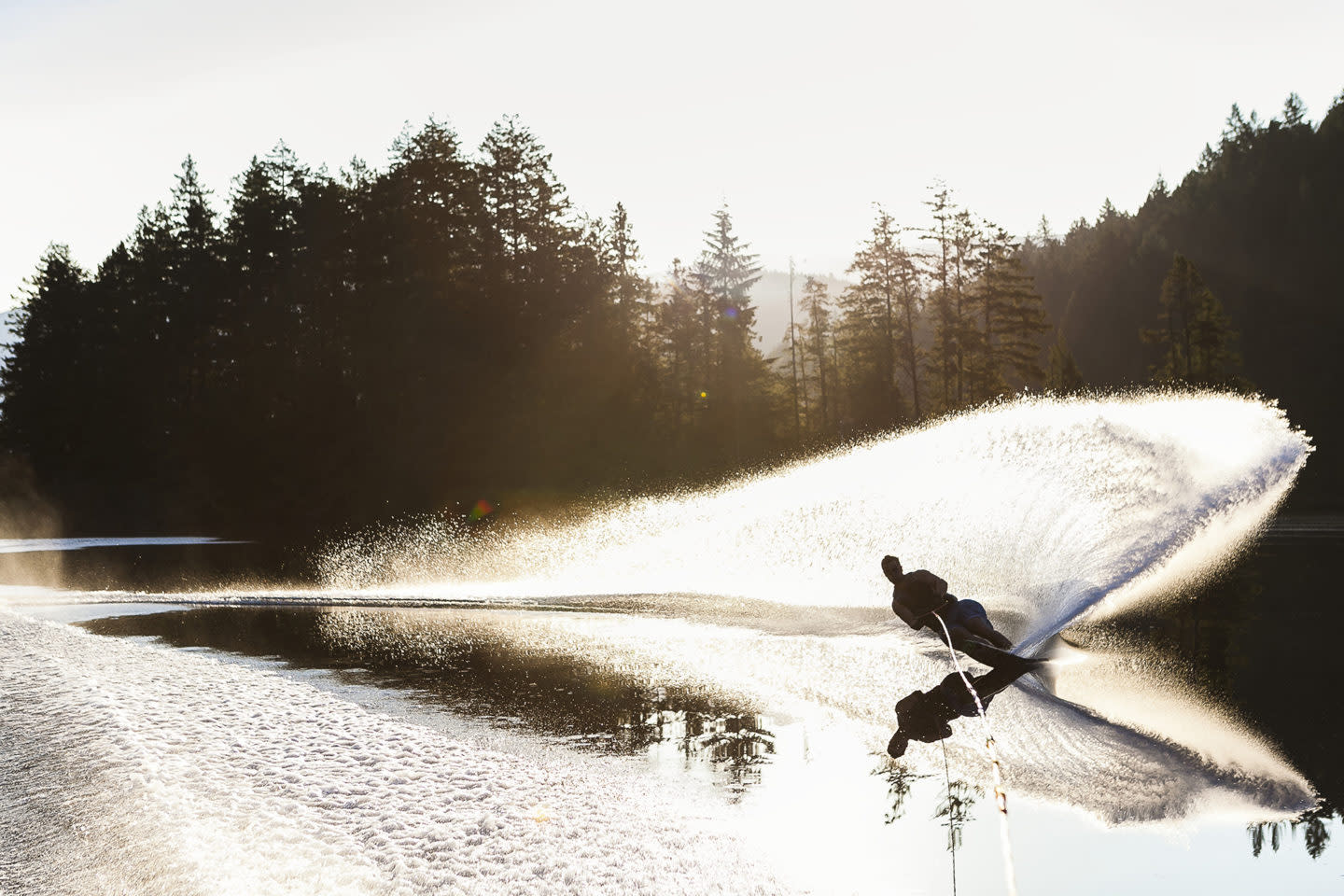 An extremely popular vacation cabin lake, Sakinaw is one of the largest lakes on the Sunshine Coast. It is also equipped with a full-scale boat launch and parking for cars with trailers. You can often find an excellent display of water skiing talent cruising the lake. The boat launch is located at the end of Sakinaw Lake Road. This is truly a boater's paradise lake. Bring your kayak, canoe, or SUP and explore the endless shoreline. You may even spot some petroglyphs on an ancient rock face, or discover a new jumping rock (please jump carefully!). What makes this lake truly unique is its (literal) connection to the ocean. The lake narrows at one end, connecting it the outside Salish Sea.
Nearby amenities: A southbound drive of approximately 15-20 minutes will find you in Madeira Park where you can stock up on groceries. There are also multiple accommodation options in Pender Harbour if you are in search of a place to rest your head. The community of Egmont (approx. 30-40 minute northbound drive) offers a handful of other beautiful accommodations  
Hotel Lake:
Another gem in the Pender Harbour area, Hotel Lake is quite private and secluded. There are a few access points along the lake, though there is no official parking area. A few nice docks make for excellent picnic areas, and a rope swing offers plenty of opportunity for the more daredevil souls (please swing carefully, as it is quite a large rope swing!).
Nearby amenities: See list of amenities for Garden Bay Lake.
Mixal Lake:
The mostly undeveloped Mixal Lake makes for the perfect peaceful getaway. Motorboats are not permitted on the lake, so more often than not you will find a calm surface perfect for relaxing and reading. This is also a popular fishing lake, so grab your flies!
Nearby amenities: See list of amenities for Garden Bay Lake
Powell Lake:
Almost an inlet unto itself, Powell Lake is the largest in the Sunshine Coast collection and offers endless vacation possibilities! A full scale boat launch and marina make bringing your motor craft very easy, and allows you access the full extent of this massive lake. Goat island - situated smack dab in the middle - is a great place to stop for a snack or stretch your legs. It also makes for an even more interesting paddle if your chosen mode of transportation is self-powered. You will also spot a few floating cabins dotting the shoreline, many of which are available for rental (we highly recommend!).
Nearby amenities: The Shinglemill Pub and Bistro is your closest stop, offering lakeside dining a gorgeous view to match. They also include the marina. The main centre of Powell River - where you can find additional dining options, gas, groceries, and multiple shops - is approximately a 15-20 minute drive from the marina in the southbound direction. In the northbound direction, Mile 0 of Highway 101, along with renowned Nancy's Bakery and a stunning harbour that is the gateway to Desolation Sound, Lund can be reached by another 20-30 minute drive. *Situated on the North Coast, you must take a ferry from either Earl's Cove to Saltery Bay, or from Vancouver Island via Little River to Westview*
Inland Lake: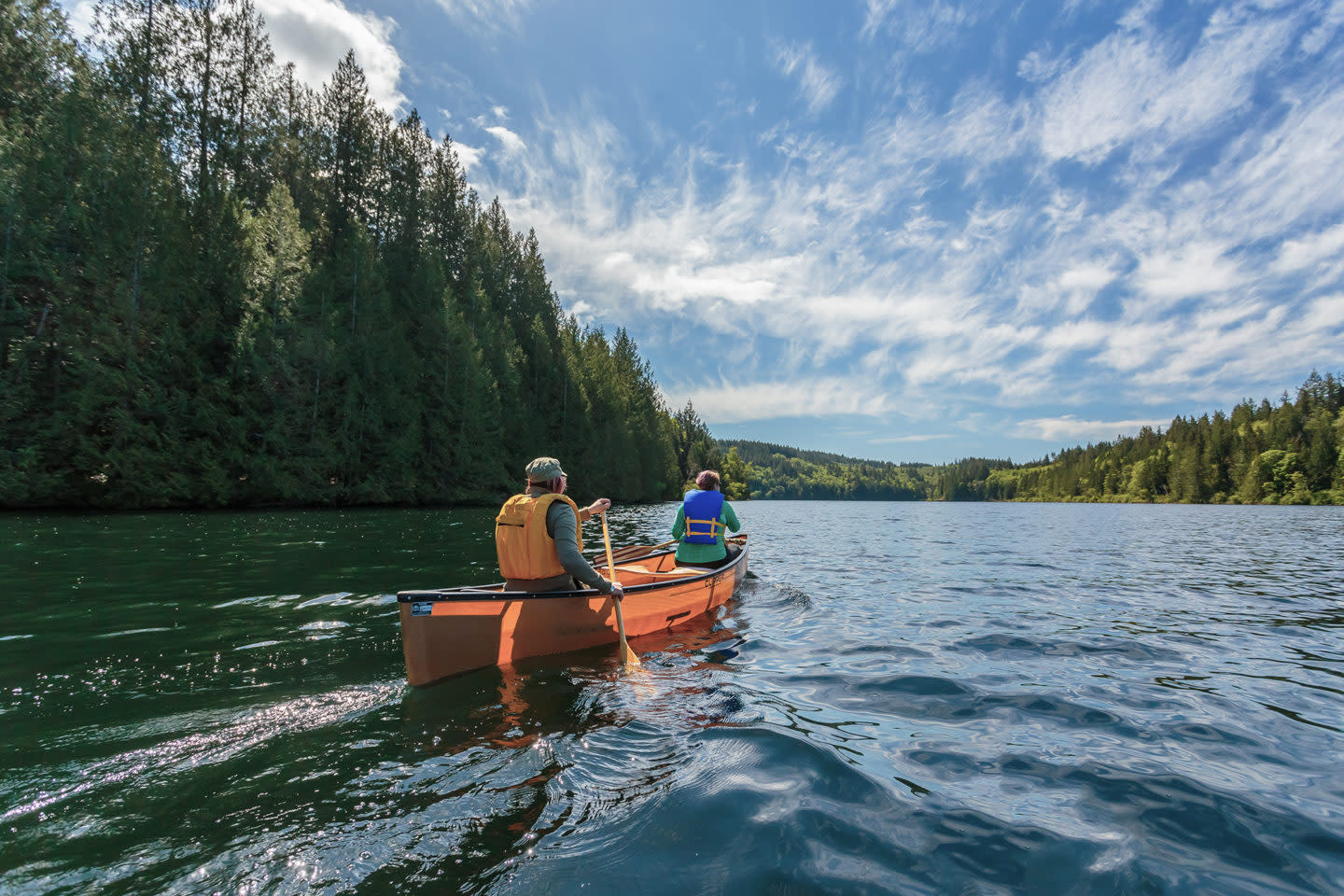 Inland Lake stands apart from almost all other Sunshine Coast lakes because it is fully accessible. A 13km wheelchair accessible trail encircles the lake with washrooms and 5 shelter locations, so any and all can enjoy! There are also 22 drive-in and walk-in campsites, as well as options for swimming, cycling, paddling, and boating. You can also check out the BC Parks website for additional info.
Nearby amenities: Located adjacent to Powell Lake, the nearby amenities are much the same. The main difference is that the driving times are altered - the town centre of Powell River is now approximately a 30 minute drive, and Lund is now about a 50 minute drive.
---
Explore more: