When people ask me why I like to write, I always answer "Because when I write I say what I really mean".
Often I find conversation and dialogue between people today is shorthand and rushed, like they are trying to express the full meaning of their story within only a few sentences for fear of boring the other party. Sometimes setting makes all the difference. There are a few places within the world that time has not appeared to touch. Not as though time has forgotten about them, but just simply that it leaves them be out of respect. I found Powell River to be such a place.
Travel writing is admittedly a challenge for me. Experiences are so personal, and often attempting to write them in a way that is relatable proves very challenging. For this particular piece I would like you to imagine we are sitting on the beach around a fire, drinking 32 Lakes coffee from locally made pottery mugs (as I am currently doing), and that you can see the expressions on my face and hear the animation of my voice as I tell the tale of my Powell River stay-cation. This introduction may seem profoundly sentimental, but the Sunshine Coast has that affect. Living on true Coast time for even a few days has a way of guiding you back to your core values, and easing your mind. On top of that, the people of PowTown are as eclectic as the multitude of cuisines and activities the community has to offer, and given the option I'd catch the next ferry back over.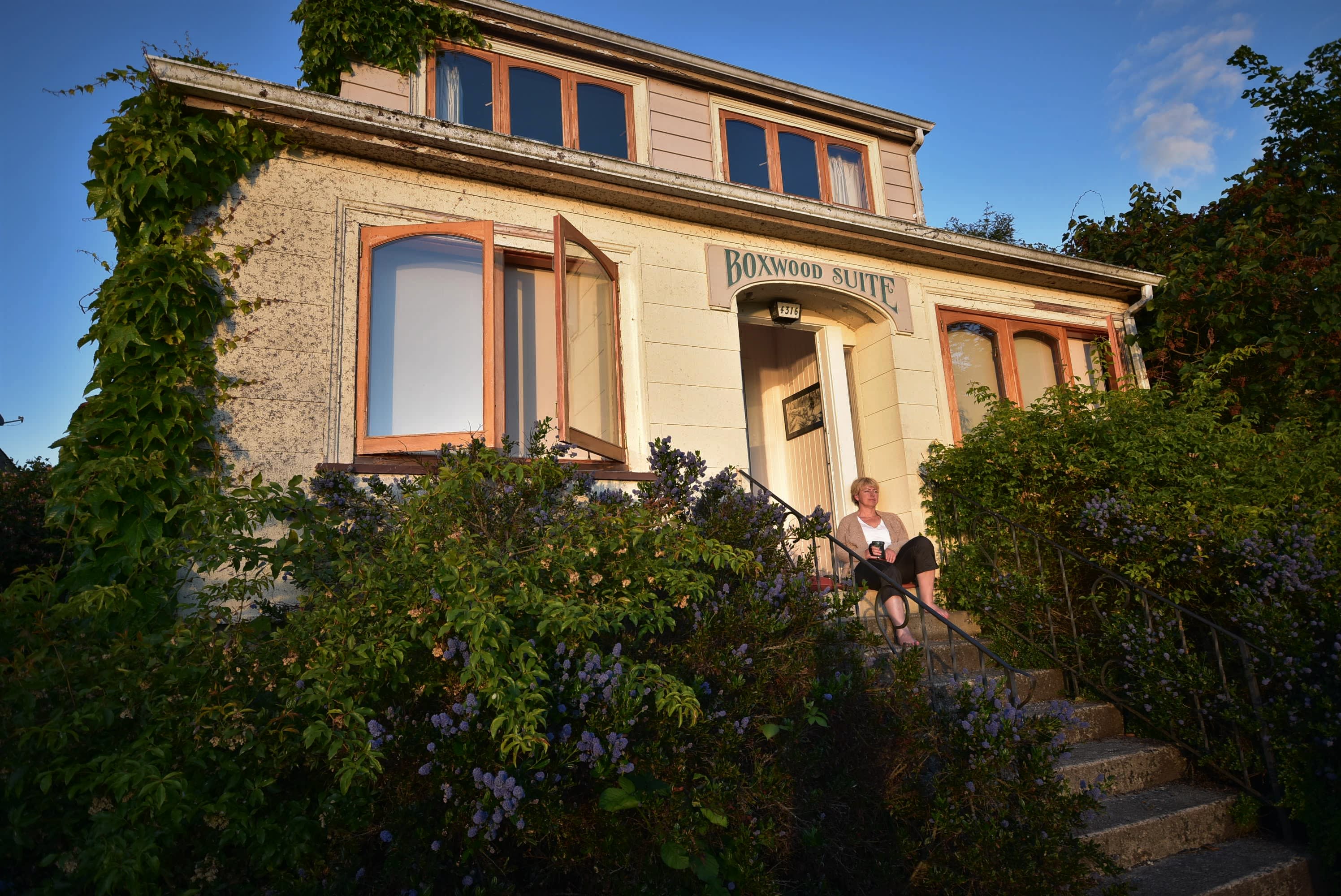 Knowing my time was limited, and having an idea of what I really wanted to see and do whilst there I loaded my mom (special thanks to her, for putting up with a grown daughter who just wants to play all the time) and our luggage into the car and set off, keeping in mind I would probably not have time to get to everything on my list. Our accommodation for the trip was the stunning Boxwood Cottage, located just a short five minute walk from the main street. It was perfect. A view of the ocean and sunsets, a garden to rival the Queen's palace, and nothing more or less than one needs, I cannot think of a better place to use as homebase during our stay. Owner/operator Diana is as warm and welcoming as her horticulture skills are impressive – impressive being an extremely modest term. We chose to stay in the cottage, but there are several other smaller accommodations on the property including a meditation hut tucked away beyond a stream at the back of the garden.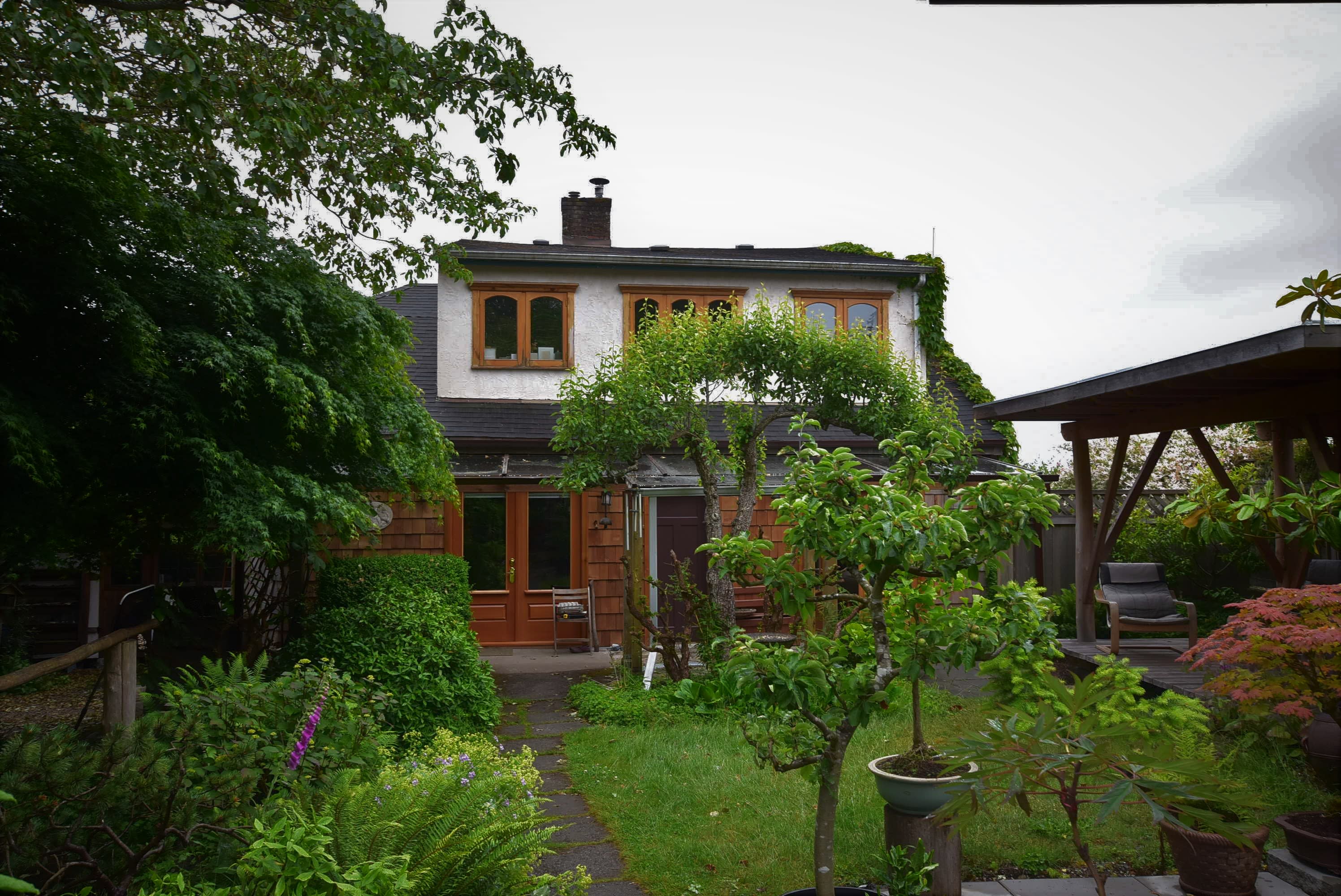 On Friday we were met with a break in the weather, and being a lifelong water baby I of course jumped at the opportunity to grab some kayaks and explore Okeover Arm (just north of Powell River). Before heading out we stopped at Fruits and Roots Juice Bar to pick up a few vegan treats. As someone with quite a few dietary restrictions, travelling to new places I am always nervous there will not be accommodating options. Not so in Powell River. Every coffee shop and restaurant we found had an option. Side note: the beer at Townsite Brewing is vegan too…just sayin.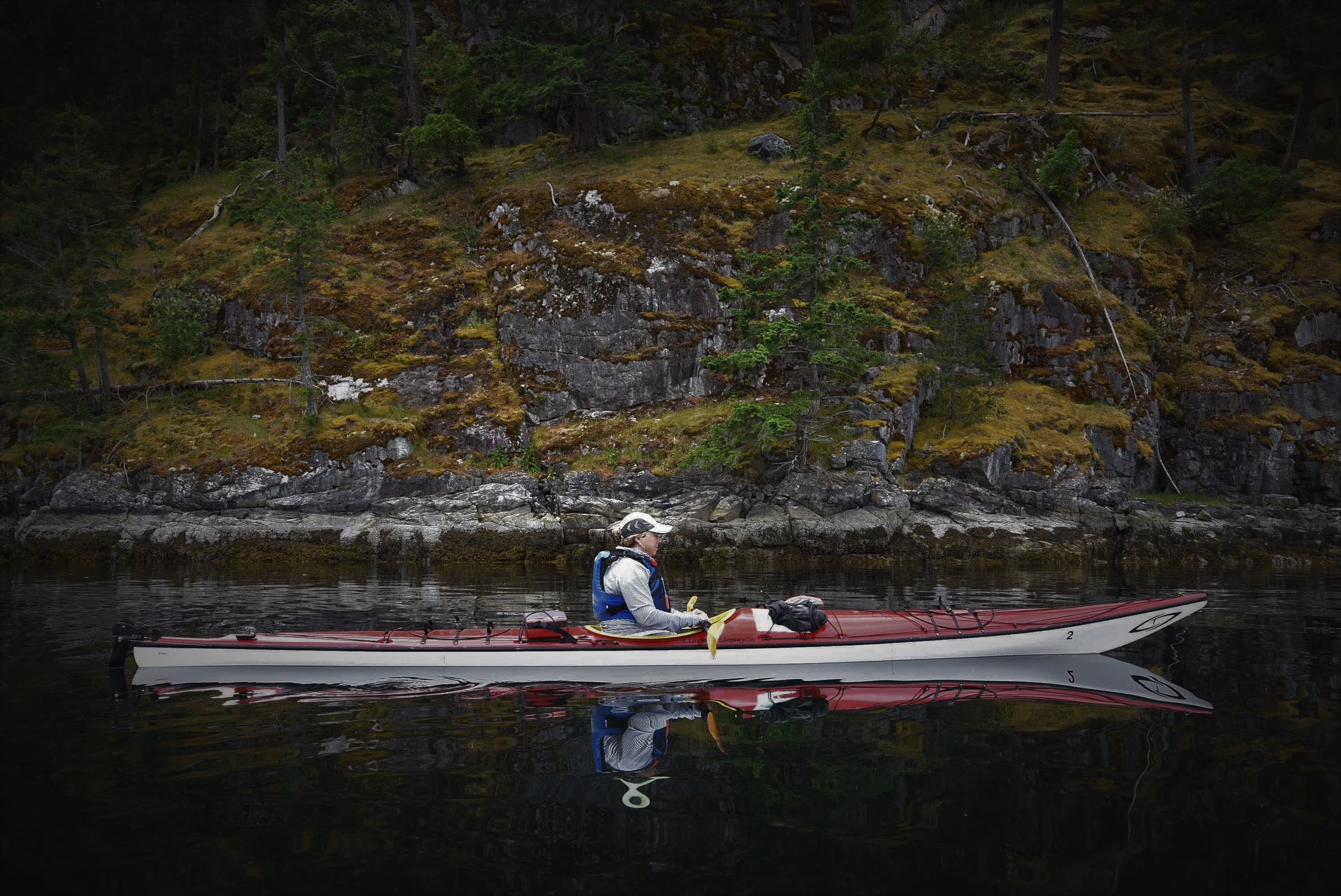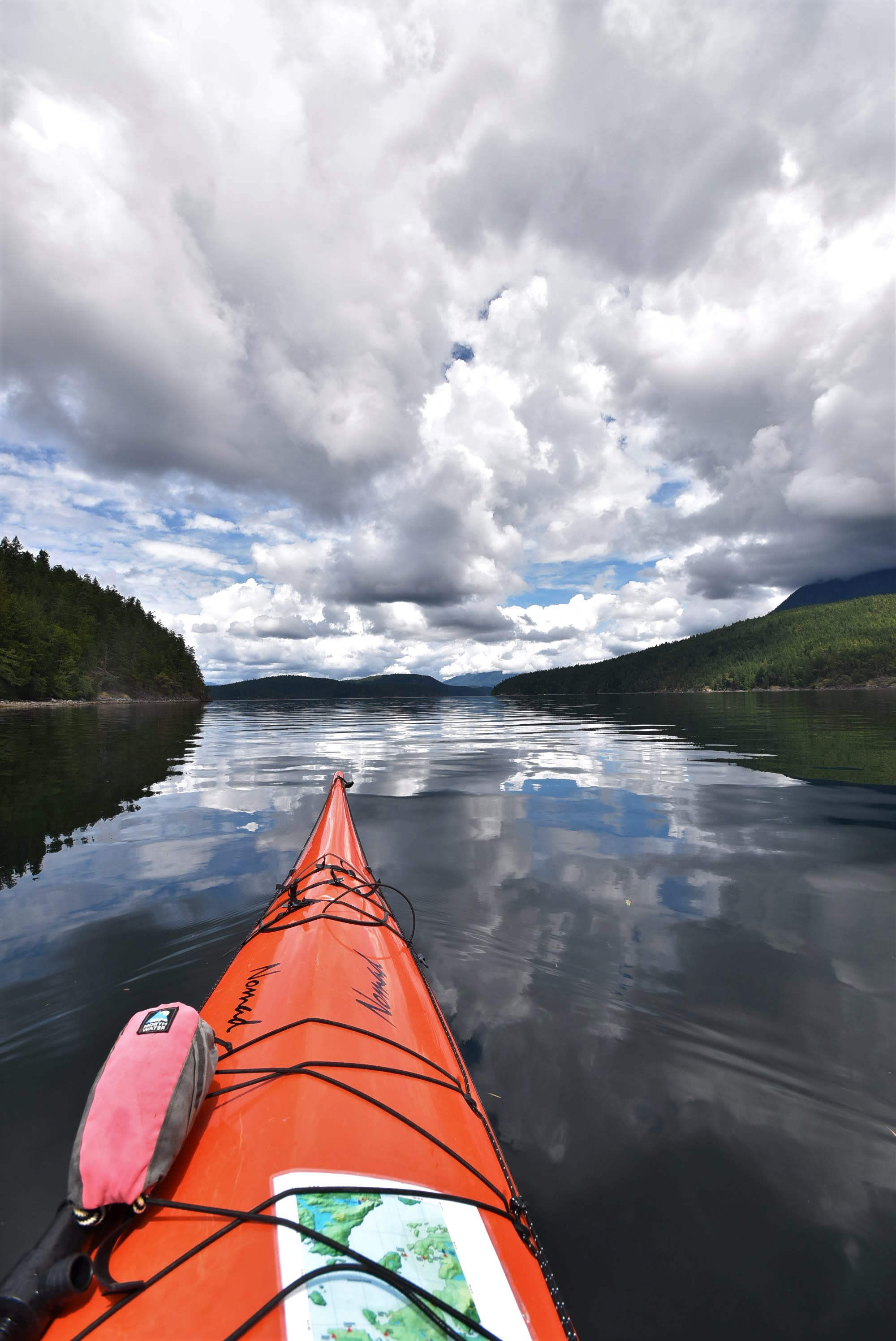 There aren't many travel destinations in the world where you can have the environment completely to yourself, but on the Sunshine Coast there are plenty of locations where this is the case. For us, Okeover Arm was our own private oasis. Calm water made it difficult at times to discern whether we were paddling or flying, as the sky's reflection was so clear on the surface. We were only out for two hours, but the exploration possibilities are endless amongst the waterways surrounding the Northern Sunshine Coast. A special thanks to Powell River Sea Kayak for the rentals, and for not laughing at me when I took a dip.
Apres paddle we went to check out the Laughing Oyster Restaurant. The view from the patio would have been more than enough to keep me, but I would venture to say the food surpassed the scenery.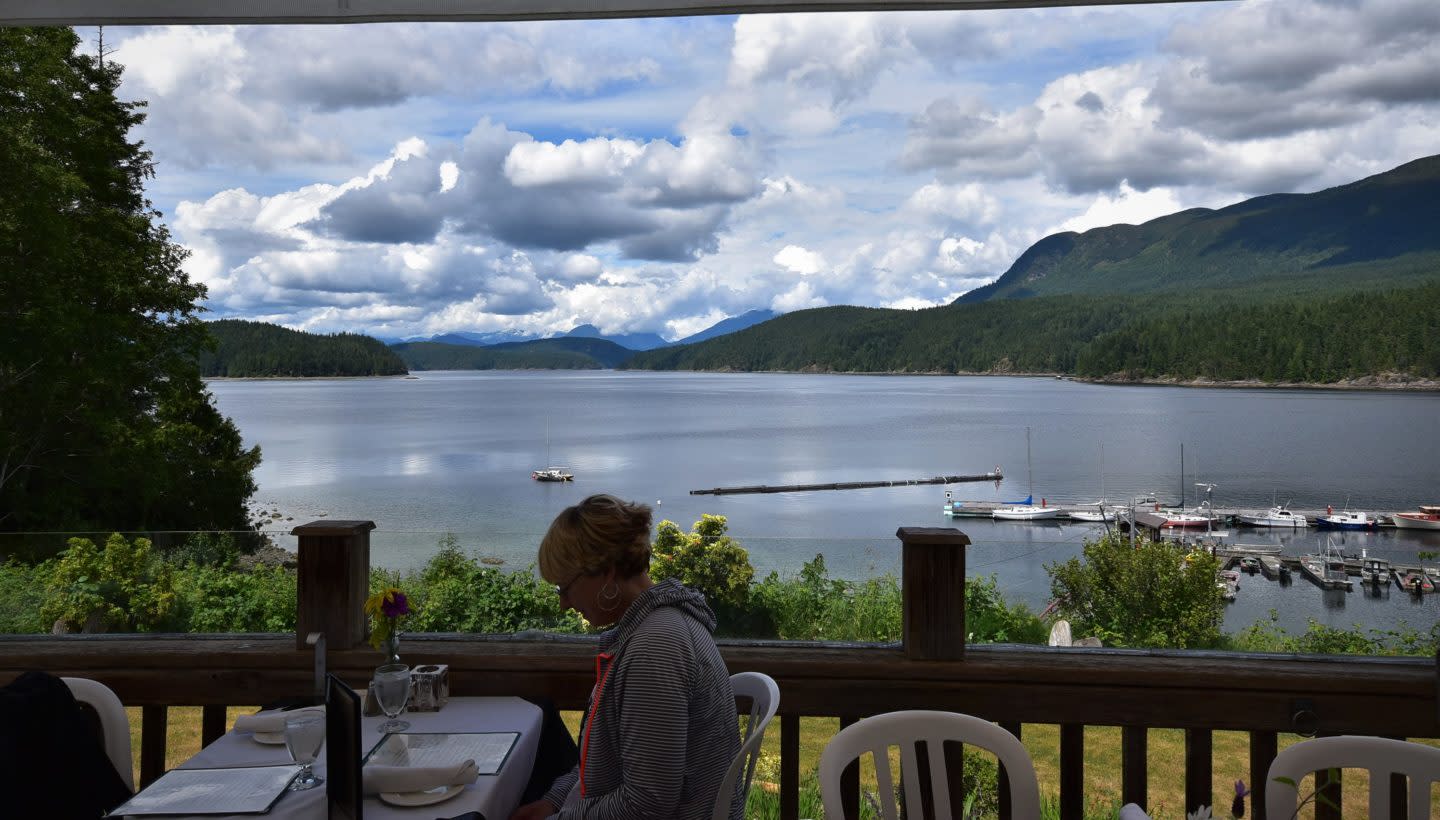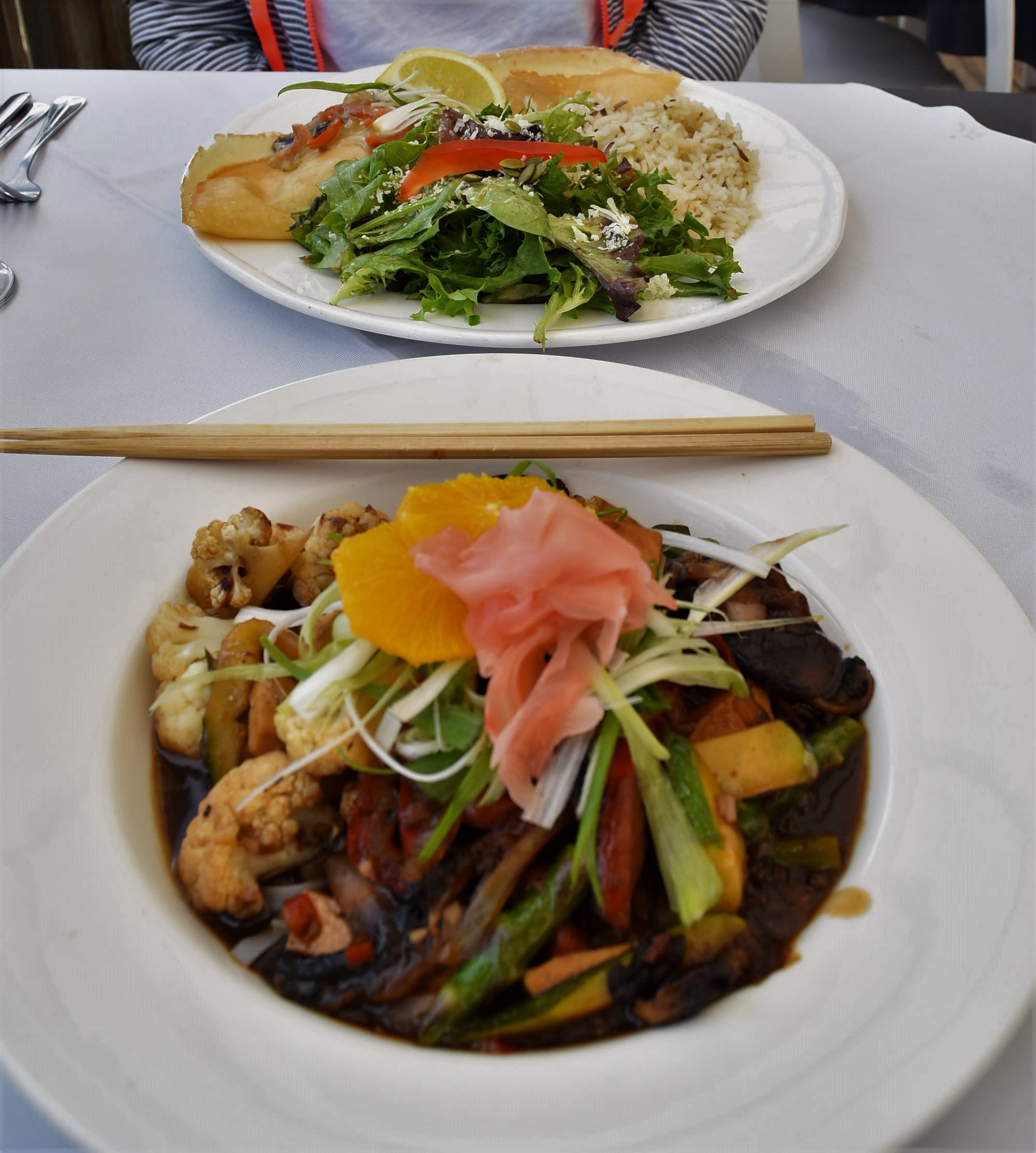 My mom had the wild salmon and spinach crepe, while I munched on the vegan stirfry. In my family the telltale sign of a great meal is complete silence, and I'm fairly certain we both ignored eachother for the duration of consuming the entrees. The waitstaff was kind and attentive, and Dave – the owner/chef/musician extraordinaire – was lovely enough to take the time to welcome us as well. They truly encapsulated the open and inviting spirit the members of the community showcase so brilliantly.
A quick jaunt up to Lund saw us leaving with arms full of treats, including chocolate almond and butter pecan tarts from Nancy's Bakery (not vegan, but it's chocolate so who cares) and two gorgeous Powell River-made pottery mugs.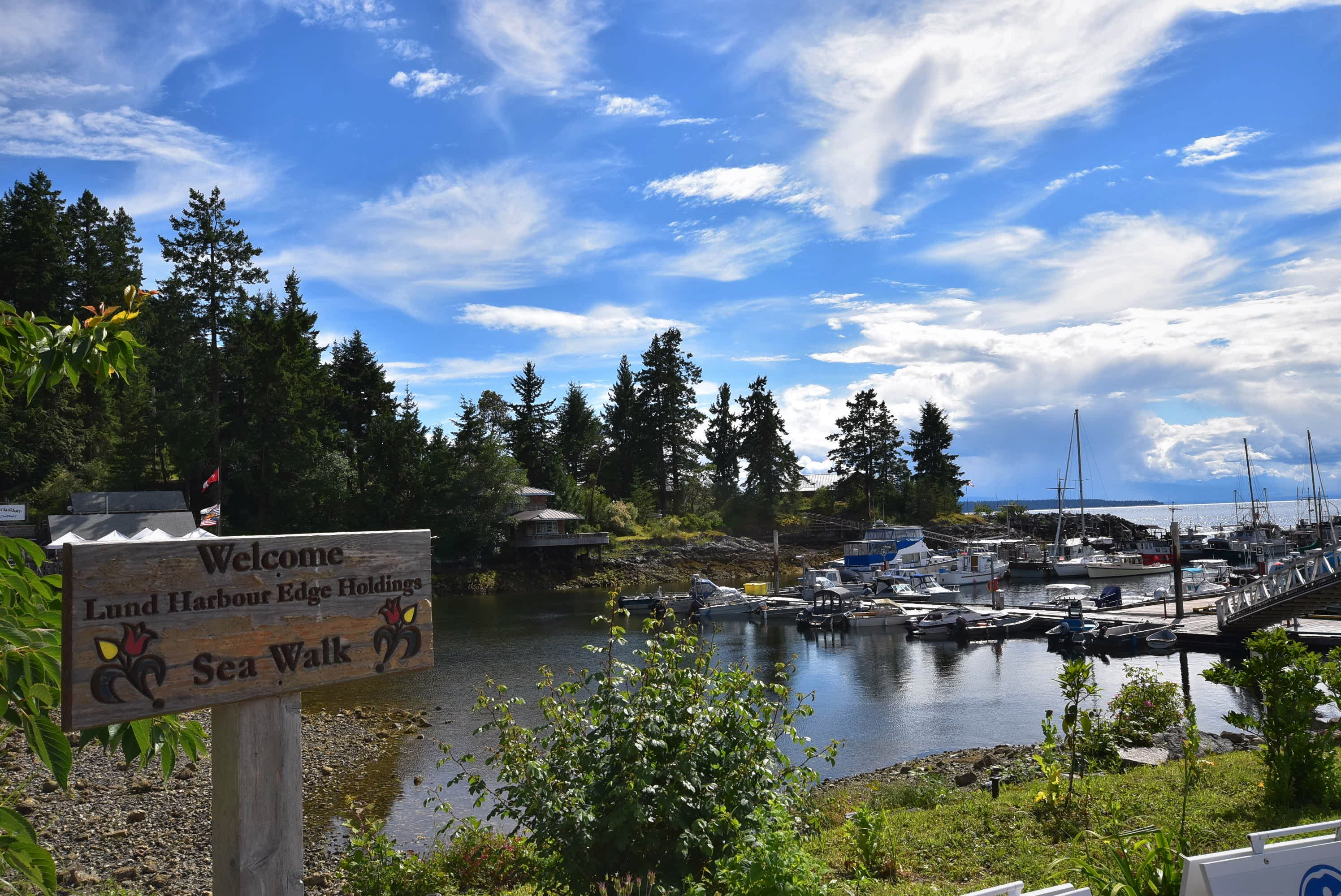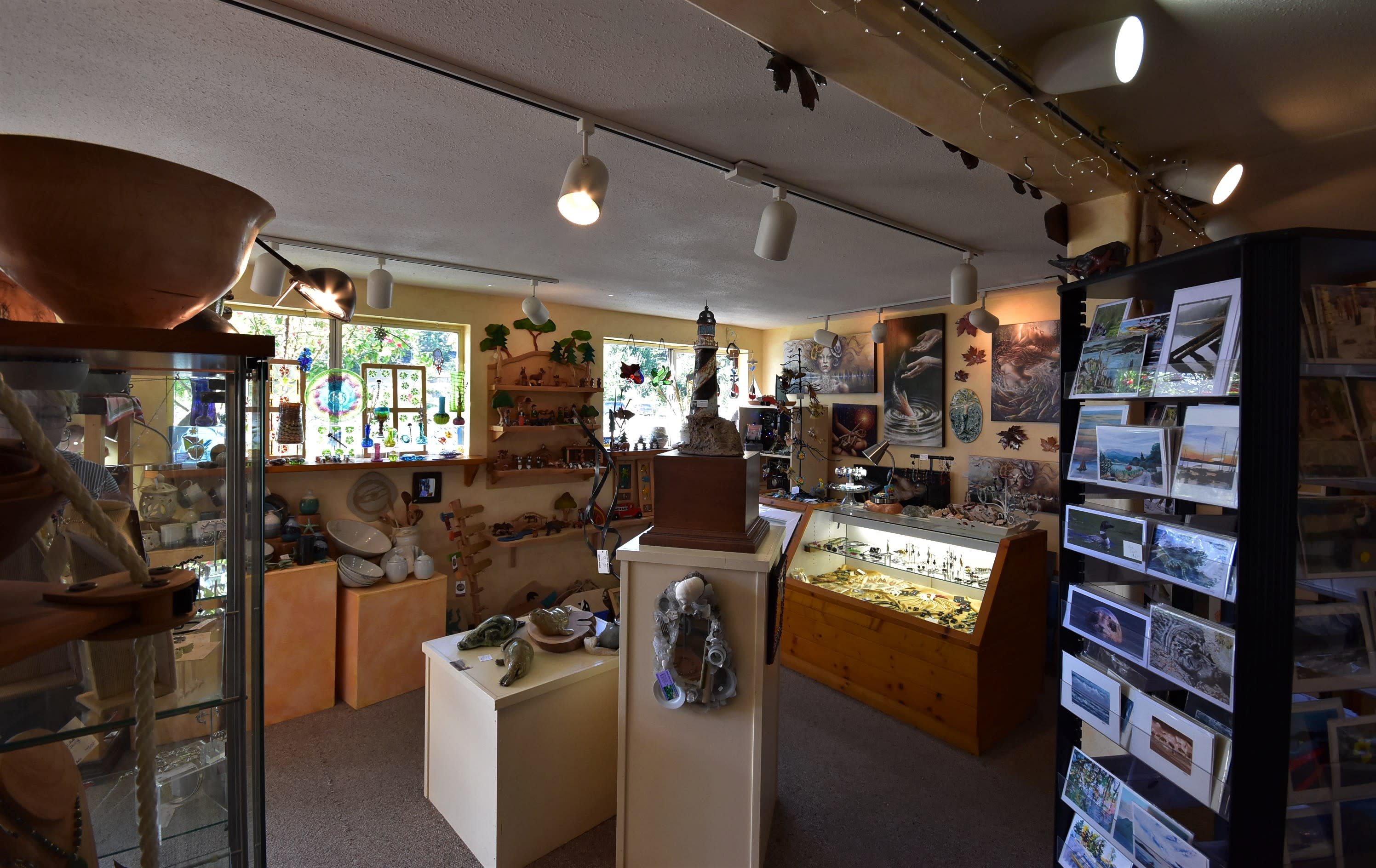 Saturday turned into a lazier day than the previous. We spent the morning sipping coffee (from our new mugs!) and reading our long-neglected books on the doorstep of our cottage, letting the seabreeze and fresh morning air clear the sleep from our heads. Leaving the car to rest for the day we strolled down the main street, popping our heads into most shops and just generally enjoying the feeling of being in the Powell River atmosphere. It feels like a place where you are allowed to be wild. By that I don't mean loud and haywire, but wild in the sense that you can thrive on instinct and feeling. Let go of where you are from and exist where you are.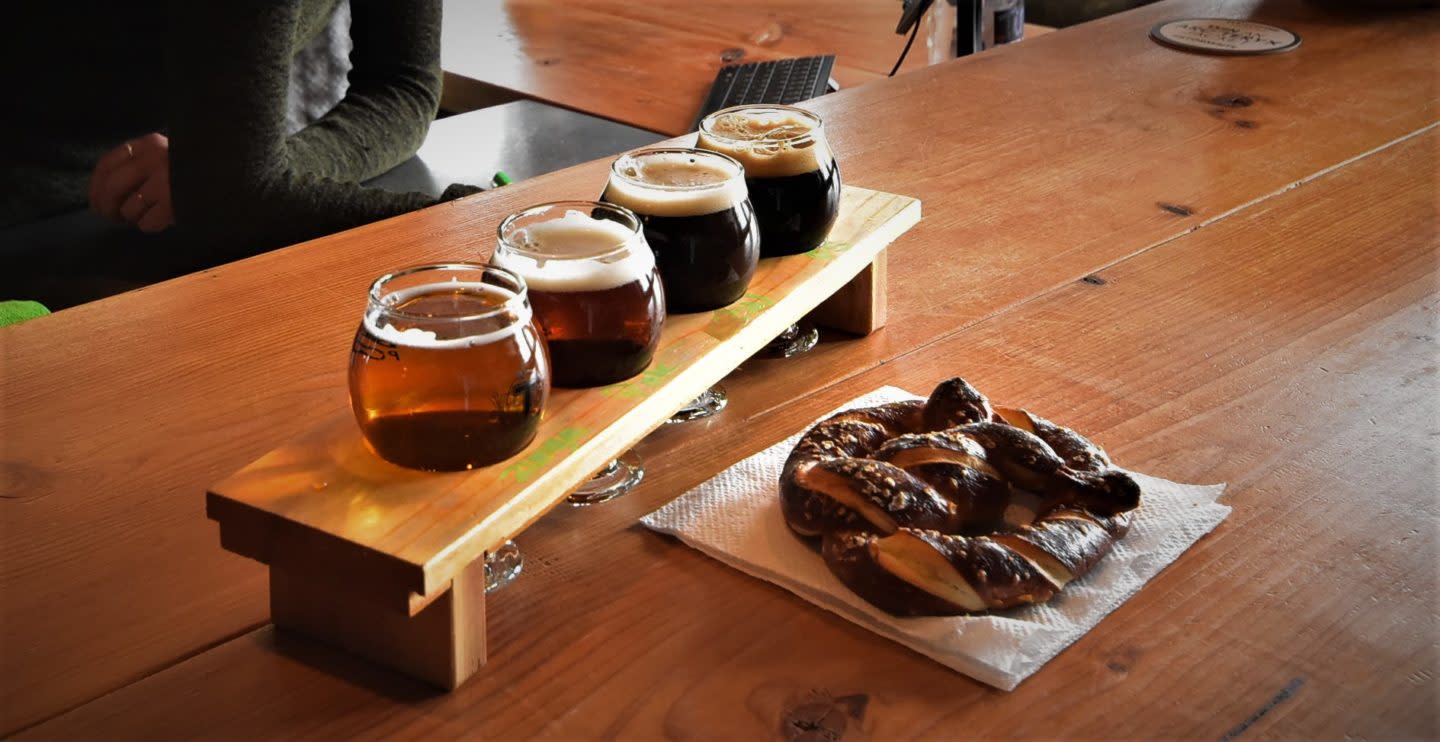 As a German woman I would be remiss if I neglected the local brewery, so a trip to Townsite Brewing was non-negotiable. Their newly expanded tasting room made for plenty of space for locals and tourists to mingle and enjoy a cozy but not crowded experience. We sampled four different beers – Zunga (their most popular), Suncoast Pale Ale, Zwart Dark Witbier, and the Perfect Storm Oatmeal Stout – while soaking in the overall authentic vibe of the brewery. With a Belgian brewmaster, you know the beer is the real deal.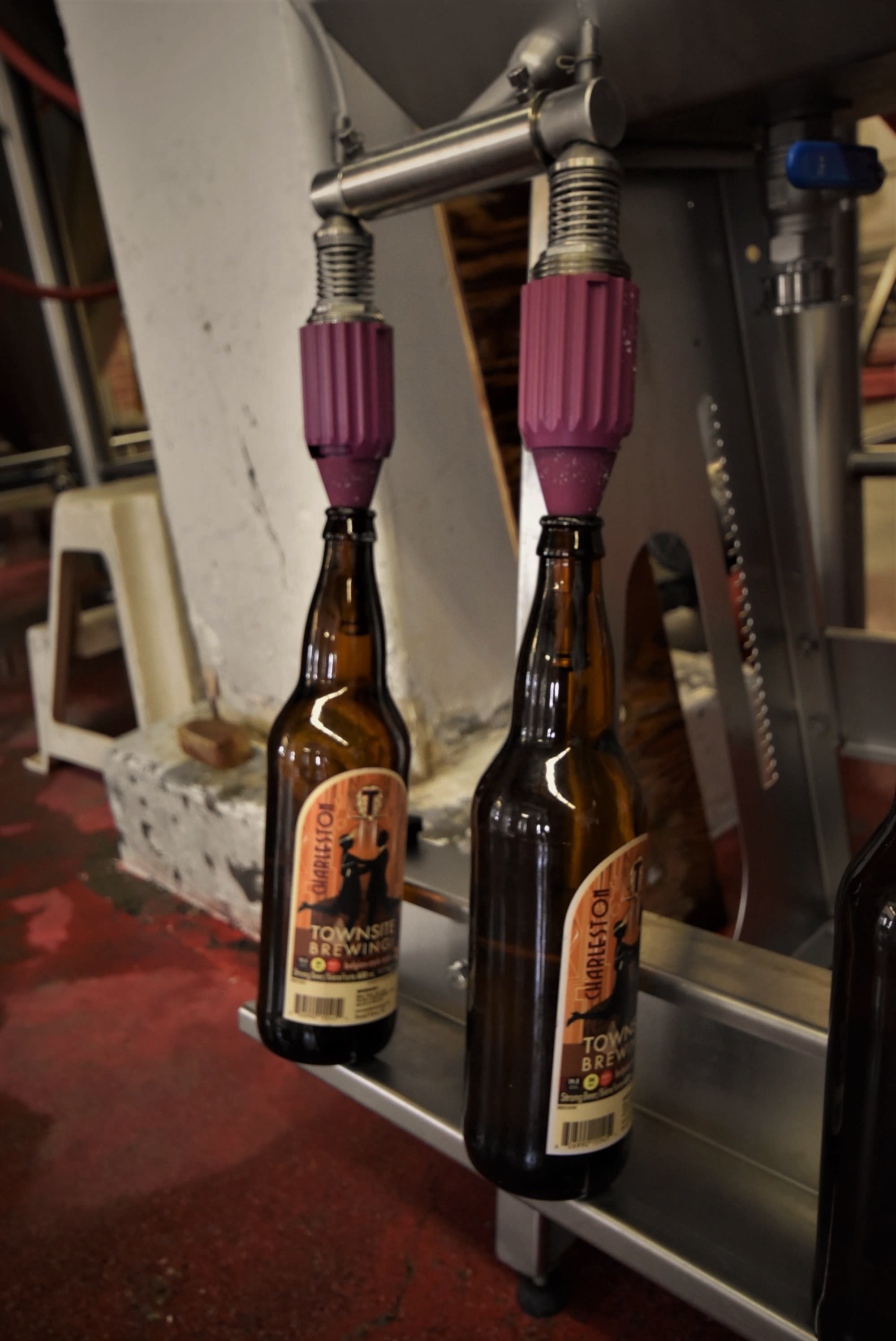 During my trip I was somewhat astounded to feel like a visitor, despite the fact I have called the Sunshine Coast home my whole life. I think this is indicative of the individuality of each community on the Coast. The same way no two locals or no two visitors you meet on the Coast are the same, no two locations are quite alike. Powell River and Lund each possess their own unique identity, yet still hold true to the core Sunshine Coast values. So grab your sandals, your suitcase, and your sense of adventure, and experience what it really means to be on Coast time.
---
Explore more: