With 180 kilometres of coastline, it's no surprise the Sunshine Coast is home to an abundance of fresh seafood. Here restaurants serve up everything from same-day-caught salmon to fresh-shucked oysters and even sustainable, ocean-wise sturgeon caviar, harvested in Sechelt from one of BC's only land-based aquaculture farms. 
We've rounded up the best dishes to satisfy any seafood craving on the Sunshine Coast—read on for details.
Fish n' Chips, Various Restaurants 
Let's start with the obvious. No discerning seafood destination is without the classic fish n' chips. Most Sunshine Coast restaurants and eateries serve up a version of this tried and true staple, each with their own spin. Sharkey's Fish Locker is one highly-touted favourite, thanks to its hefty portions, wide selection of options (you can get halibut, salmon, prawns or cod with your chips), and laid-back, unassuming location in Roberts Creek. While it's take-out only, there are a few on-site spots to eat outside, but you can make like the locals and bring your order to the Roberts Creek Pier to dine with a view. In Egmont, the Backeddy Pub serves up a beer-battered version alongside apple coleslaw, house-cut Kennebec fries, and incredible views of Jervis Inlet.
Looking for a gluten-free option? You'll find one at Molly's Reach in Gibsons or The Boardwalk Restaurant in Lund. And not only are the fish n' chips at Gourmet Girl in Sechelt gluten-free, but there's also a vegan option, too.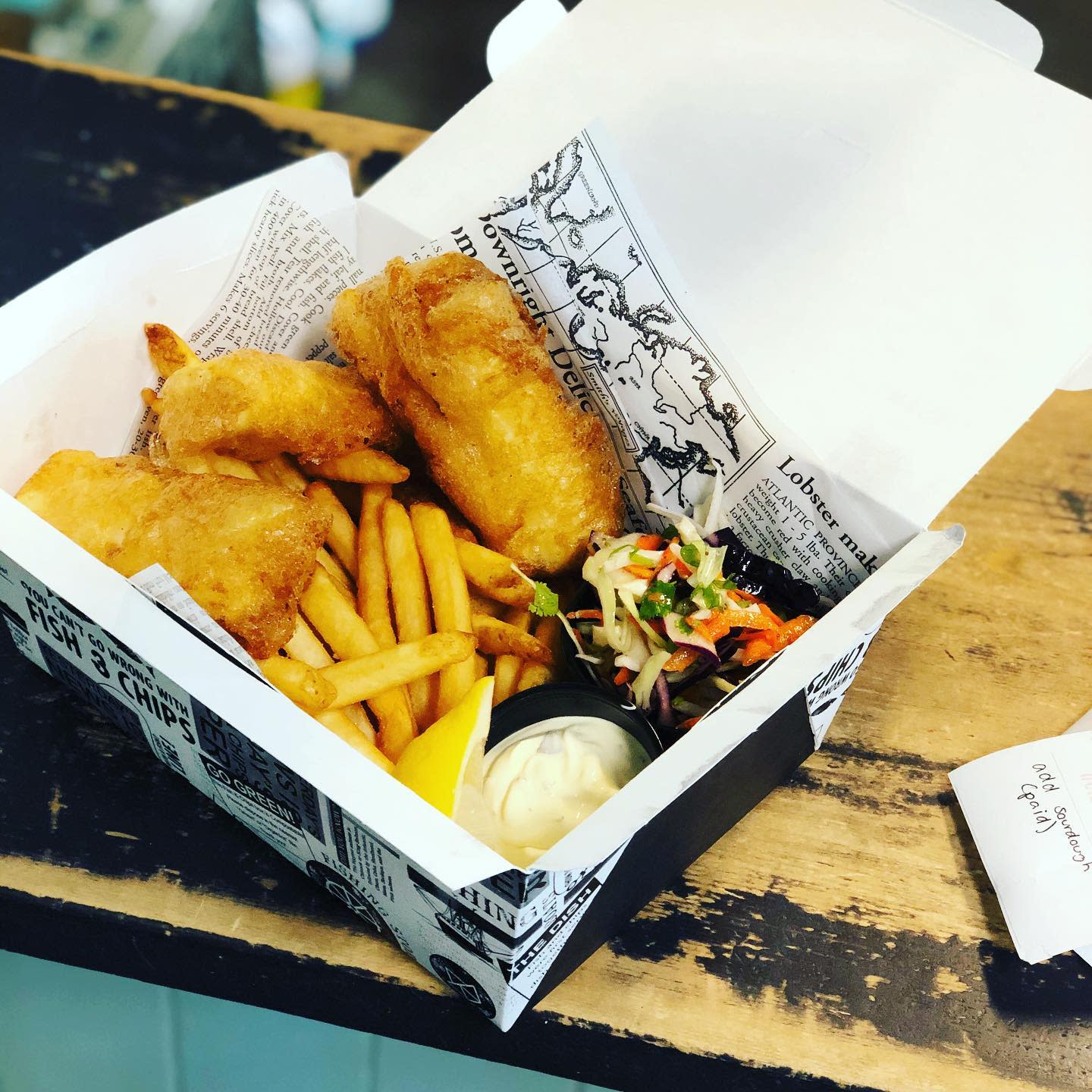 Humboldt Squid, Coastal Cookery
The best seafood dish at this Powell River-based restaurant happens to be on the appy menu—but we won't judge if you double up your order and make this your main. It's that good. While Humboldt squid are found primarily in the waters off the coast of Mexico, they've been increasingly spotted in British Columbia over the past few decades, landing on the menus of restaurants as a result. Coastal Cookery's take brings an Asian flare, with the tender squid first marinated in a togarashi and citrus sauce, then topped with Szechuan pickled red onions, gojichang mayo, scallions, cilantro, and fried jalapenos.
BC-Caught Oysters, Smitty's Oyster House
Smitty's is known for two things: its buzzing and convivial (read: fun and loud) atmosphere and its shucked-right-there local oysters, which are served with a heaping side of freshly grated horseradish—as well as the usual classics. Housed in a former marine repair shop, Smitty's feels reminiscent of early oyster houses in Boston or San Francisco, thanks to its industrial-style windows, tasteful maritime decor, and its ocean-blue exterior walls. Its seaside location also helps—the restaurant is located right on the Gibsons waterfront and next to one of Canada's few remaining working wharves. Grab a coveted spot at the long bar (the place fills up fast, especially in summer), and spend the afternoon slurping fresh oysters (most come from local or neighbouring waters), washing them down with a beer, and rubbing shoulders with visitors and locals alike.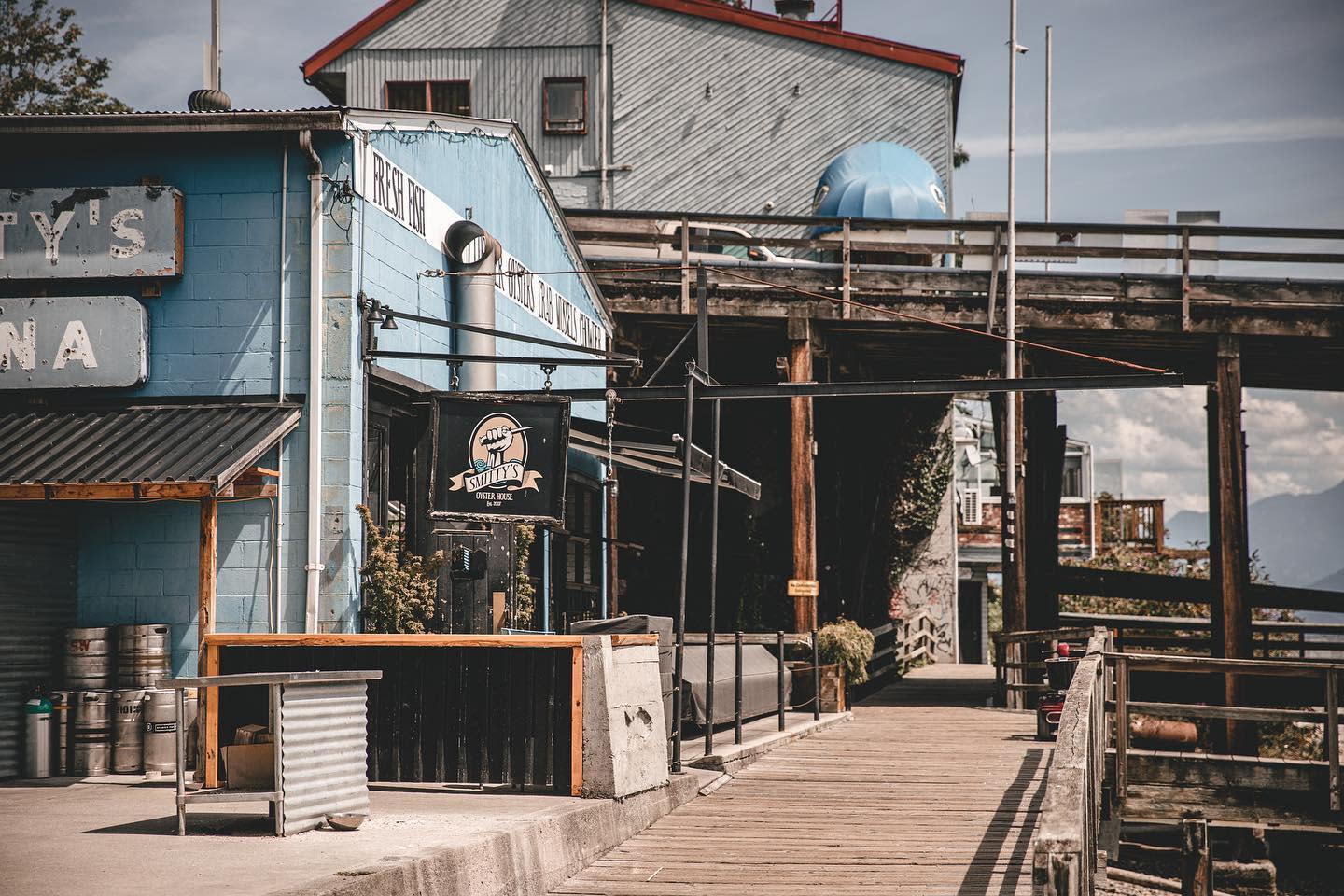 Blackened Sturgeon, The Boardwalk Restaurant
You can't get any closer to the ocean than the aptly named The Boardwalk Restaurant in Lund. This grey, cedar shake-clad restaurant sits at the end of a wooden boardwalk on stilts overlooking the scenic Lund Harbour. Fish n' chips are a lunchtime staple, though the dinner menu offers a taste of something more unique: sturgeon. While this giant freshwater fish is largely protected in BC, the only land-based sturgeon aquaculture farm in the province happens to be located in Sechelt, offering a sustainable way to raise this delicate white fish. The sturgeon here comes blackened, infusing it with a deep, umami char, and is served with sun-dried tomato pesto, basil herb risotto, seasonal vegetables, and a parmesan crisp.
Miso Mussels,  El Segundo
Mussels and frites are a hallmark of French and Belgium bistros, but at Sechelt's Pan-Pacific fusion restaurant El Segundo, they take on a Japanese twist. Here, mussels hang out in a rich, unctuous miso and sake broth flavoured with garlic, chilis, and lemongrass and served with a crusty baguette to help you mop up any remaining sauce (trust us, you'll want to). Wash it down with one of the inventive, tropical house cocktails or a glass of BC wine. The restaurant's happy hour specials will bring a smile to your face (and feel easy on your wallet) but so will the space. Decked out in tropical plants, bright wallpaper, carefully curated retro kitsch touches, and a neon sign that glows 'Tropic Like its Hot', it's hard not to feel the good vibes flowing here. 
Seared Catch of the Day, Chasters Restaurant
It doesn't get any more fresh than catch of the day. At Chasters—an upscale, fine dining restaurant located in the oceanside neighbourhood of Bonniebrook in Gibsons—you'll find whatever is fresh and in-season that day on the menu. But that's not the only draw for this eatery. The restaurant itself has a warm and inviting ambience thanks to its cozy, intimate interior and wood and stone finishes. It's perfect for a late-night, romantic dinner, though we suggest visiting earlier in the day when you can frequent the outdoor patio and take in endless views of the glittering Pacific Ocean. Post-dinner, walk off your meal with a stroll along Bonniebrook's seaside promenade. 
Poke Bowl, Wobbly Canoe
One of the most beloved dishes at the Wobbly Canoe in Davis Bay makes its appearance only on the summer menu: the Poke Bowl. This version comes with a base of brown rice and is piled high (and we're not exaggerating) with fresh seafood including squid and tuna, ginger, beets, scallions, sesame seeds, and seaweed. There's a reason it's the most mentioned dish in the restaurant's online reviews. And if you've timed your visit for a nice day, make the most of the sun on the restaurant's extensive patio overlooking Davis Bay. After you've satiated your appetite, head across the road to the beach where you can stretch out and lounge the rest of the day away.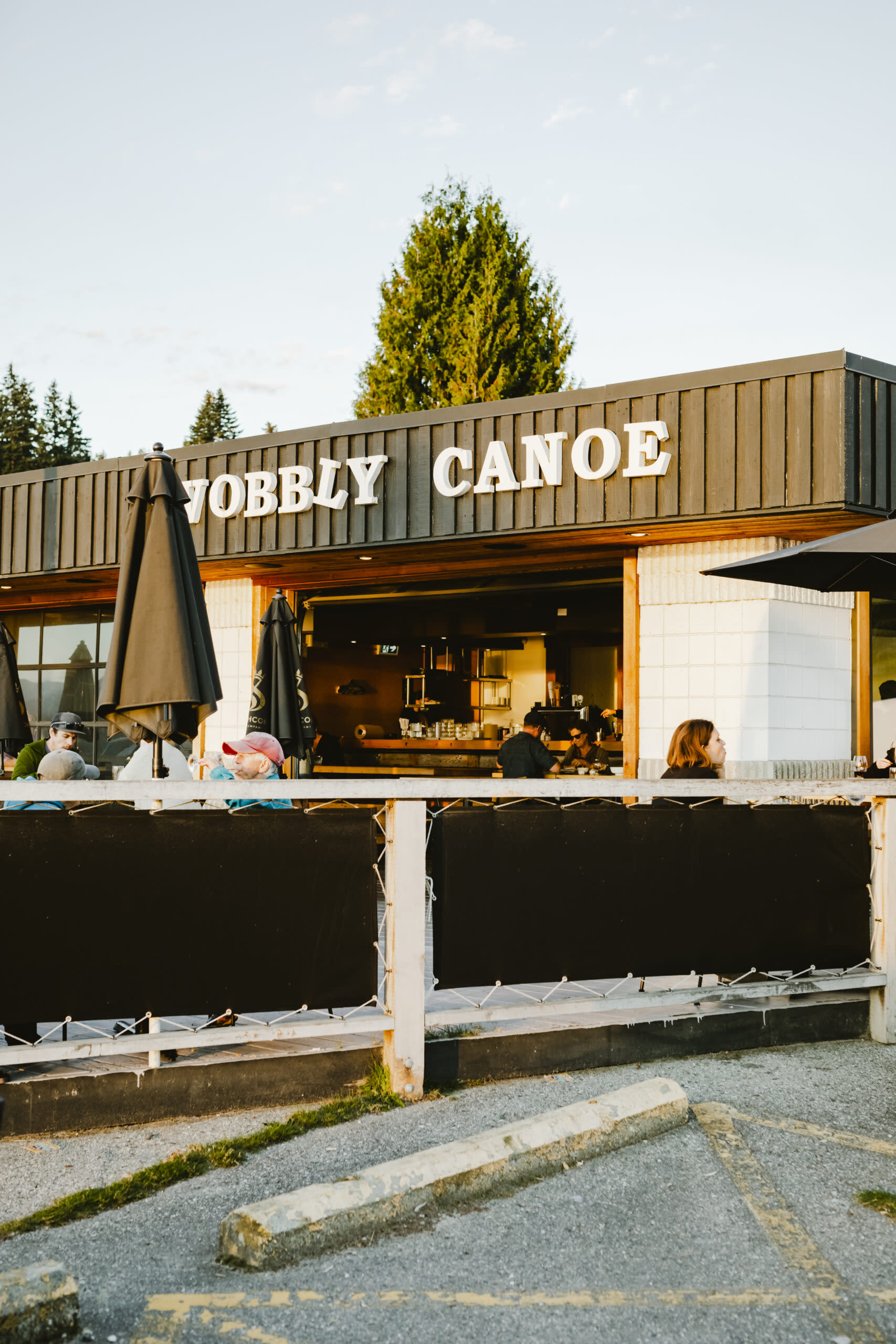 Seafood Pasta, Seasider Bistro + Wine Bar + Patio
With a huge oceanfront patio and views of the Malaspina Strait, the only thing that might distract you from the food at Seasider Bistro + Wine Bar + Patio is the potential to see a pod of orcas breaching offshore, eagles circling overhead, or playful seals bobbing their heads in the water. While we can't guarantee it will happen, we can confirm that you're in for a good meal, excellent coastal views, and an extensive wine selection. Powell River locals and fellow diners recommend the seafood pasta, which comes with prawns, mussels, local scallops, clams, garlic, and shallots served in a brothy cream-based sauce. It's a decision you can feel good about, along with the restaurant's commitment to sourcing their ingredients from small, responsible growers and suppliers.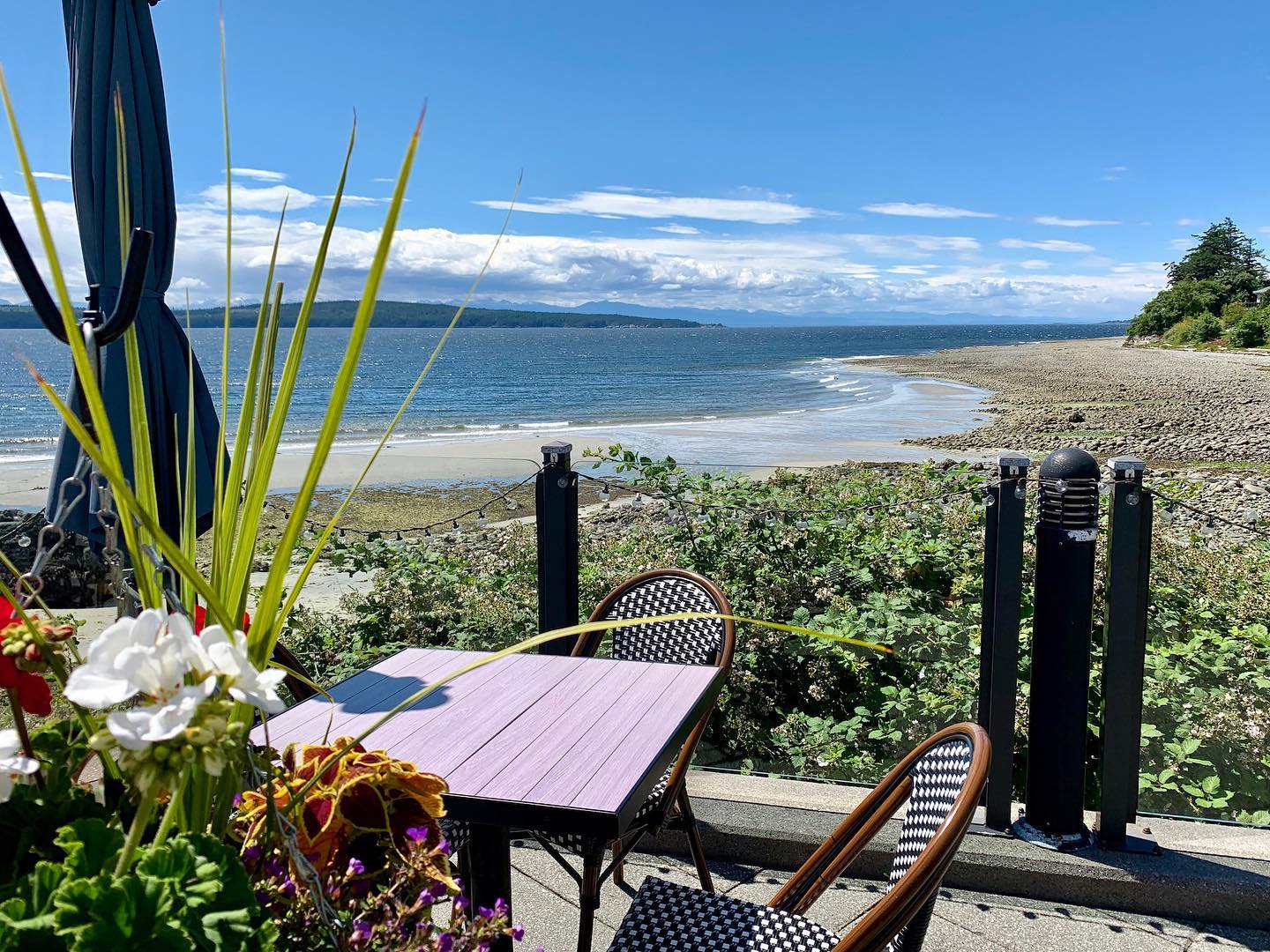 Seafood Platter, Laughing Oyster
Lund's Laughing Oyster Restaurant is a contender for one of the most scenic spots to taste seafood on the Sunshine Coast. Located at the edge of the stunning Okeover Inlet, this seafood-focused restaurant serves up everything from fresh shucked oysters to a luxurious dinner of Halibut Belle Meuniere, all set in a relaxed, fine dining atmosphere. The easiest choice? Opt for the seafood platter so you can sample a little of everything. In summer, dine outside on the restaurant's patio and look for sailboats anchored in the water or watch as the spectacular summer sunset lights up the evening sky. 
Bonus: Local Seafood and Northern Divine Caviar
Don't want to dine in? It's easy to find fresh seafood to take home and cook yourself. At Gibsons Harbour, you can purchase BC spot prawns, dungeness crab, and fish in season. Fisherman's markets in Gibsons and Sechelt stock an array of fresh and frozen ocean delicacies as well as sauces, condiments, seasoning, and other ingredients to make our own seafood dish restaurant-worthy.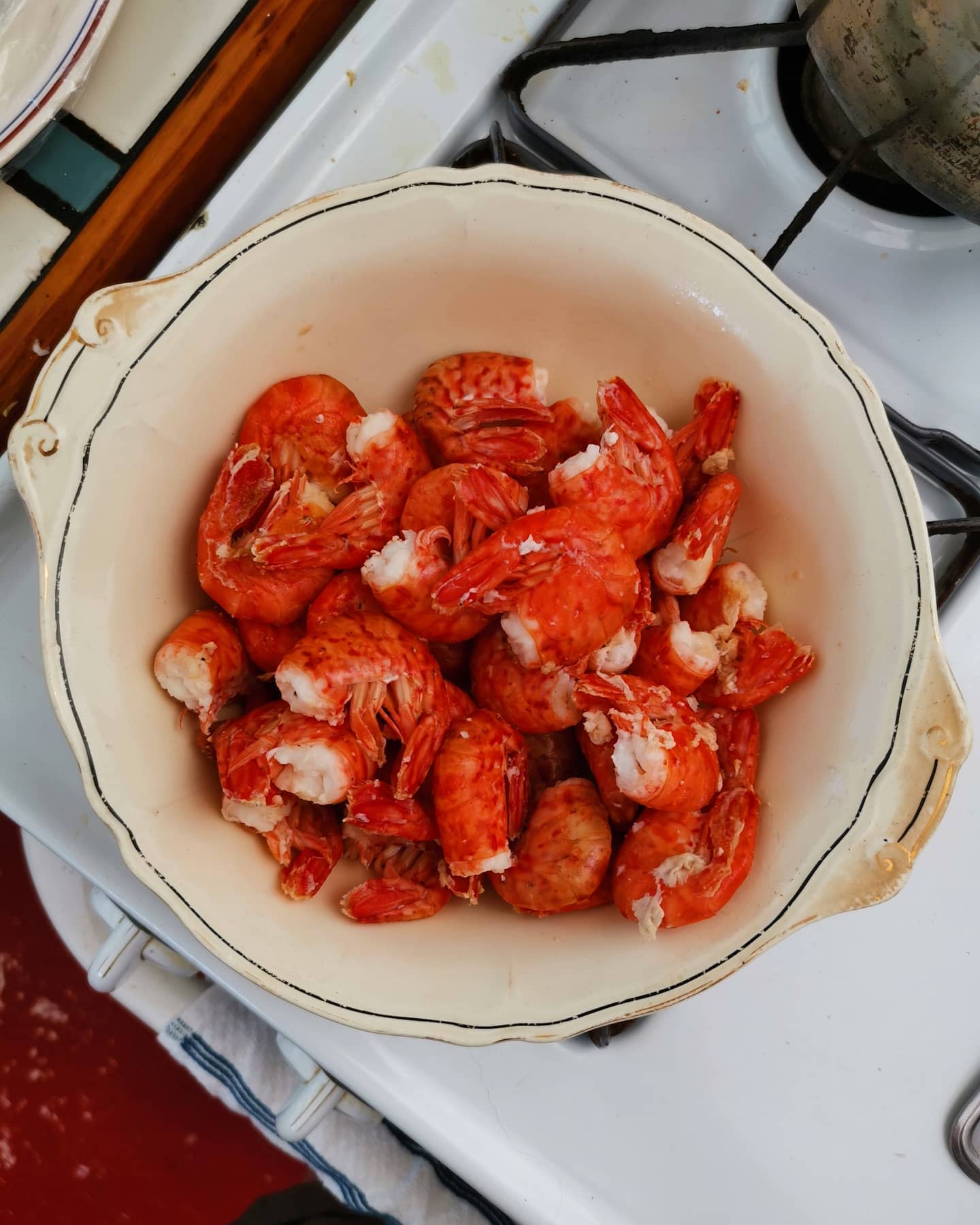 Looking for one of the most unique seafood products you can sample on the Sunshine Coast? It's caviar. Sechelt's Northern Divine is an award-winning and sustainable seafood company that produces organic, Canadian, and Ocean Wise-certified caviar. Harvested from Fraser River sturgeon that are raised in land-based aquaculture systems using pristine, cold, fresh mountain water, the caviar is lightly seasoned with only Canadian-produced salt, making the end result a product that is buttery, nutty, and slightly briny. Wondering where to buy it? Head to the Butcher's Block in Sechelt or IGA in Gibsons.