After the dark, cold slumber of winter, spring feels like a breath of fresh air. It's also one of the best times of year to visit the Sunshine Coast. Here the season brings mild temperatures and few crowds, along with a cacophony of sight and sound—from surging waterfalls brought on by spring melt to early flower blooms that bring warmth to the landscape.
Spring travel on the Sunshine Coast offers plenty to do and see. Visit a botanical garden and take in the colourful blossoms. Pack your bags and road trip along Highway 101 where oceanside views await at every bend and turn. Sip cider in a local orchard or wake up in nature surrounded by spectacular scenery. 
Here are a few seasonal activities to help you step into spring. 
 
Visit a Botanical Garden
You can't truly embrace spring without visiting a garden (or several). Situated in the pastoral farmland of West Sechelt, the Sunshine Coast Botanical Garden has an extensive network of flat trails that wind through woodland and gardens. While there are shrubs in bloom for much of the year, spring's arrival brings a dizzying array of floral hues to this corner of the Coast. Experience a riot of colour along the rhododendron walk, which features more than 50 mature (and some very rare) rhododendrons. Learn about local flora and fauna at the four native plant gardens, and if you're looking to add to your own garden, swing by the plant sale (on scheduled days throughout spring) to find an addition to your own patch of soil.
Visiting with kids? The picnic and play area offers plenty of space for younger ones to romp while budding ecologists can look for amphibian eggs in the ponds (visible from early March, depending on the weather). 
 
Drink Cider in an Orchard
There's a season for every drink, and in spring that's cider. Sunshine Coast cideries offer delicious, effervescent bubbles set in idyllic orchard settings. Just up the road from the Langdale Ferry Terminal is Persephone Brewing, an 11-acre beer farm that also serves up its own spin on cider (in addition to ales, lagers, sours, and seasonal beers). Swing by Banditry Cider where you can drink cider by the glass amongst an orchard, wetland, and forest—not to mention the farm's flock of ducks and its namesake birds, bandits. A short five-minute drive will land you on the doorstep of Sunday Cider. Their lineup of delicious and highly sessionable ciders is sure to put a little extra pep in your step. Over in West Sechelt, Brickers Cider features five acres of farmland and views, plus a tasty lineup of traditional dry cider and small batch seasonals.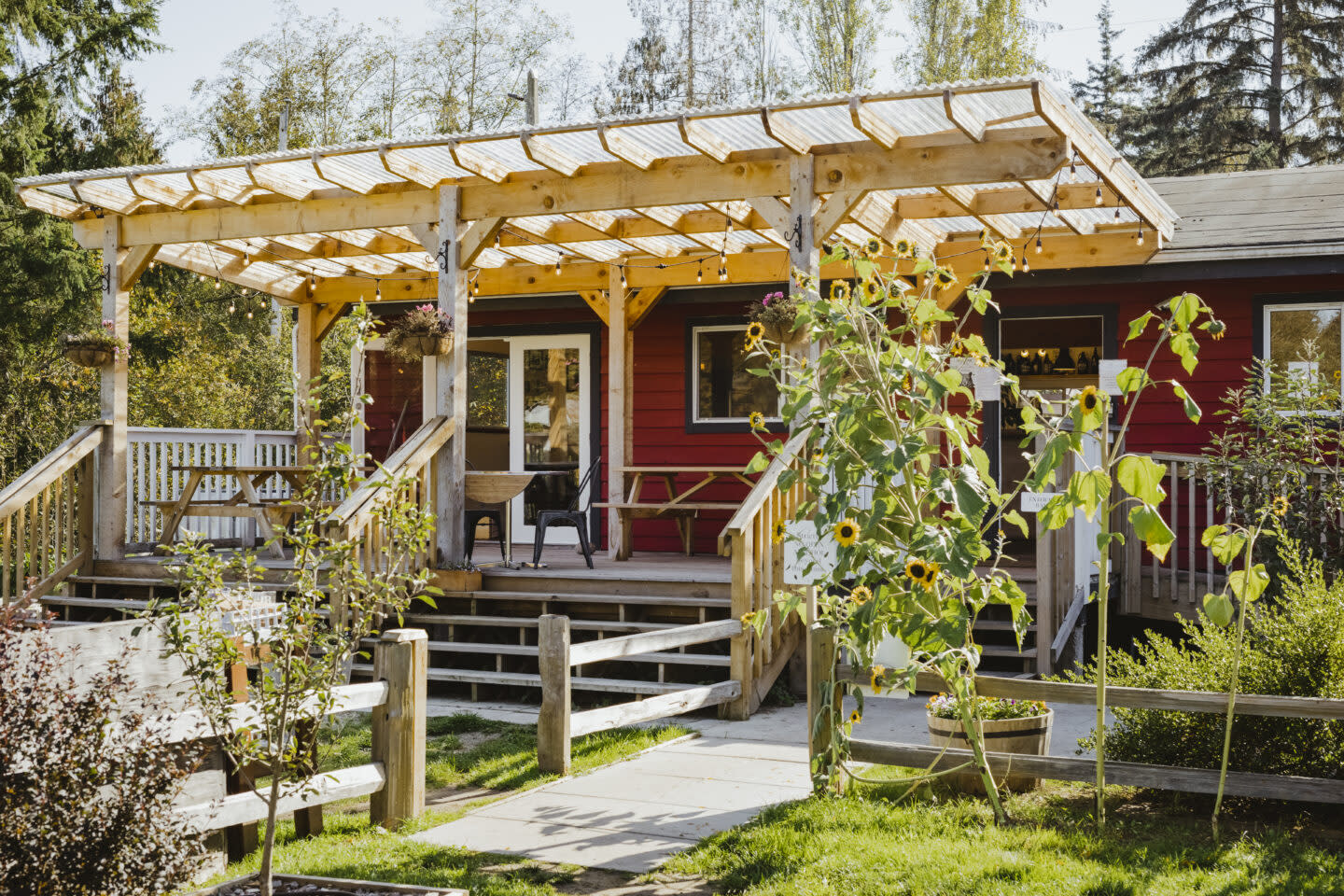 Brickers Cider. Photo: Shayd Johnson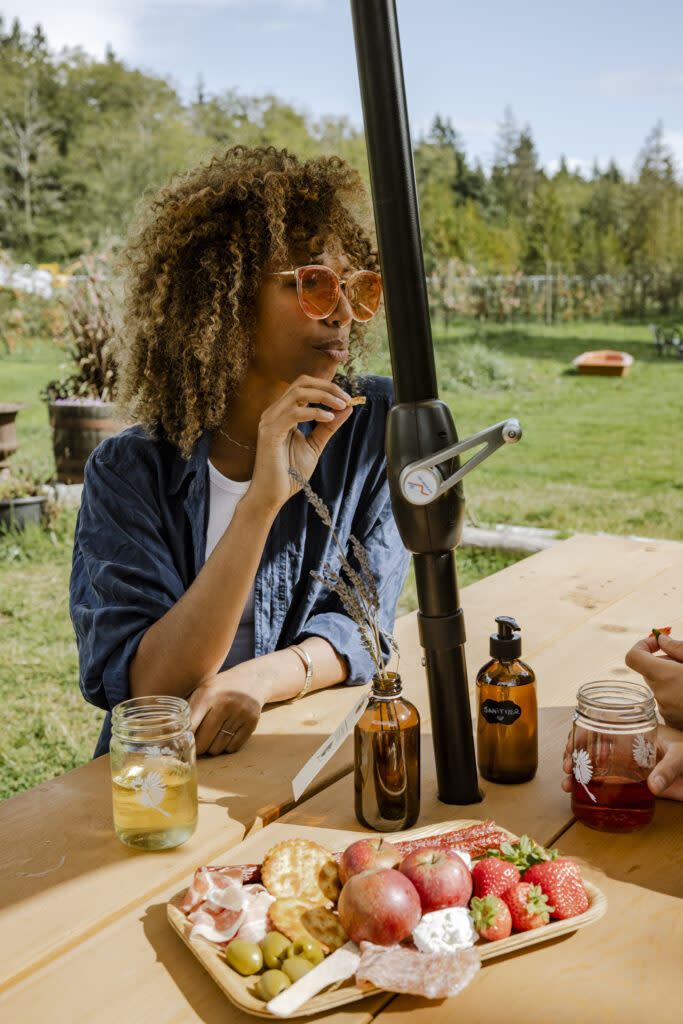 Banditry Cider. Photo: Shayd Johnson
Go Forest Bathing
There's something magical about the forest in spring, when the Sunshine Coast's damp fern forests are especially lush and verdant. April showers bring a heady scent to the dark, earthy woods (officially known as petrichor, the smell caused by rain falling on dry soil). Spring flowers start to bloom and birds cause a hive of activity among the treetops. Experience the forest in all its springtime glory on a hike, walk, or simply by forest bathing—the meditative act of taking in the forest with all your senses. Immerse yourself in the woods on trail networks in Halfmoon Bay, in Sechelt at the Heritage Forest, Roberts Creek at Cliff Gilker Park, and in Powell River along Willingdon Beach and at Millenium Park. Looking for a guided experience? Book a forest bathing session with Nature With Haida.
 
Wake Up in Nature
On the Sunshine Coast, accommodations put nature front and center. From glamping getaways to yurt stays to campsites with prime beachfront and forest access, you'll find plenty of unique lodging where you can wake up to the sights and sounds of spring. The tented suites at Rockwater Secret Cove Resort will transport you to the trees. These safari-style tents are set in the forest canopy of Secret Cove and overlook the glittering Pacific ocean below. Or you can stay in a literal treehouse at Out There, Off Leash, a wilderness glamping meets bohemian boudoir tucked away on the private Nelson Island. And you can listen for the call of birds chirping while staying in a yurt on a 13-acre farm in Lund. Find more places where you can chill out in nature and other unique Sunshine Coast accommodations.
 
Chase Waterfalls 
Spring is one of the best times to take in the Sunshine Coast's waterfalls when the snow melt sends a surge of water down craggy, sheer cliffs and into streams and rivers below. Here you can witness the full force of Mother Nature on display as waterfalls become raging torrents—and offer up a fully sensory experience for those who go chasing (safely) after them. At 40 metres (120 feet), Chatterbox Falls in Princess Louisa Inlet is already impressive, but a spring visit will cement that fact when the alpine streams that feed this signature sight swell in spring and tumble down its magnificent granite-walled gorge with tremendous force and power. Other popular waterfalls to visit include Langdale Falls, Burnett Falls, and Appleton Creek Falls. Check out waterfall hikes on the Sunshine Coast here.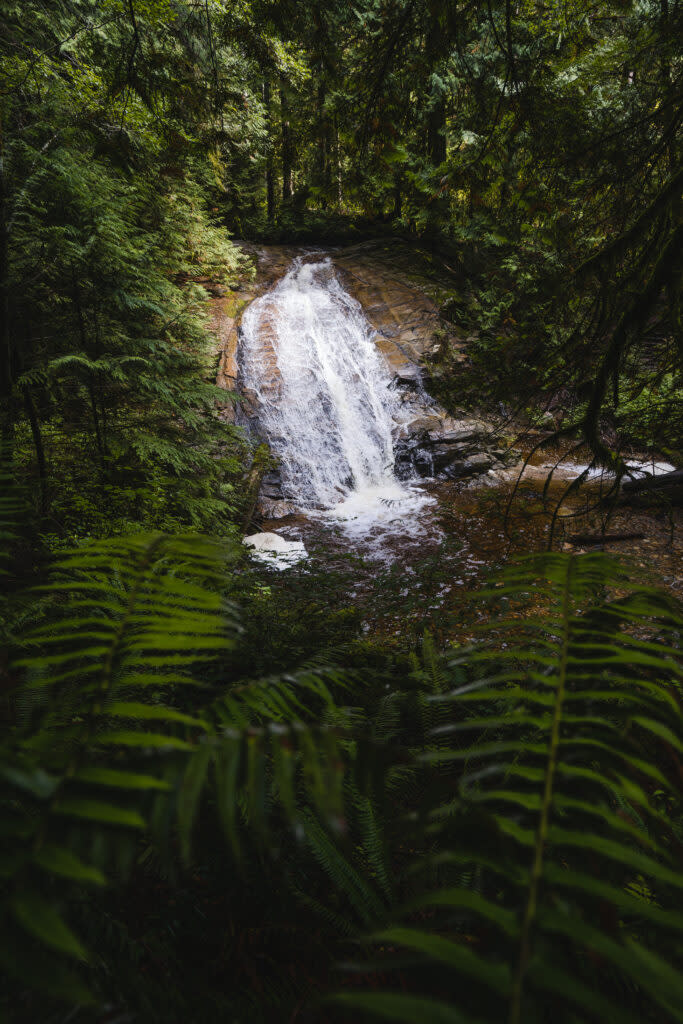 Go Paddling
A spring paddling trip is a great time to explore the Sunshine Coast's quiet, sheltered waterways and many bays, coves, snugs, inlets, and offshore islands. Rent a kayak from Pedals and Paddles in Tuwanek and glide along the shoreline in Sechelt Inlet looking for marine life in the clear waters below. Don't miss a chance to kayak to Mitlenatch Island with Footprint Nature Explorations, where every spring, the island's wildflowers begin a continuous bloom and migratory Steller and California sea lions can be seen (and heard) barking and grunting from their basking rocks. Prefer freshwater shores instead? Rent a canoe and paddle the Powell Forest Canoe Route, a series of eight lakes and portages throughout the spectacular Powell River backcountry.
 
Look for Birds 
Spring migration is a prime season for birdwatchers. On the Sunshine Coast, birders should be on the lookout for flocks of snow geese, sparrows, warblers, and other species of migratory birds, which fly to and past the Sunshine Coast in great abundance. Birding hot spots include Sargeant Bay Provincial Park, the Sechelt wetland marsh, Porpoise Bay Provincial Park, the estuaries in Roberts Creek and Wilson Creek, Mission Point Park in Sechelt, Davis Bay, and Ruby Lake Lagoon, among others. 
 
Watch the Seasons Transition in the High Alpine  
There's no better place to take in the changing of the seasons than in the alpine. Here the frozen tops of mountain peaks still shrouded in snow give way to soggy valleys and cool forests. For those seeking the last vestiges of snow, head to backcountry areas, such as Sechelt's Tetrahedron Provincial Park and Powell River's Knuckleheads, where you can ski, splitboard, and snowshoe to frozen lakes and winter cabins. (Note: Spring in the backcountry areas can mean unstable weather and avalanches are real hazards. Before you venture out into the mountains, make sure you have avalanche training and are carrying all the proper gear: a transceiver, shovel, and probe). A floatplane tour over the alpine with Sunshine Coast Air will take you in full view of the Sunshine Coast's lofty, snow-draped peaks and plunging waterfalls. Or tackle the Sunshine Coast Trail where you can see both snow and spring wildflowers along the trail. 
 
Find other activities to do on the Sunshine Coast this spring.