Need a last-minute holiday gift? Don't fret. We've assembled our favourite gifts from the North Coast—that is, Saltery Bay to Lund—to help you cross off your list. Bonus: by shopping locally, not only do you get to support independent businesses, which ensures your money goes back into the community, but you're bound to snag a one-of-a-kind gift (or two).
 
For The Person Who Loves Beverages of All Kinds
Townsite Brewing's barrel-aged Belgian-style brews will transport any beer lover in your life to the streets of Europe—and given how much time we've spent at home this year, any taste of travel is sure to be appreciated. 
For the hard-to-buy-for grains lover in your life, a gift card to Wildwood Public House, with its ever-rotating lineup of craft beers, is a solid bet when you just can't decide between giving that bottle of pilsner or sour or saison or stout or porter…. You get the idea. 
Looking for those who are more caffeine-inclined? 32 Lakes—named for the number of lakes surrounding Powell River—is a modern and stylish coffee shop located on Marine Ave that offers exceptionally roasted coffee along with gift cards and other goodies. Over at Basecamp, a long-standing Powell River institution, you can also find bags of beans and a selection of local artwork for purchase. 
While not based in Powell River, Vancouver's Odd Society Spirits' Salal Gin is made with salal harvested locally from Powell River. It's a lovely and delicious nod to the wonderful bounty of the Sunshine Coast.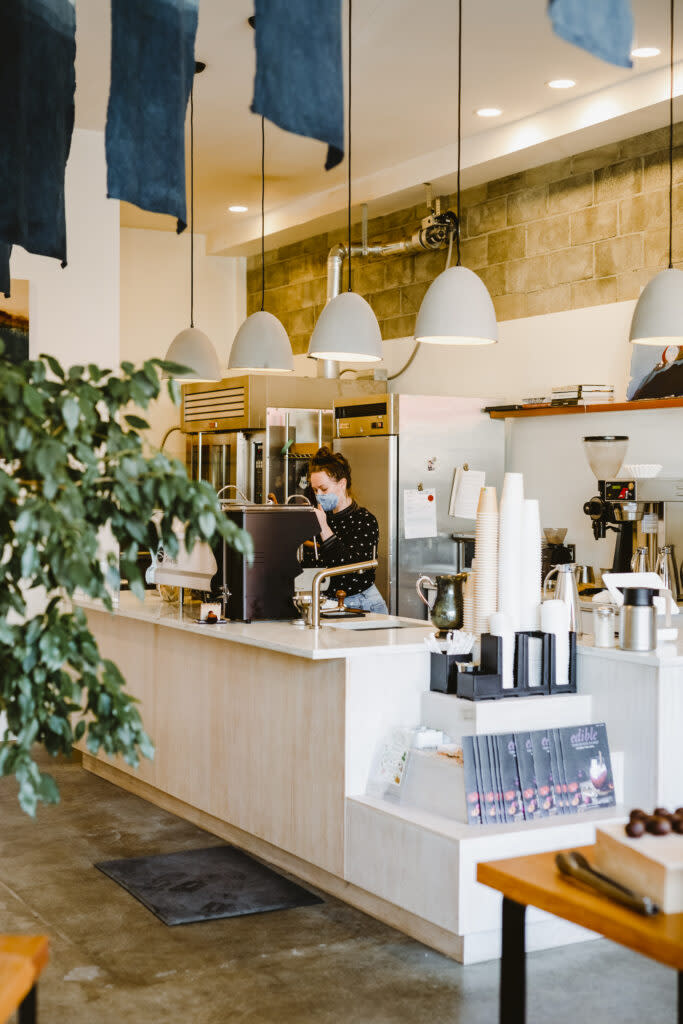 For the Aspiring Interior Designer 
A holiday bouquet is a nice way to brighten up a loved one's home, and the artfully arranged ones made by Everred Fresh Designs, will help inject a little Christmas cheer for even the grumpiest of giftees this year.  Need a vase for that? The earthen stoneware by Wildwood Pottery might just rival the beauty of the bouquet itself. Don't miss the handmade leather items, including wallets and patchwork bucket bags, by Ora Leather Goods which are bound to make a timeless addition to any giftee's wardrobe.
 
For the Foodie
Jams, honey, hot sauces, preserves, and more—Powell River and Lund's established market scene is a one-stop shop for all things edible. From Hot and Saucy's popular hot sauce (which employs adults living with an acquired brain injury and benefits the Powell River Brain Injury Society) to Preserves by Juhli, Coast Berry Company, and Wildwoods Queen Honey, you'll find something for every palette. Or treat the foodie in your life to a gift card from one of the many restaurants and cafes dotting the Northern Sunshine Coast. For the baker in your life? Look for the gorgeous handmade wooden rolling pins at the Powell River Farmers' Market (they're almost too pretty to be covered in flour).
 
For The Wellness Lover
Beautiful handmade soap makes for a wonderful stocking stuffer, and in the Powell River and Lund area, you'll find many options. Pair a bar of soap from Lund Soap Company with a locally-grown loofah from Oldson Farm for the bath lover in your life.
 
For the Intrepid Backyard Explorer
Our backyard is endless and we're lucky to have so many incredible tourism operators here on the coast who help us to see it all. From kayaking to boating to wildlife viewing to climbing, a gift certificate for the outdoor adventurer in your life will help them get that much closer to ticking off their Northern Sunshine Coast bucket list. Don't forget to outfit them properly, too! The Pollen Sweaters made locally in Lund are a classic West Coast garment and are known for their durability and warmth. You'll also find outdoor gear available at Powell River Outdoors.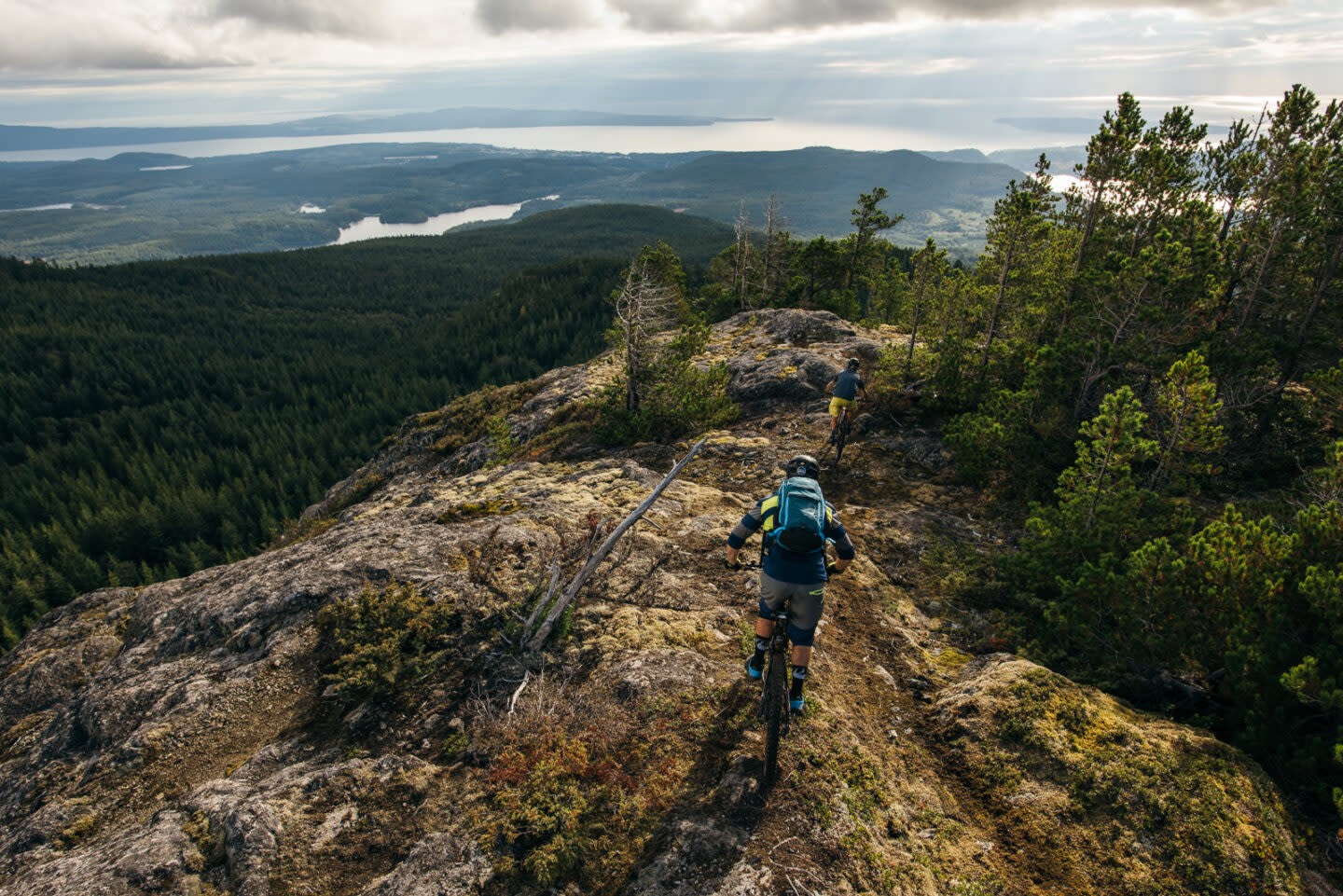 For the Whole Family
If we've learned anything over the past two years, it's that any time spent together is time well-spent. Look for gifts that families can do together, from reading a new book to games night, courtesy of High Tide Games, to imaginary play featuring the handmade wooden toys made by Little Legend Toys.
If you're looking to outfit the littles in your life, Jacique Sews offer handmade vintage clothing for toddlers and Juniper Dragon Handmade offers a great selection of essential clothing items.
The Patricia Theatre, as Canada's oldest continually operating movie theatre, is a cultural institution—a gift card will go a long way in continuing to support them and surprising the cinephiles in your life.

For the Art Lover 
The Sunshine Coast is home to many incredible artists, artisans and craft makers, so what better to give the artist or art lover in your life the gift of art? Like the South Coast, this part of the Sunshine Coast is no stranger to artists. Many talented and creative residents make their home between Saltery Bay and Lund, and lucky for us, their work is available at Crucible Gallery, Tidal Art Centre, and Turdah Fine Art Gallery among others.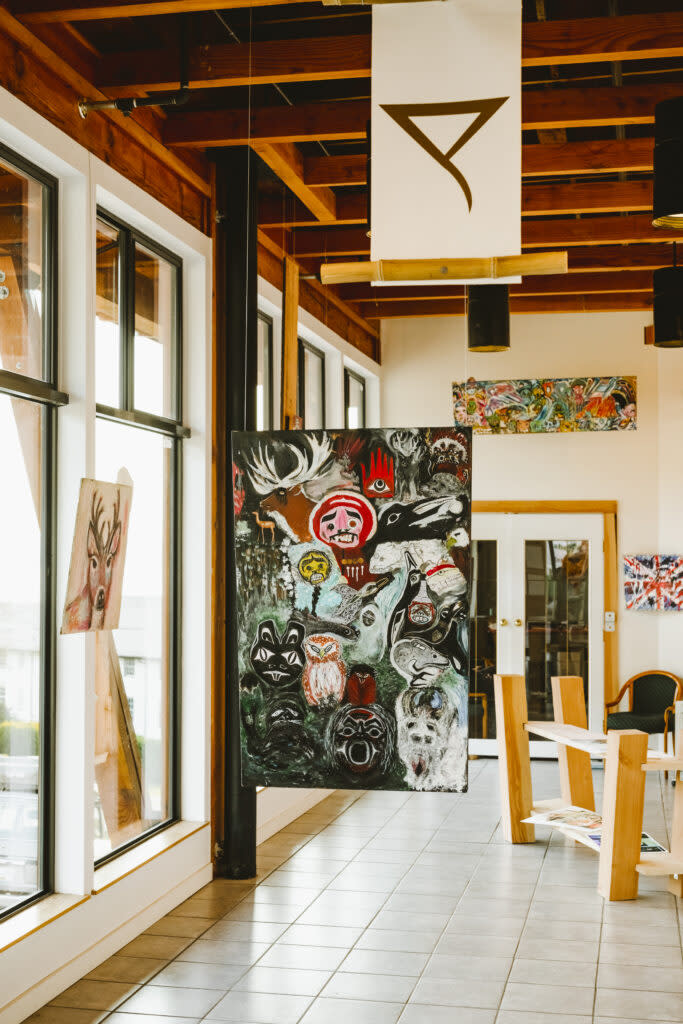 For the Last-Minute Gift Giver AND Philanthropist 
Who among us hasn't frantically searched for a last-minute gift? This year, instead of buying a generic store-bought whatever, purchase a charitable donation on behalf of someone you love. Local organizations doing good things include the Powell River Food Bank, Lift Community Services and more. Find a more comprehensive list here.

Want More Options?
Outside the Gift Box is a local service based in Powell River that offers three unique gift boxes featuring local businesses as well as those based farther afield on the West Coast. 
One-stop shops include local markets (the Soapy Dragon Holiday Pop-Up, the Uptown Winter Market, among others) as well as the Townsite Public Market, located in Powell River's historic townsite district. 

Be sure to check with each business in advance for current hours of operation and gift buying options— many businesses also have delivery and curbside pickup options and safe measures for in-store shopping. Stay safe, and happy holidays!