Length & Difficulty: 7.6 km | 2.5 hours | Moderate
The Suicide Creek Trail is a perfect hike for families and beginners because it is well marked and the picnic area and bridges provide an enjoyable hiking experience. The beginning of the trail is characterized by beautiful trees covered with moss. Even though the Suicide Creek Trail is a flat area, watch your feet as tree roots are very prominent. There are two fabulous bridges to cross, Four Roads Bridge and Koleszar Krossing. The rocky area bellow is a beautiful spot and it is located a few metres down after the Fern Falls.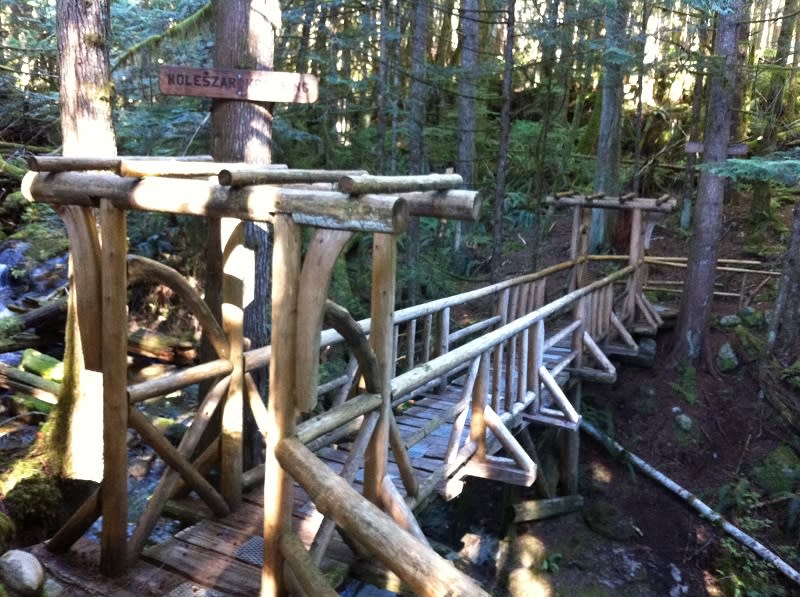 Directions to Trailhead
From the Powell River Visitor Centre, turn right on Joyce Avenue and go straight towards Manson Avenue. Turn left on Manson, then right onto Cassiar and left on Yukon. Go straight for 1 km and turn right at Haslam Street. Go straight for 700 m and keep to your right just before the signs for inland lake. Then turn right at the three stop signs. Keep going straight and turn left on a small bridge at the end of Duck Lake. Drive 1.8 km and park on the right side of the road. The trail heads south from this point.
1st Access Point
5.3 km after the end of the paved road used to get to Duck Lake.
2nd Access Point
500 m after the first access you will see a sign for the Taylor Way/Cable Trail. Park on the left side of the road and you will find the Suicide Creek trail entrance on the direct opposite side of the Taylor Way sign. Regardless of which access you decide to take, the hike will bring you back to Burma Road 500 metres away from your vehicle.
The trails of the Sunshine Coast offer a wide array of experiences for travellers of all levels and walks of life. Ranging in length, difficulty, and experience, the trails on the Sunshine Coast are the epitome of the pristine beauty and epic landscapes of British Columbia.
Join the adventure and share your photos with us on Facebook, Instagram, Twitter, or YouTube using #sunshinecoastbc. Head here for more information on hiking routes on the Sunshine Coast.