The Hidden Grove trail network is a series of walking and hiking trails, including many wide, accessible trails for wheel chairs and strollers. There's also a cultural history component to the trail system, and upon entering the trail network you'll notice several trees which have undergone bark stripping. The shíshálh Nation, who have lived in the area for several millennia, used to harvest the bark of the cedar tree in this area to make traditional baskets, regalia, and clothing. The bark is relatively thin and grows back quickly.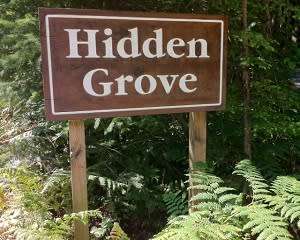 The history of Hidden Grove is also one of survival. Survival from natural fires of several centuries ago, which left charred bark up to a foot thick on the largest Douglas firs. More recently, the area was scheduled for logging but the local community rallied together and Hidden Grove has been preserved. Today, these precious 125 acres have been set aside solely for recreation.
The network of trails is well marked with signs at each intersection, making it almost impossible to lose your way.
Directions to Trailhead
Coming from Gibsons at the main traffic light in Sechelt turn right onto Wharf Road and then right after 600 meters to Sechelt Inlet Road. Follow Sechelt Inlet Road for 6 kilometres to the head of the trail  marked along this road. There is a parking area off the road on the Hidden Grove side.
Trail Map
Check out a detailed map here.
Sechelt Groves Society
Check out the dedicated website created by the Sechelt Groves Society, it's packed full of great information and photos of the trail.
The trails of the Sunshine Coast offer a wide array of experiences for travellers of all levels and walks of life. Ranging in length, difficulty, and experience, the trails on the Sunshine Coast are the epitome of the pristine beauty and epic landscapes of British Columbia.
Join the adventure and share your photos with us on Facebook, Instagram, Twitter, or YouTube using #sunshinecoastbc. Head here for more information on hiking routes on the Sunshine Coast.
Thanks to Coracle Cove Waterfront Suite for helping to write this article.