After sticking close to home for the past year and a half, and with summer in full swing, we're as eager as ever to get out and explore. But if you're like us, your travel stamina might not be what it once was. Instead of ticking off a jam-packed itinerary this summer, replenish your spirit and soul on the Sunshine Coast. The Coast's gentle place of life and easy going rhythm will help you relax and unwind and you're never far from a spa, a fairway or a beach. 
Here are eight restorative activities — that will leave you feeling rested and recharged — for a leisurely Sunshine Coast getaway. 
Pamper Yourself With an Oceanside Massage
A massage is just about as relaxing as it gets, but when you're perched on an ocean bluff in an open-air safari-style tent listening to the sound of waves gently crashing below you and the call of gulls and eagles in the distance, relaxation is taken to a whole other level. You'll find this at Rockwater Secret Cove Resort, an oceanside glamping resort nestled among the arbutus trees of Halfmoon Bay and overlooking scenic Secret Cove, which opens onto an endless view of the Pacific Ocean. While a spa treatment is bound to leave you feeling rested and relaxed, extend your stay and overnight in the glamping tenthouse suites (similar to where you had your spa treatment) where you can watch sunset over the ocean and later, if it's a clear night, the bright twinkling of stars overhead.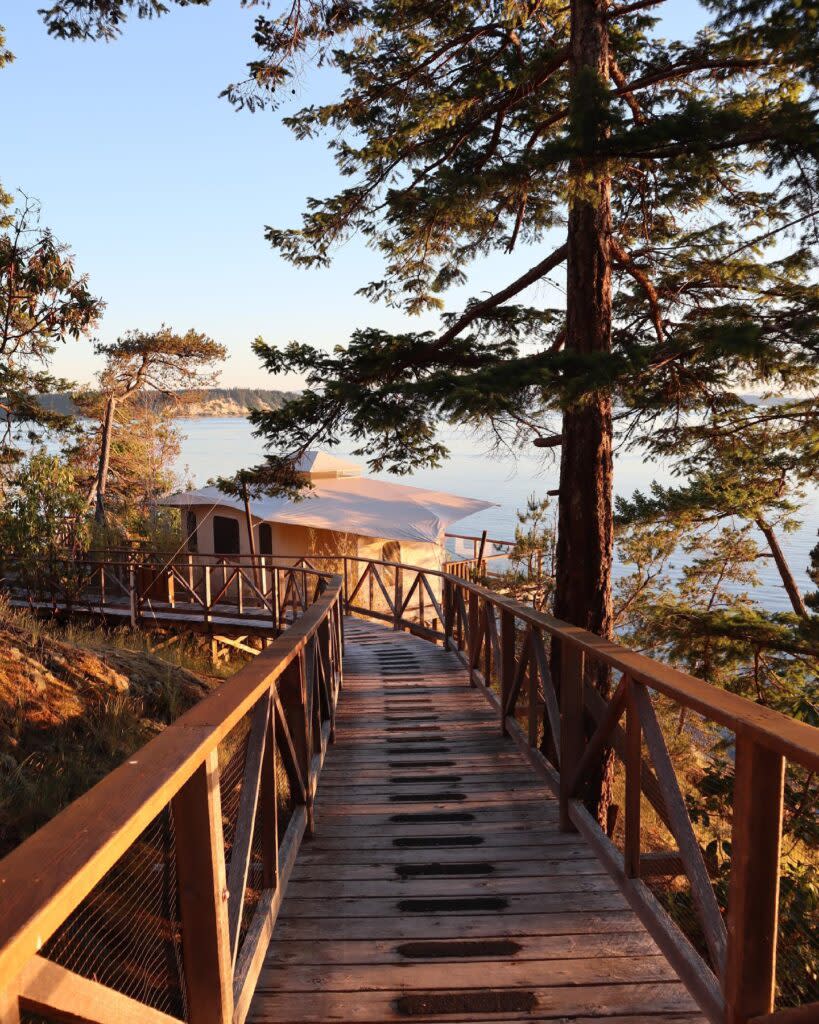 Hit the Fairway
If your downtime involves 19 holes, stunning views and perhaps a cheeky post-game pint on a patio overlooking the fairway, look no further than Sunshine Coast golf courses. Here tee times are never rushed and laid-back courses feature ocean and mountain views, lush green fairways winding through the forest, and manicured greens. Take your pick, from the Sunshine Coast Golf & Country Club in Roberts Creek, the Blue Ocean Golf Club in Sechelt, the Pender Harbour Golf Club or the Myrtle Point Golf Club in Powell River, or golf them all over the course of a few chilled-out days.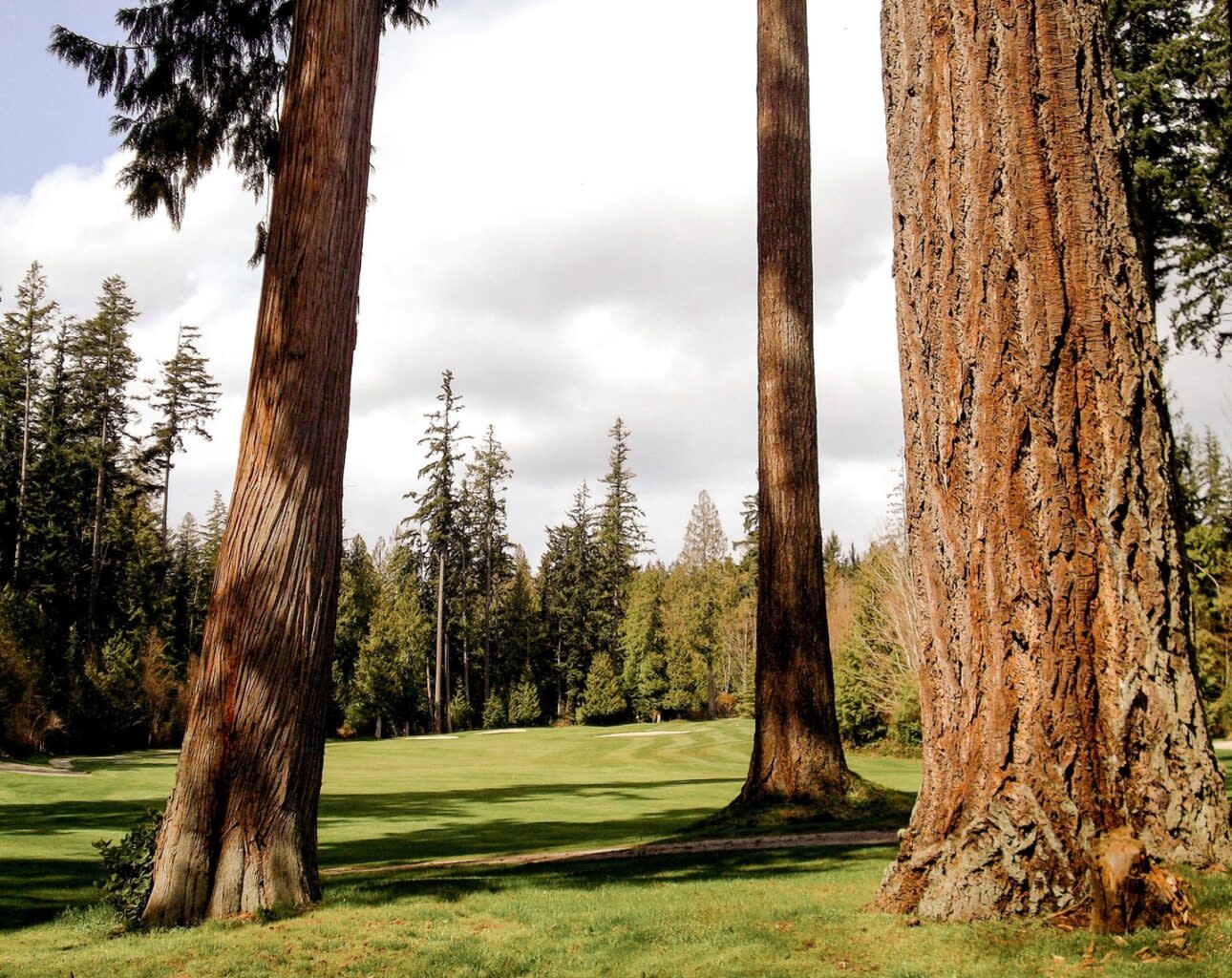 Happy Hour in a Beer Farm or Orchard 
Sunshine Coast breweries and cideries know that pints are best served with a side of farm or orchard views for a truly spectacular — and relaxing — happy hour. In Gibsons, stop by Persephone Brewing and sample a flight of beers on an 11-acre beer farm. The newly-opened Banditry Cider, also in Gibsons, plays host to a raft of ducks, along with bandits, a small bird present throughout their orchard ecosystem that served as the inspiration for the cidery's name. Just down the road from Banditry is Sunday Cider, home to an idyllic picnic area, where you can grab a bottle to enjoy with friends, and later if you're hungry, ice cream or burgers from the on-site food trucks. In West Sechelt, the five-acre Brickers Cider orchard offers views of not only the cidery's rows of apple trees but surrounding mountains and valley from their outdoor lounge area and patio.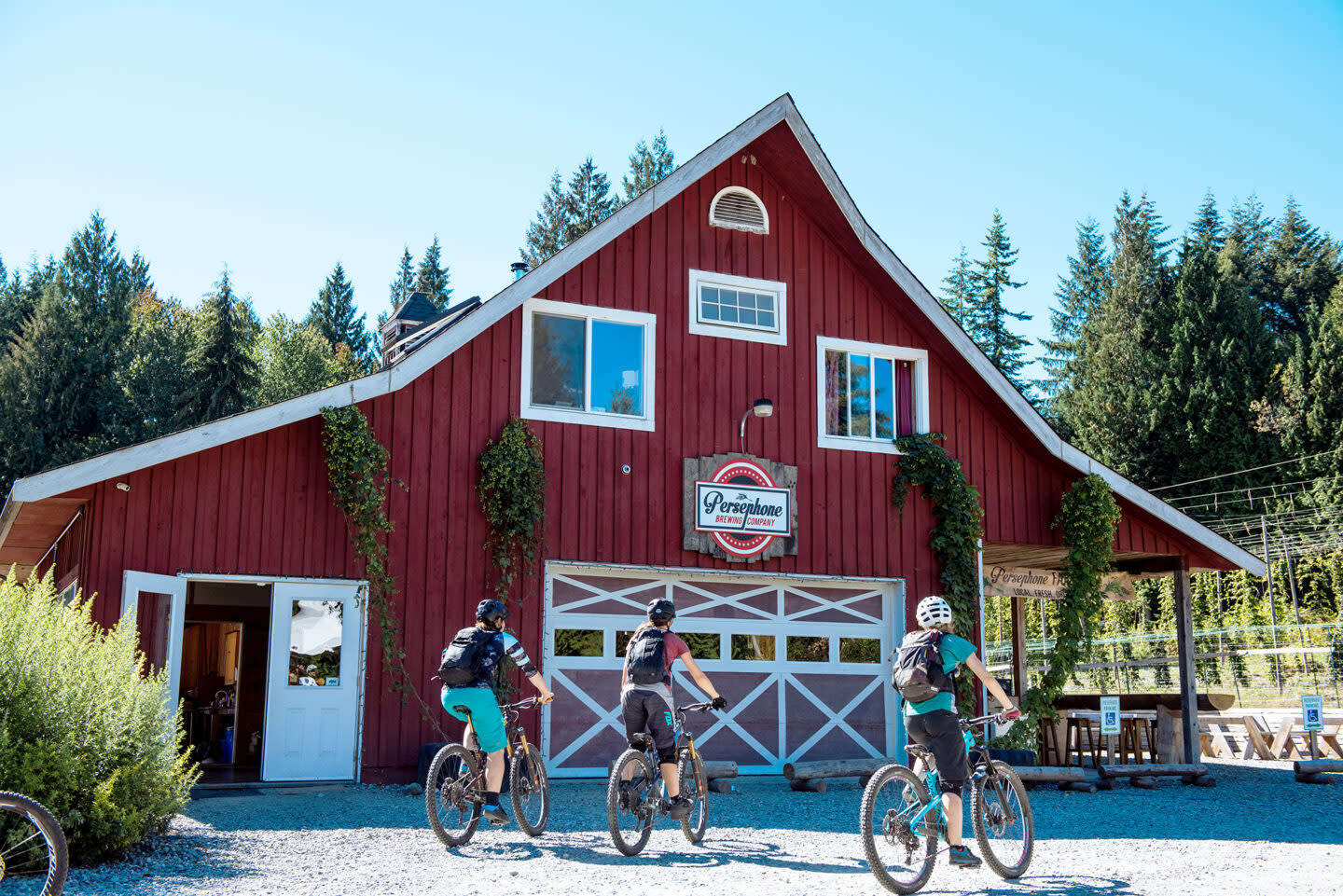 Catch Sunrise or Sunset from a Paddleboard
Paddleboarding is arguably the most meditative of all water sports, requiring little strenuous effort and special equipment — all you need is time, a body of water (and on the Sunshine Coast there are lots) and patience. Rent a paddleboard from Alpha Adventures (with locations across the lower Sunshine Coast); Pedals and Paddles, located in Tunaek just outside of Sechelt, or in Powell River; or from Terracentric Adventures and explore the waters of Gibsons, Sechelt Inlet or Powell River. As you glide along the shoreline, look for marine life bobbing in the water or relax into the steady rhythm of your paddling and blissfully zen out. Time your session for early morning and watch the sky light up with the bright, warm rays of the sun, or for late evening, where drifts of clouds are set awash in orange, pink, and purple.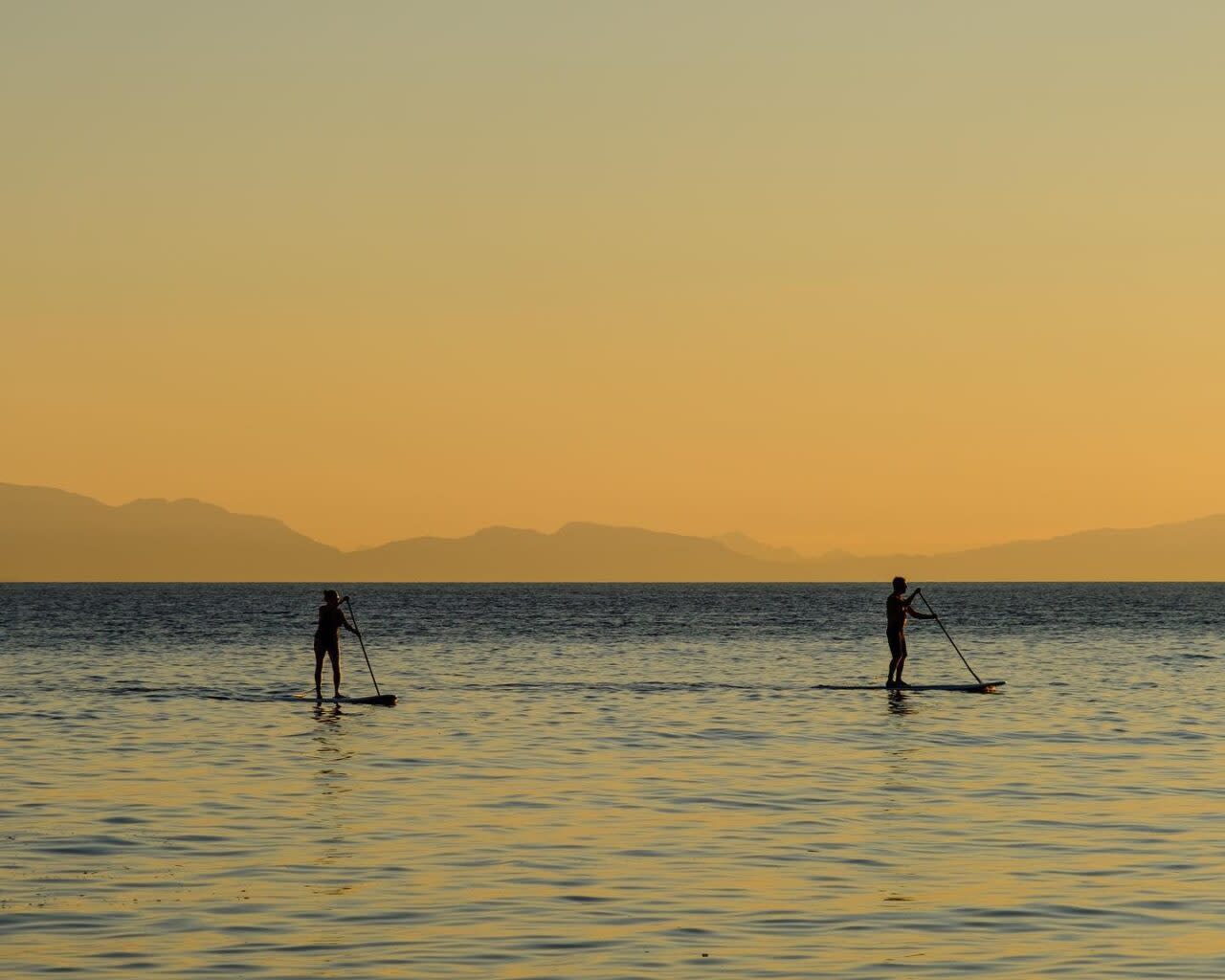 Experience Shinrin-yoku (Forest Bathing)
Forest bathing, forest therapy, or Shinrin-yoku — however you refer to it, this Japanese concept captures the phenomena that you experience after immersing yourself deep within the forest. Forest bathing is different from hiking or even simply meditating among the trees. It's about a state of being in this natural setting; a time for contemplation, reflection, and an invitation to interact with the forest in a meaningful and healing way. Guided experiences are your best bet for practicing Shinrin-yoku as its intended — Nature with Haida or Metta Eco Experiences both offer tours — but if you're short on time, simply find a trail or forested park where you can marvel at tall trees, explore the flora and fauna, and listen intently to the sounds of the birds and the gentle rustling of leaves as you move slowly throughout.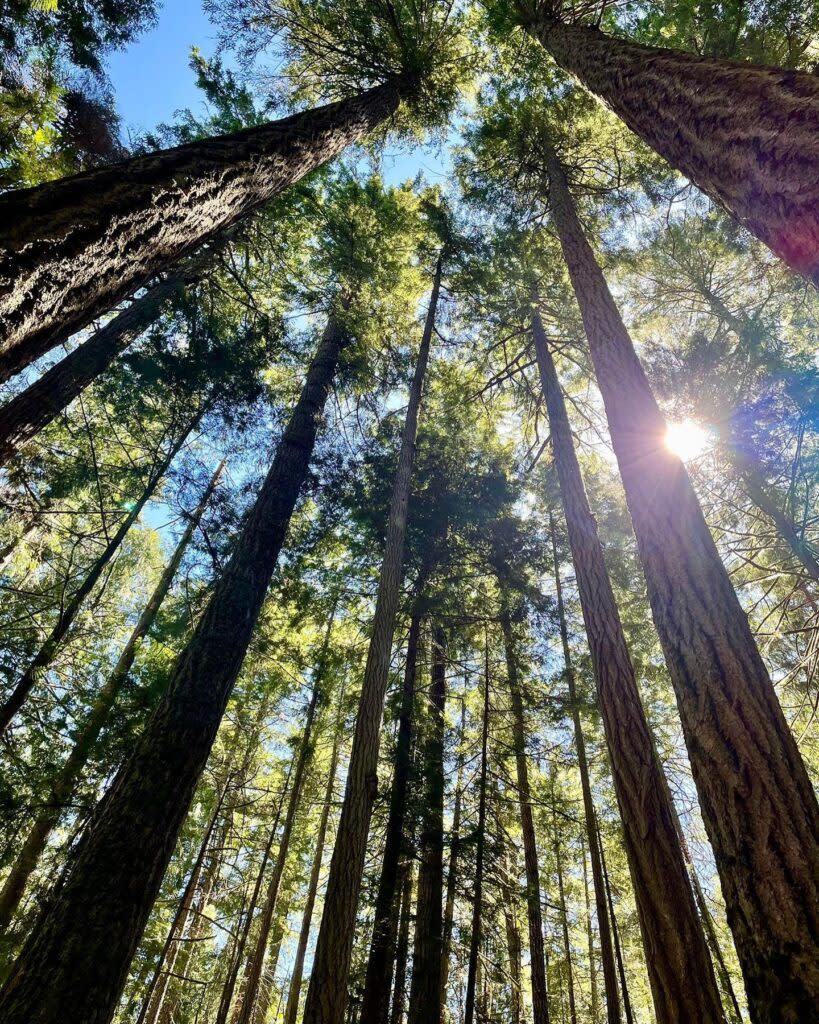 Picnic at the Beach
There's nowhere more scenic to dine than at the beach in view of the glimmering ocean on a warm, sunny afternoon. Luckily, the Sunshine Coast is home to miles of coastline where you'll find plenty of beachfront to explore. Grab all the supplies you need for an afternoon of snacking and swimming at the Public Market in Gibsons or Townsite Market in Powell River. In Sechelt, there are plenty of specialty food stores, such as Plethora Fine Foods, plus nearby bakeries where you can grab an assortment of baked goods or a loaf of sourdough bread. In Powell River, restaurants and cafes offer delicious snacks to go — we're a fan of the gluten-free fried chicken from That Chicken Place for an indulgent beach snack. Don't forget to swing by farmers markets and stands — on the Sunshine Coast there are many — for fresh produce and fruit, or if you want to save time, grab a pre-made charcuterie box to go from Good Friday Gibsons or Rosemary Charcuterie in Powell River.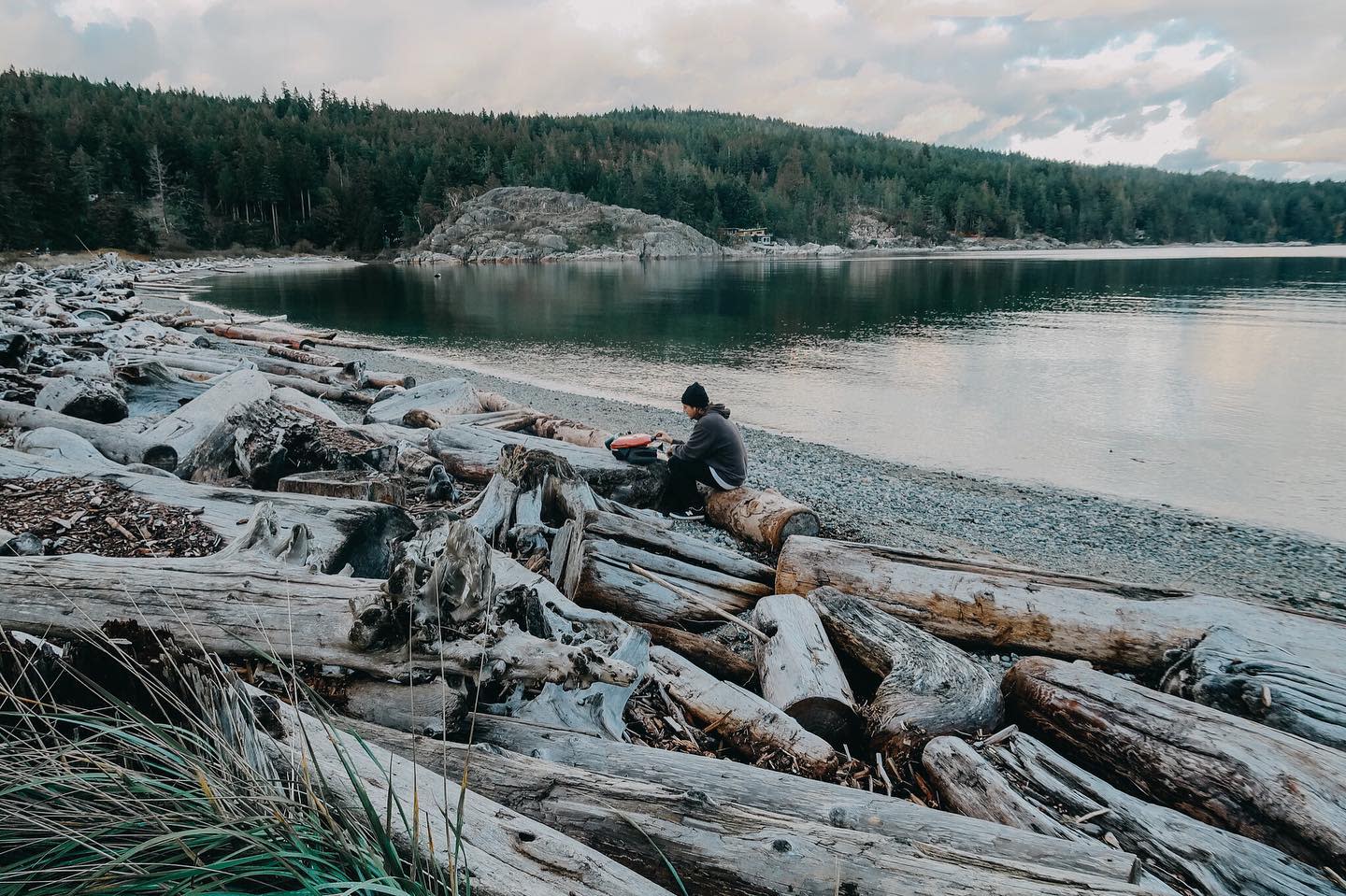 Find a Quiet Place to Read a Book
If you're the kind of traveller where a good vacation is judged solely by the number of books consumed, then read on. From scenic and central community parks, to remote beaches, to accommodation with hammocks that are ideal for lounging, you'll find plenty of places across the Sunshine Coast where the distractions are minimal so you can get lost in an afternoon of words. Looking for a new book to add to your list? Visit Reasons to Live, a popular secondhand book store in Gibsons jam-packed with a unique selection of fiction, non-fiction and records; Talewind Books in Sechelt; or in Powell River, Oceanside Books and Games, Powell River Books or Hidden Treasures bookshop. Fast reader? You'll also find public libraries in most communities across the Coast where, with a library card, you can check out a read for our Sunshine Coast stay.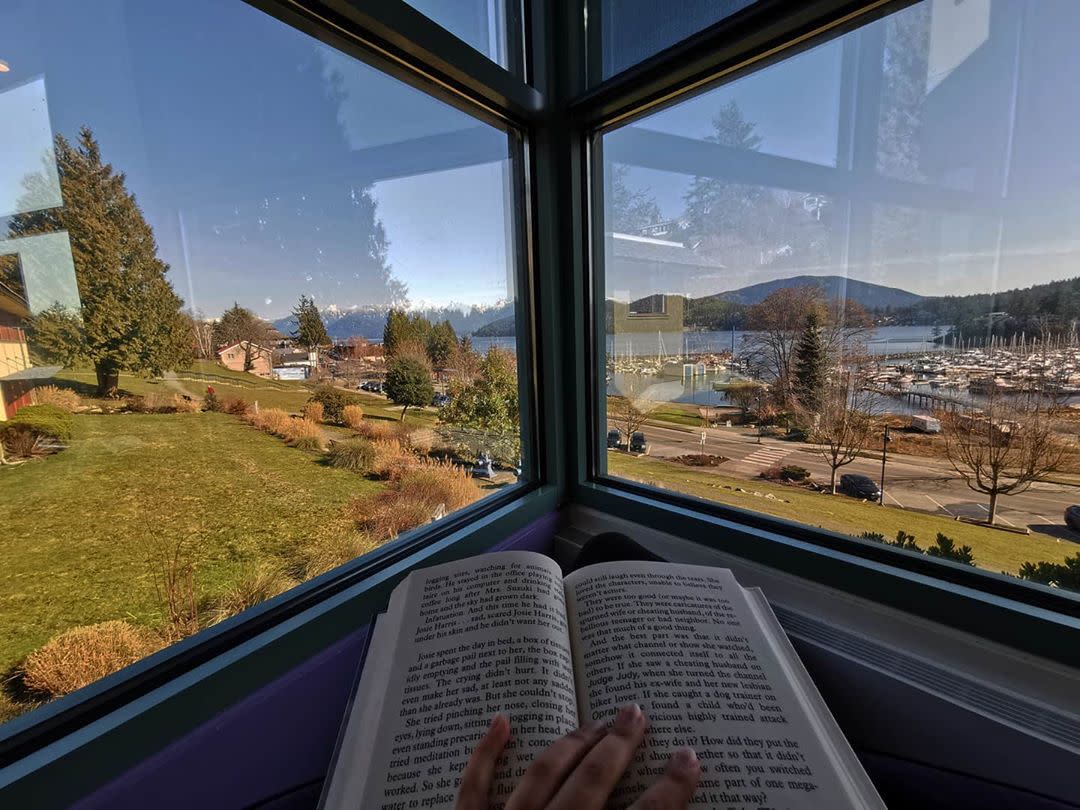 Wake Up In Nature
A restful vacation is only as good as the sleep you get and on the Sunshine Coast this is near-guaranteed — especially when they're places where you can truly chill out in nature. Remote resorts and cabins allow you to experience the kind of solitude and quiet that can only be found deep within the wilderness — bringing about an even deeper sleep. But even if you plan to stay close to town, our quiet communities ensure that a peaceful night's sleep is around the corner, along with restaurants, shops, cafes, and more that you can conveniently explore once morning hits.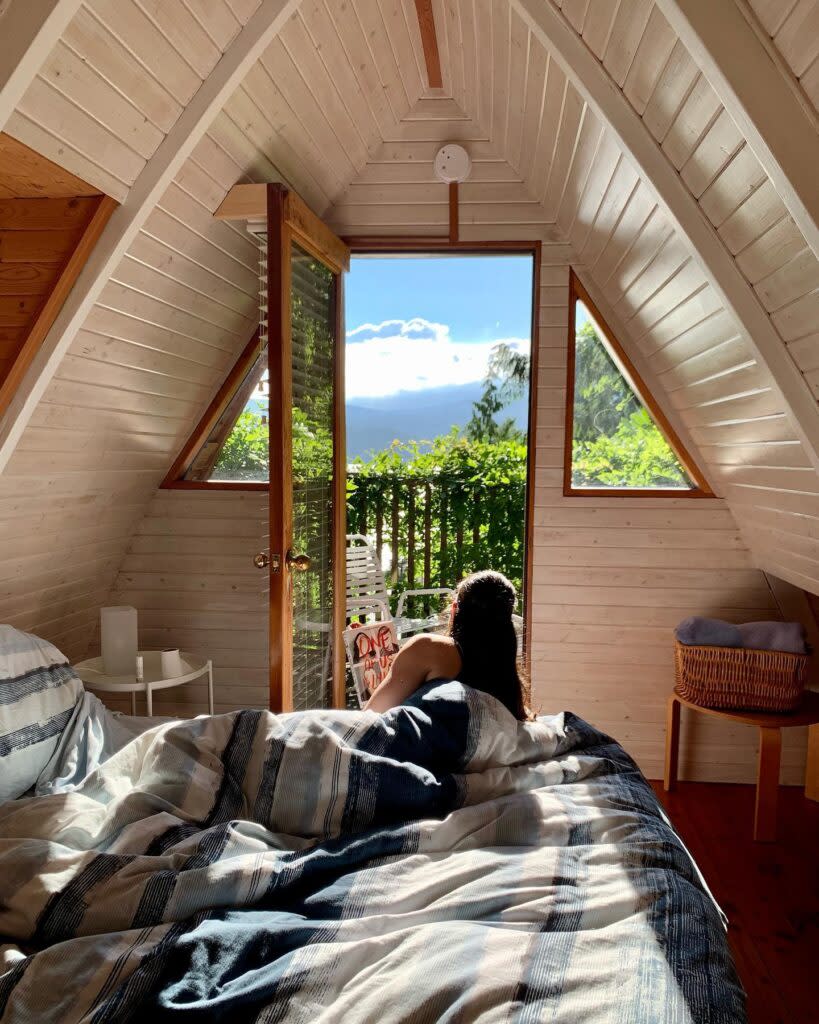 Find more things to do this summer.
---
We're all visitors on the traditional territories of the Tla'amin, Klahoose, shíshálh, and Skwxwú7mesh nations. While exploring the Sunshine Coast, please remember to be safe, responsible, and respectful.⁠