Carbs are a prerequisite for any adventure. On the Sunshine Coast, you'll find perfectly leavened loaves to famed cinnamon buns worth making the trek for (looking at you, Nancy's).
There's no shortage of bakeries to hit up before whatever it is you're planning. But to help you rise to the occasion, use this guide when embarking on your next carb-loading mission. 
Read on to discover the Sunshine Coast's best bakeries.
Nancy's Bakery, Lund
The cinnamon buns at Nancy's Bakery are so famed they're practically synonymous with Lund. For more than 30 years, visitors have been making the trek to the northernmost town on the Sunshine Coast to get their hands on a soft and gooey cinnamon bun. The blackberry is Nancy's most popular version, and features local blackberries picked in-season by community members. It packs a fruit-forward punch with the tartness of the berries cutting through the roll's sweet glaze. Baked fresh each morning, these hefy cinnamon buns are an indulgent treat any time of the day, but if you can stomach the room, there's plenty of other tasty things on offer too, including sandwiches, soups, pies, cookies, and more.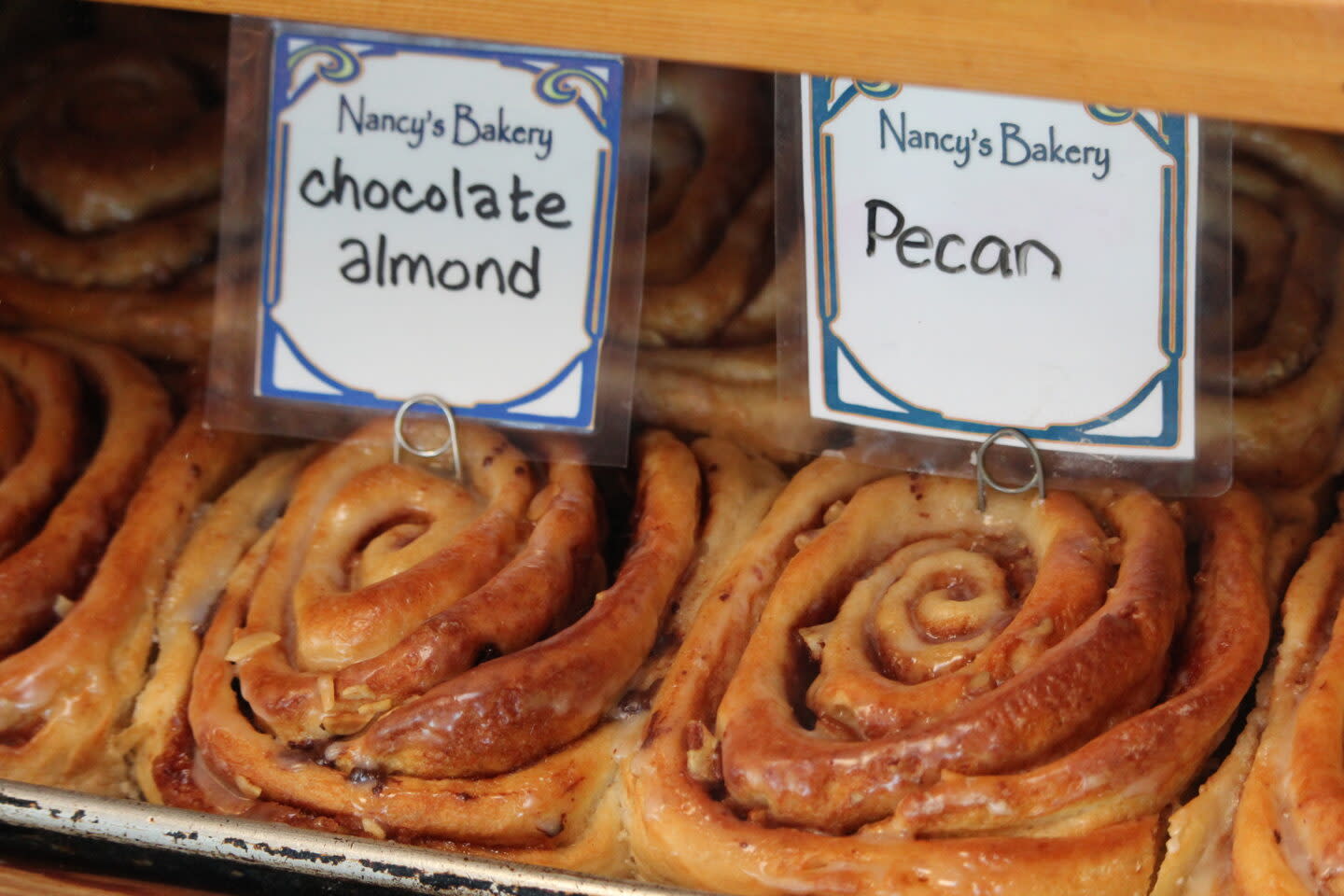 Sheer Bliss Cafe & Bakery, Gibsons
The ultra soft (and perfectly salted) ciabatta loaf at Sheer Bliss makes its way into many things on the menu at this charming cafe. From sandwiches (the classic ham and cheese is perennial favourite) to soups and stews, it's perfect for dunking into, it's hard to ignore, and impossible to dislike. Pick up a loaf or two for your travels, but be warned—they sell out fast and it's a heartbreaker when they do. The only thing better than the ciabatta? Besides the incredible display of other tasty morsels on offer, it has to be the friendly, cheerful service of the staff. 
Skookumchuck Bakery, Egmont
This one takes the… er, cake as the most scenic bakery on the Sunshine Coast. Set in a cozy wood cabin within its namesake Skookumchuck Narrows Provincial Park, this adorable bakery is tucked away in the forest and surrounded by green foliage. All of their baked goods are made on-site from scratch, from giant cinnamon buns to wood-fired sourdough pizza to sandwiches, including a breakfast option that's perfect fuel for the day. It's not just the bakery that's a draw—most people make the trek to Egmont to see Skookumchuck Narrows, located down a five-kilometre trek from the bakery's front doors, and made famous for its surging, powerful whirlpools that attract kayakers and surfers to its twice-daily current flow. (Note: the bakery is only open seasonally.)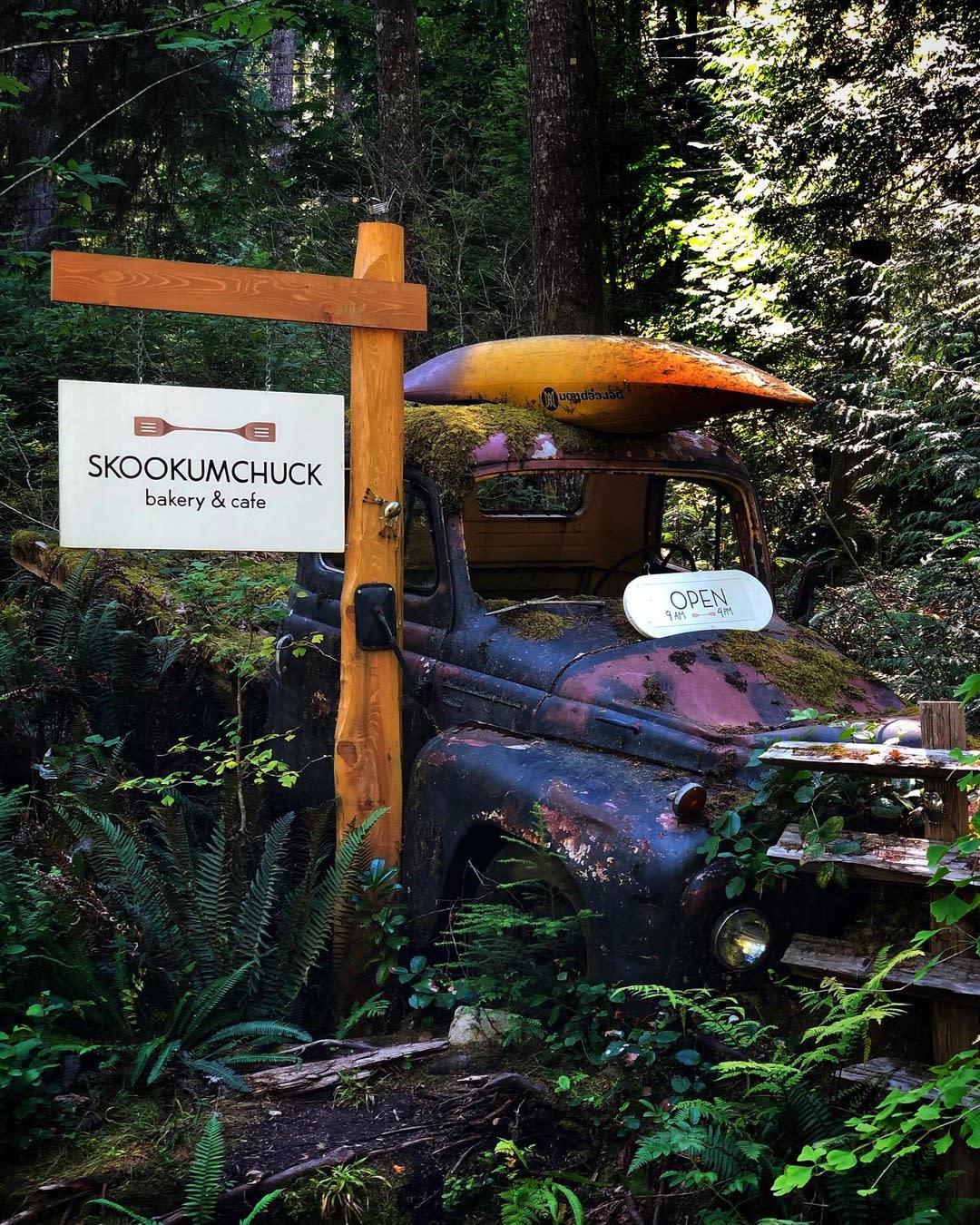 More Cafe & Bakeshop, Gibsons
Don't be fooled by this bakery's unassuming location right off the highway in Upper Gibsons. This European-style cafe draws a steady crowd throughout the week for the delicious array of sweet treats, including scones, muffins, cakes, pies, and cookies. Whether you're catching the ferry or heading to the trails, be sure to swing by early—the buttery, flaky croissants, which are baked fresh every day, have the reputation as being one of the best on the Coast, and when we saw they draw a steady crowd, we mean it. Come early, leave happy. You won't regret it. 
32 Lakes Coffee & Bakery, Powell River
This bright and airy cafe, located on Main Street in Powell River, is a must-visit for a leisurely start to the day. If you're not too distracted by the array of baked goods and the delicious smell wafting from the bakery's kitchen, you'll notice a bright and airy interior decorated with plants and local art and ceramics. But the main star of the bakery is the sourdough loaves: soft and chewy with a tender crumb and good flavour, these loaves are the perfect base for making a sandwich to eat mid-trail, paddle or beach. While there, snag yourself some pastries and coffee for the road.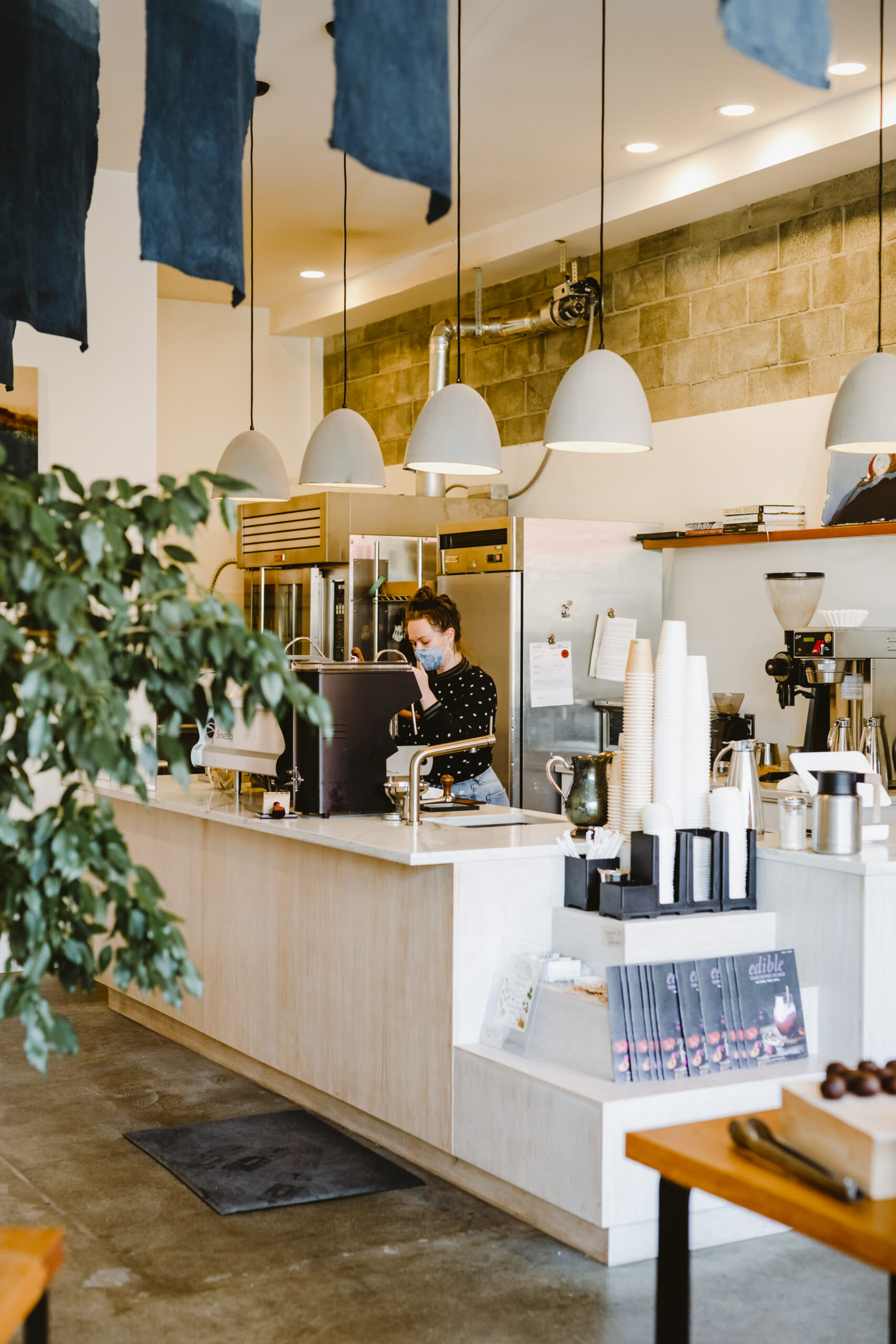 Basted Baker, Sechelt
This popular Sechelt spot is known for their Southern-style biscuits. They're flaky and buttery and best tried in one of the breakfast biscuit sandwiches or the eggs bennies. Decision-making here is never easy though—will you have the pulled pork eggs benny or the mushroom or spinach? A chicken and pesto sandwich or Basted Baker's version of cream cheese and lox? Prefer something on the sweet spectrum instead? You'll find all the usual suspects, from muffins to scones, squares, and more. For those looking for gluten-free options, fear not: the biscuits come sans wheat, too.
Deadly Donuts, Gibsons
It's probably a good thing Deadly Donuts doesn't have a brick and mortar location, otherwise we might be there a little too often. Instead, you can find them on occasion at both Beachcomber Coffee locations (in Upper and Lower Gibsons), as the perfect accompaniment to a hot cup of coffee. Bonus: these donuts are vegan and they're baked, not fried, which means you can feel that much better about indulging in one (or more). Travelling with others? Grab a box to go—it's sure to earn you bonus points from the group.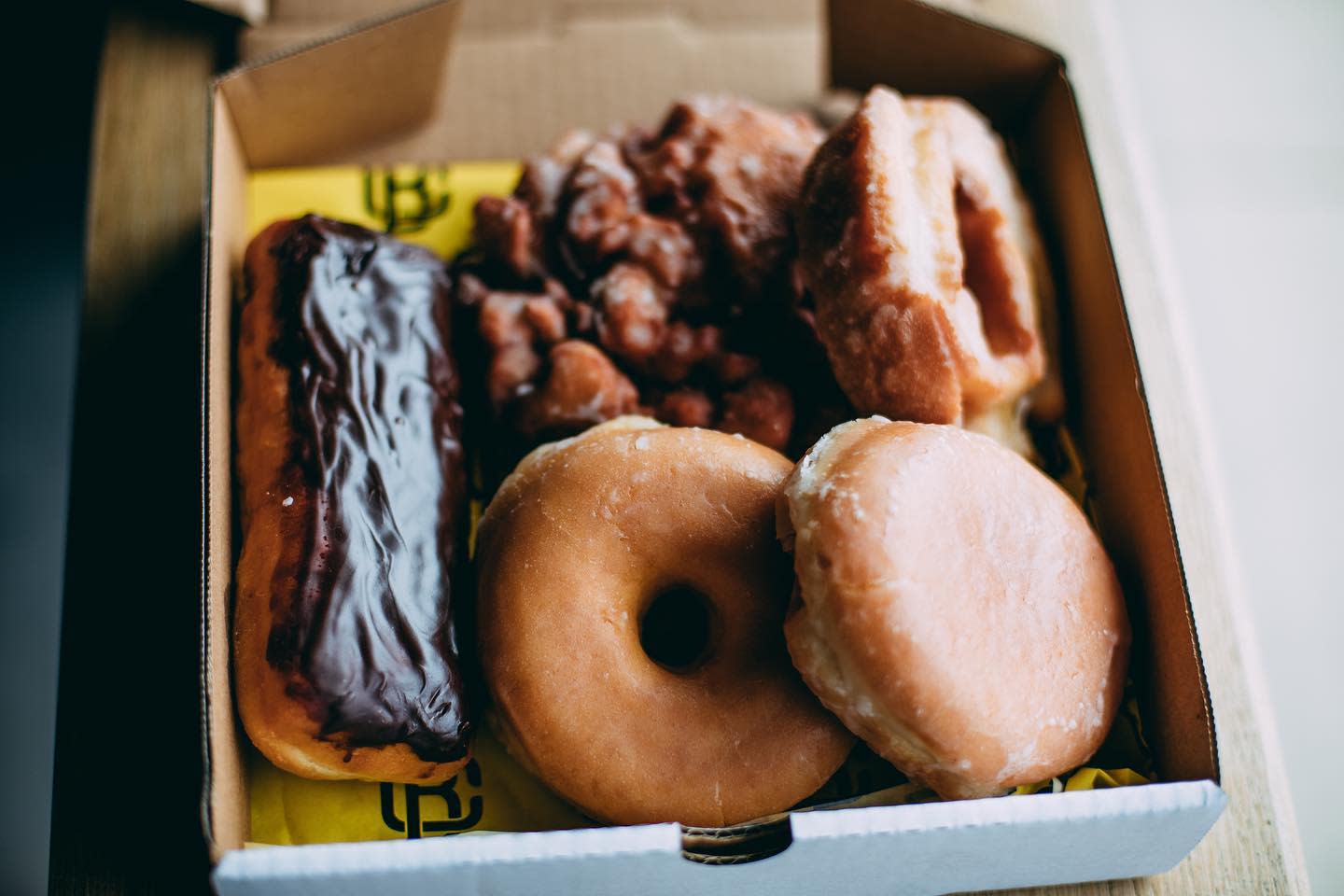 Bonus Mention: Farmers' Market
Farmers' markets are one of the best ways to try local food on the Sunshine Coast where vendors and food trucks can be found selling all manner of delicious things, from fresh baked bread to homemade granola to plates of food. There are markets available year-round on the Sunshine Coast. Click here to see our events calendar. 
Find more things to eat on the Sunshine Coast, Canada.