Add this to your New Year resolutions: a bucket list trip to the Sunshine Coast. We're broken down some once-in-a-lifetime experiences to enjoy on the coast, from a sailing charter through the stunning waterways of Desolation Sound to an aerial flight over the snow-capped peaks of Tetrahedron Provincial Park. 
 
Sail Through Desolation Sound 
Desolation Sound is one of the great sailing destinations of the world and it's right here in our backyard. It's the largest marine park in British Columbia, the inspiration for a best-selling memoir, and—for those who sail its stunning waters—often hailed as a life-changing experience. It's best tackled on a sailing charter where over five to seven days you can gently drift into quiet and sheltered coves, swim in the warmest waters north of Mexico, watch for dolphins chasing the bow of your boat, and snorkel amongst BC's rich and diverse marine life. With more than 6,350 acres of shoreline and water, there are endless harbours, inlets, bays, beaches and views to explore. 
A sailing charter takes care of all the planning, from organizing on-shore excursions (alpine lake dip, anyone?) to cooking five-star meals featuring the day's catch. Bonus: the staff, who sail these waters year after year, let you in on their favourite local hangouts so don't be surprised if one day you're visiting an oyster farm and the next a deserted cove. Desolation Sound is where to go when you want to escape civilization—you won't find cell service here, only peace, solitude, and an adventure of a lifetime. 
Learn more about boating on the Sunshine Coast.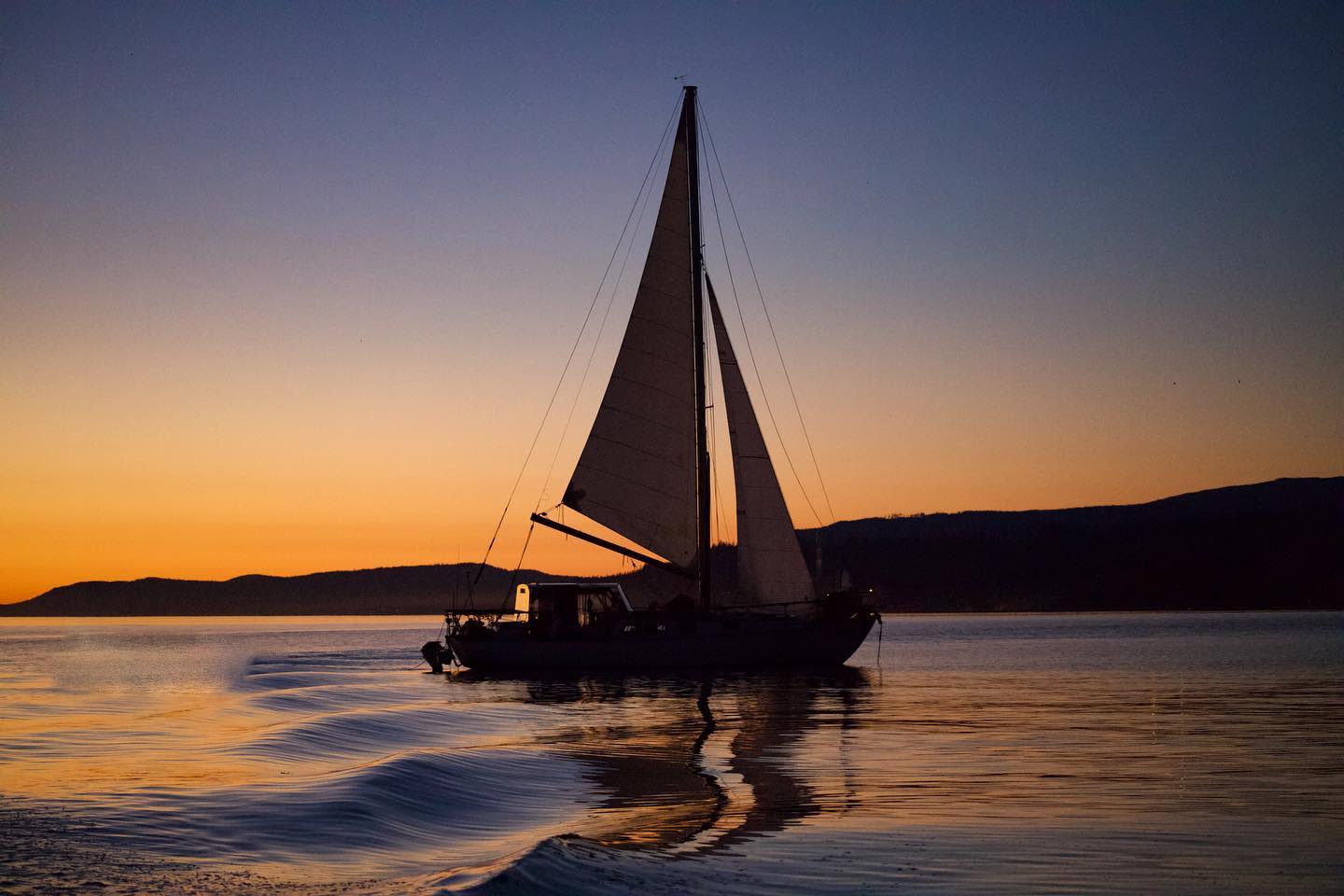 Island Hop across the Sunshine Coast 
There are six main islands just off the Sunshine Coast, each with their own distinct vibe and amenities. Island hopping along the Sunshine Coast's 180-kilometre shoreline makes for a memorable way to explore the coast. However you plan your trip—starting first on Gambier or Keats Island or working your way south from the tropical-like Savary Island, located near Powell River—you'll experience a way of life that's slow in pace, idyllic at heart, and stunning in nature. 
On the populated islands of Gambier, Keats, and Texada, you can mingle with the locals who call their respective slices of paradise home and get intel on the must-see spots (like where the best beaches are). Craving a destination that's reminiscent of farther-flung locales? Head to the white sand beaches of the pedestrian-only islands of Savary and Thormanby. A multi-day kayak tour around the Copeland Islands will introduce you to some of the Sunshine Coast's most unique marine life, while a summer visit to Nelson Island is sure to bring lazy days and swimming amongst phosphorescence. Looking to step it up a notch? Consider renting your own private island via Out There, complete with a tree house and more.
Ferries and water taxis help you get from island to island. Plan your trip ahead of time—ferry service and available amenities differs between islands.
Learn more about visiting islands on the Southern and Northern Sunshine Coast.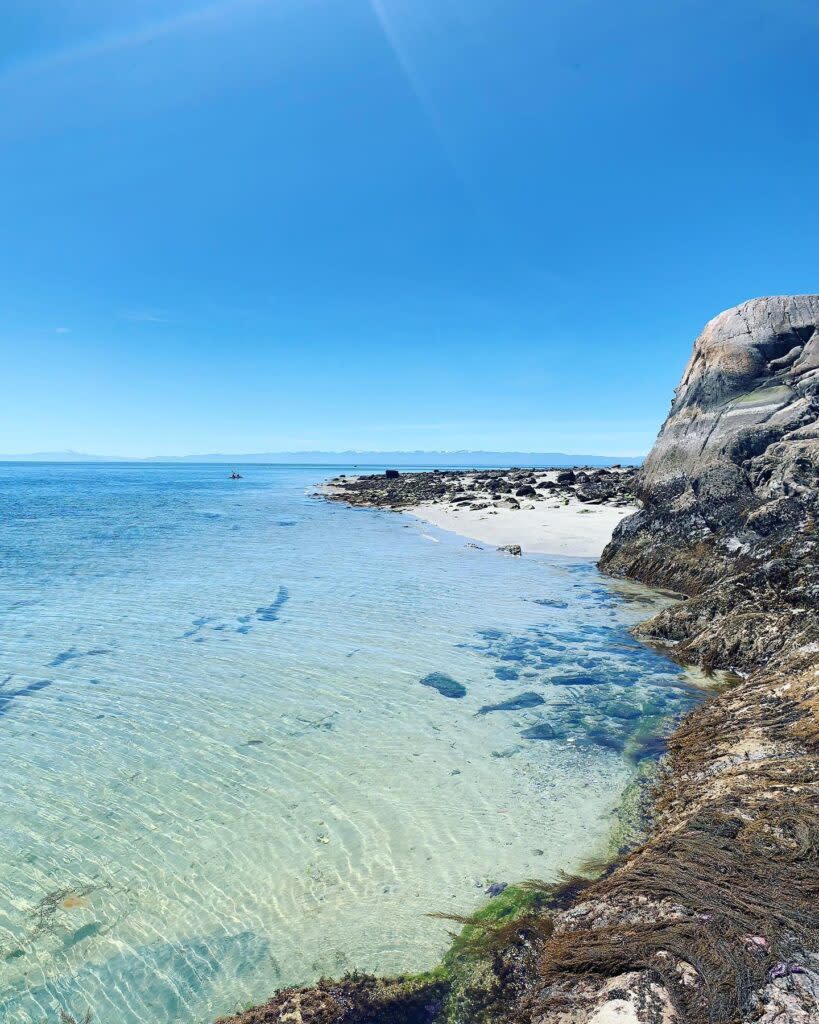 Paddle the Powell Forest Canoe Route
You've likely heard of Bowron Lakes, but what about the Powell Forest Canoe Route? This overlooked paddling journey rivals that of its more well-known BC counterparts and is only a short ferry ride from northern Vancouver Island and a day from Vancouver. This 57-kilometre, eight-lake, five-portage, and five-day journey takes you through the extraordinary wilderness and backcountry of Powell River. As you paddle quiet lakes—the only sound being that of your paddle making gentle ripples through the water—you'll get to witness snow-capped peaks, dense forests of cedar, fir, and spruce, and wildlife ranging from bald eagles to birds to bears. The trip is best done between June and October when the weather is fair and more predictable. 
While you can paddle shorter sections over one or two days, tackling the entire route lets you sink into the rhythmic motion of paddling and experience the everyday beautiful moments BC's wilderness brings—spotting that elusive bird you've been looking for, swimming in a warmed lake, and watching the stars from your campsite. It's the kind of trip done with intention—and, once you've completed the journey and life picks up again, you'll recall the feeling of being deep in the Sunshine Coast wilderness, paddle in hand and at peace. 
Rent your paddling equipment at Mitchell's Canoe, Kayak, Sup Rentals & Gear.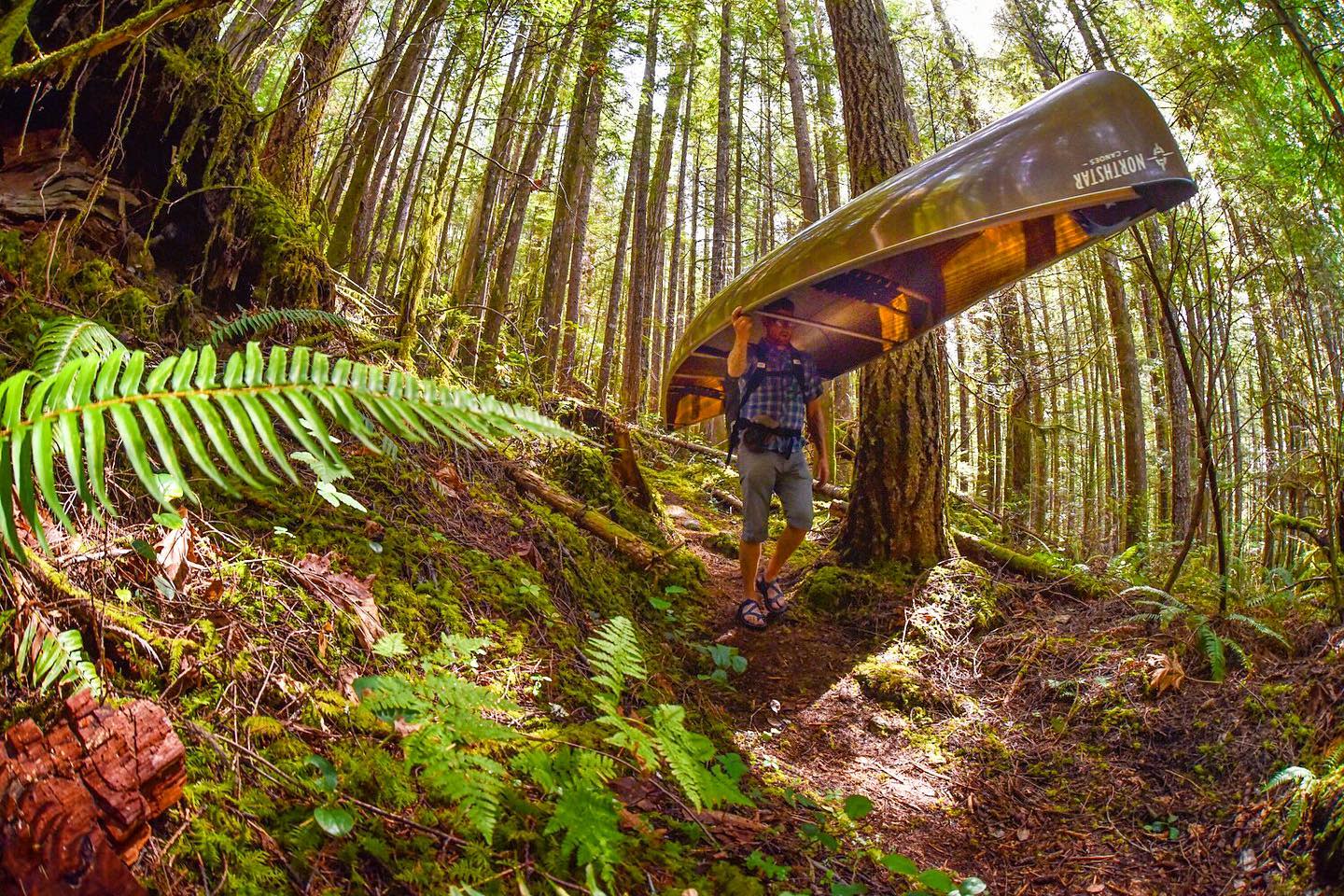 Experience the Waterfalls of Princess Louisa Inlet
There's nowhere better for chasing waterfalls on the Sunshine Coast than in the magical Princess Louisa Inlet fjord. Here, some 60-odd waterfalls—caused by the melting snowpack each year—cascade down massive granite cliffs. This magnificent granite-walled gorge soars to 2,100 metres in height while the inlet, almost completely enclosed, plunges to depths of 300 metres. The star attraction of Princess Louisa is Chatterbox Falls, which tumble 120-feet down a sheer face, creating a thunderous roar where it meets the ocean below. Old-growth trees tower on either side of the waterfall, their branches outstretched, absorbing moisture from the waterfall's glorious mist. Even more impressive than Chatterbox is James Bruce Falls, the highest measured waterfall in North America at 2,755 feet, which feeds into Chatterbox Falls from above.
Accessible only by boat or plane, Princess Louisa Inlet is best seen with experienced guides via charter boat, tour, or floatplane due to dangerous tidal conditions. 
Learn more about Sunshine Coast Tours' Princess Louisa Inlet tour.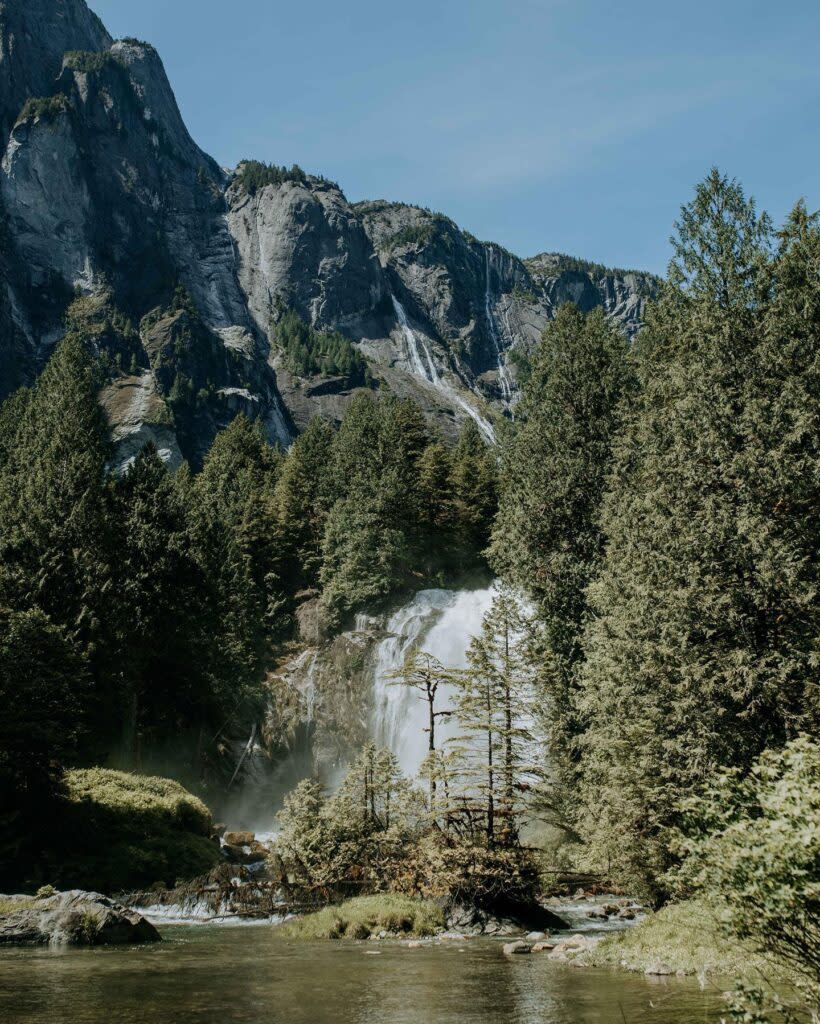 Book a Remote Getaway at Klahoose Wilderness Resort
Imagine: you are here to explore Yekwamen (yɛkʷamɛn) or Toba Inlet, set deep within Desolation Sound, a place of ancient and energizing forces, with the stewards of this area to guide you through the territory they share with grizzlies, eagles and whales. Your host is Klahoose Wilderness Resort, an all-inclusive, luxury, off-grid eco-resort that's owned and operated by the Klahoose First Nation. 
Over the course of your stay, you'll be introduced to the cultural and natural significance of the area. From witnessing a traditional greeting when you first arrive to learning the Klahoose names for the wildlife you see out your front door like qaykʷ (eagle), this is an unparalleled cultural and wilderness experience. You'll be left feeling inspired, rested, and in awe of the people who have called this spectacular part of the coast home since time immemorial. 
Stay at Klahoose Wilderness Resort.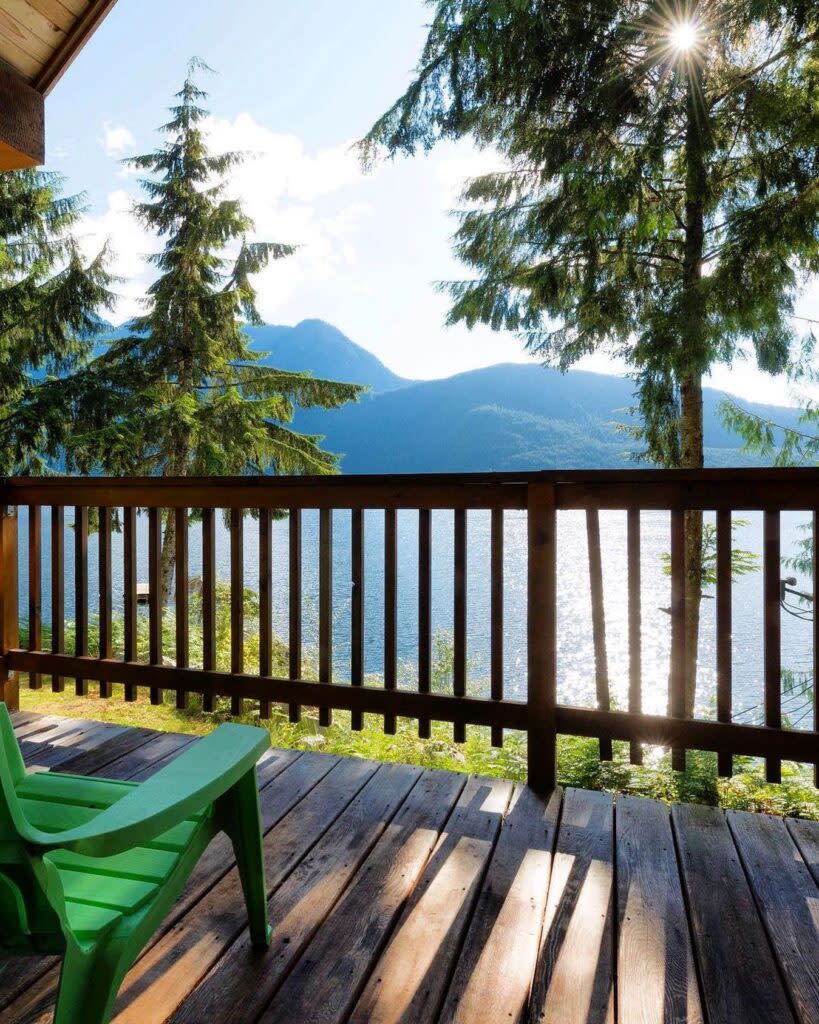 Hike the Sunshine Coast Trail
The Sunshine Coast Trail is a 180-kilometre hiking trail and Canada's longest and only free hut to hut system. Stretching from Sarah Point in Desolation Sound to Saltery Bay, this backcountry multi-day journey winds along coastal shoreline, past creeks and mirror-like lakes, through sub-alpine meadows, and to panoramic mountaintops overlooking the awe-inspiring Powell River wilderness. It's rich with flora, fauna, and views, and completing the entire route is sure to earn you bragging rights among your friends and hiking enthusiasts. 
There are 14 huts along the route to stay in, and while each varies in style and location, they all offer basic amenities: places to sleep, eat, and rest. Like other multi-day adventures that challenge you in all the best ways possible, the Sunshine Coast Trail is the kind of trip where gruelling work leads to a euphoric sense of satisfaction and reward; and where the peace and solitude you find hiking is met with the friendly camaraderie and banter of fellow hikers (all tackling their own version of the route) at night in the huts. The Sunshine Coast Trail is one of Canada's most breathtaking wilderness experiences, but it's also remote and self-guided: make sure you're well equipped with the gear, knowledge, and experience you need to complete the trail. And if you don't have the time to complete the entire trail, keep in mind that it can also be tackled in smaller sections.
Learn more about the Sunshine Coast Trail. Check out Sunshine Coast Shuttle for transportation and resupply services.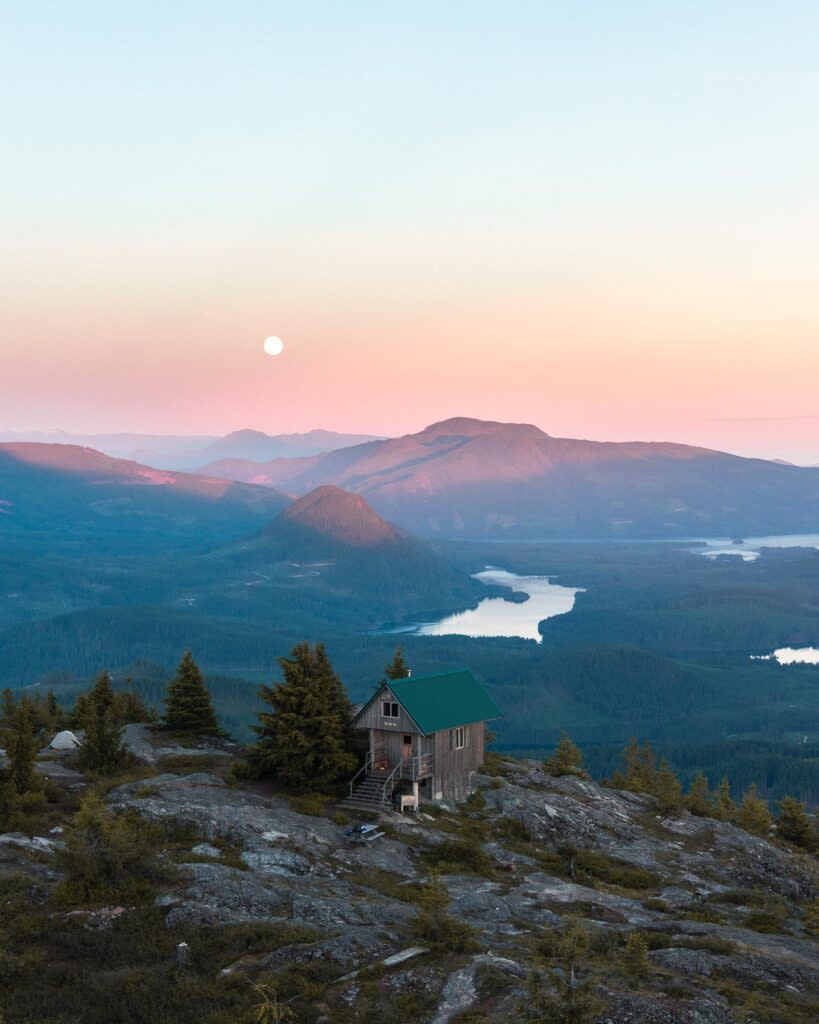 Fly Over Tetrahedron Provincial Park
There's no better vantage point than from the air. An aerial tour with Sunshine Coast Air lets you see the sprawling expanse of the Sunshine Coast's mountain ranges. Their Glacier Lake Tour starts along Sechelt Inlet where you'll fly over lush forest, looking for mountain goats on rocky bluffs, then climb to the snow-capped peaks and turquoise glacier lakes of the Coast Mountain Range. As you fly over the Sunshine Coast's Tetrahedron Provincial Park, keep watch for its namesake peak—you might want to hike to its summit the next day via the Tetrahedron Peak Trail for a truly epic Sunshine Coast alpine adventure.
Book a flight with Sunshine Coast Air.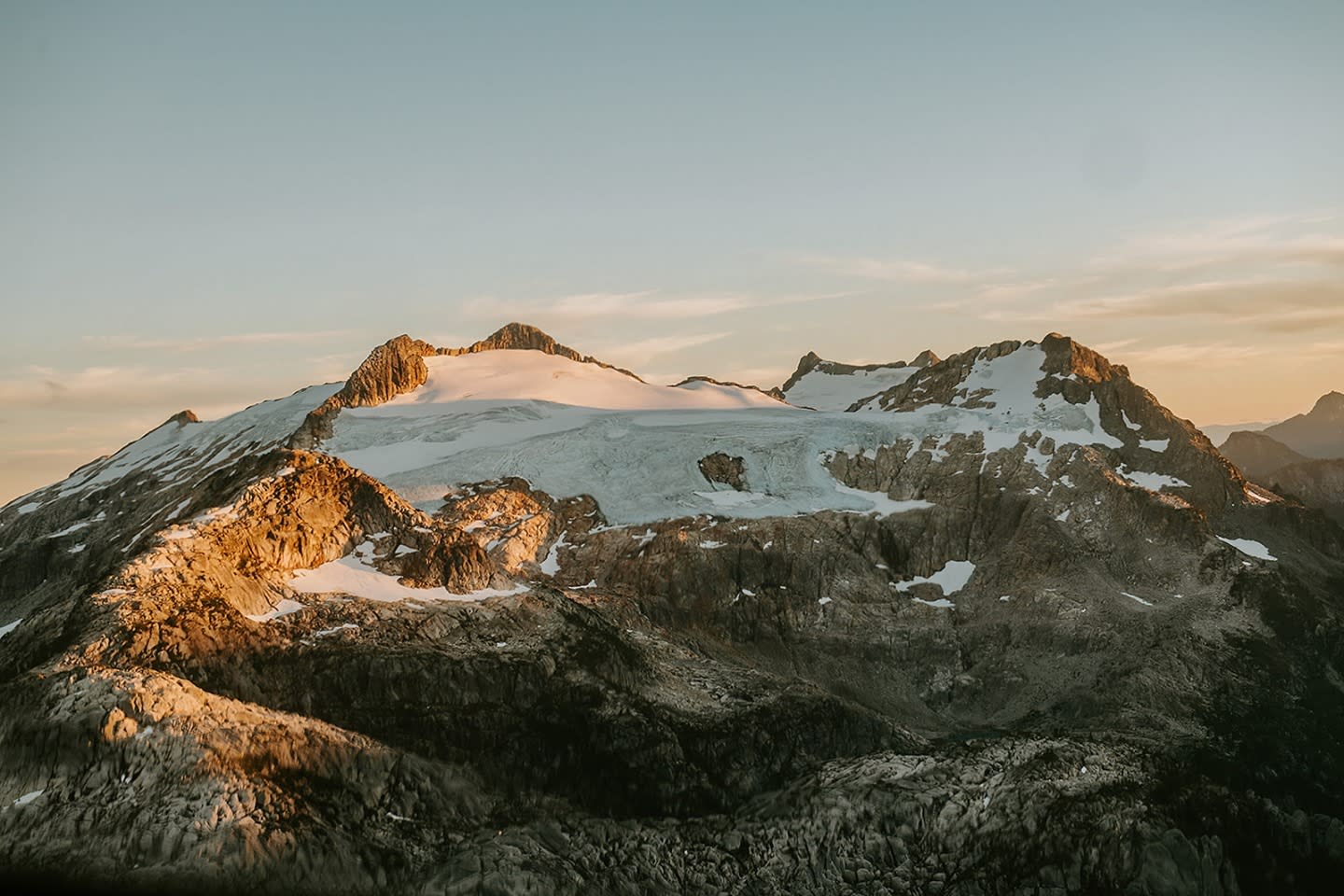 Find more trip ideas or start planning your Sunshine Coast getaway here.