Length & Difficulty: 4 km | 2 hours | Moderate
Where else can you snowshoe in fresh mountain powder in the morning, and play a round of golf in the afternoon? A true four-season destination, Powell River is home to the Knuckleheads, a winter recreation haven, perfect for skiing, snowshoeing, and snowmobiling with two cabins available to warm yourself after a day of fun in the snow. Ascend and descend in one day, or spend the night in warmth in one of the cabins and go on day snowshoe excursions from there. Each cabin has a sleeping loft, pellet stove, picnic table, and a propane cook stove.
The elevation of the sub-alpine area of the Knuckleheads falls within the coastal snowbelt; snowfall usually begins at November and continues until May. Largely the area is on the north slope of the range and remains sheltered from the sun. Snow can stay on the ground until as late as June. Snow depth ranges from 10 feet to 16 feet around January.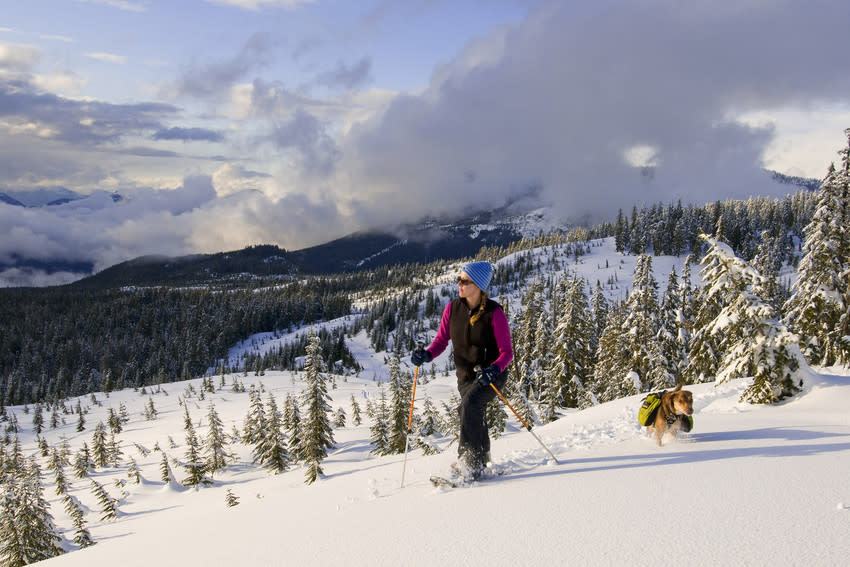 This is a beautiful wilderness area where experienced people can find winter recreation and benefit from set ski trails and the comfort of warming huts. The area is part of the provincial forest that is maintained as a working forest, a portion has been logged and replanted, the clear-cut areas and the old logging roads are very suitable for winter travelling on either skis or snowshoes. Snowshoe equipment rentals are available in Powell River.
Map and Directions
From Highway 101, make a turn onto Dixon Road and continue driving for 5 km where you will make a turn at Lois Lake onto the MacMillan Bloedel Stillwater Mainline. After 11 km of travel distance, look for the Tin Hat Junction, from there continuing past Horseshoe Creek, Freda Creek. At the 13 km mark turn left at the Third Lake Road Junction. On your right "A" branch will show up at about the 15 km mark. Continue your journey over a bridge for 1 km turning right onto "E" branch. Almost there, keep driving for 2 miles to the "E" branch and "E100" junction, stay right for 1 km to the gate. Park here and secure your vehicle.
The trails of the Sunshine Coast offer a wide array of experiences for travellers of all levels and walks of life. Ranging in length, difficulty, and experience, the trails on the Sunshine Coast are the epitome of the pristine beauty and epic landscapes of British Columbia.
Join the adventure and share your photos with us on Facebook, Instagram, Twitter, or YouTube using #sunshinecoastbc. Head here for more information on hiking routes on the Sunshine Coast.