Length and Difficulty: 5 km | 2-3 hours | Moderate
The trails at Triangle Lake beckon those who love the mossy, wet rainforest that thrives in coastal British Columbia. On a rainy day in late fall, the trail is saturated beyond belief; the leaves left on trees are drooping at the weight, and the mushrooms are thriving. There must have been at least 15 different types of fungi just littering the trail and the trees, an incredible display of colours, sizes, and shapes. 
At the trailhead, you are immediately faced with a well signed fork to choose either a route to Trout Lake or Triangle Lake. At almost twice the length, Trout Lake is a great choice for those looking for a longer day on the trail and it's flagged for both hiking and mountain biking. Triangle Lake is posted as hiking only and given the terrain it's probably for the best.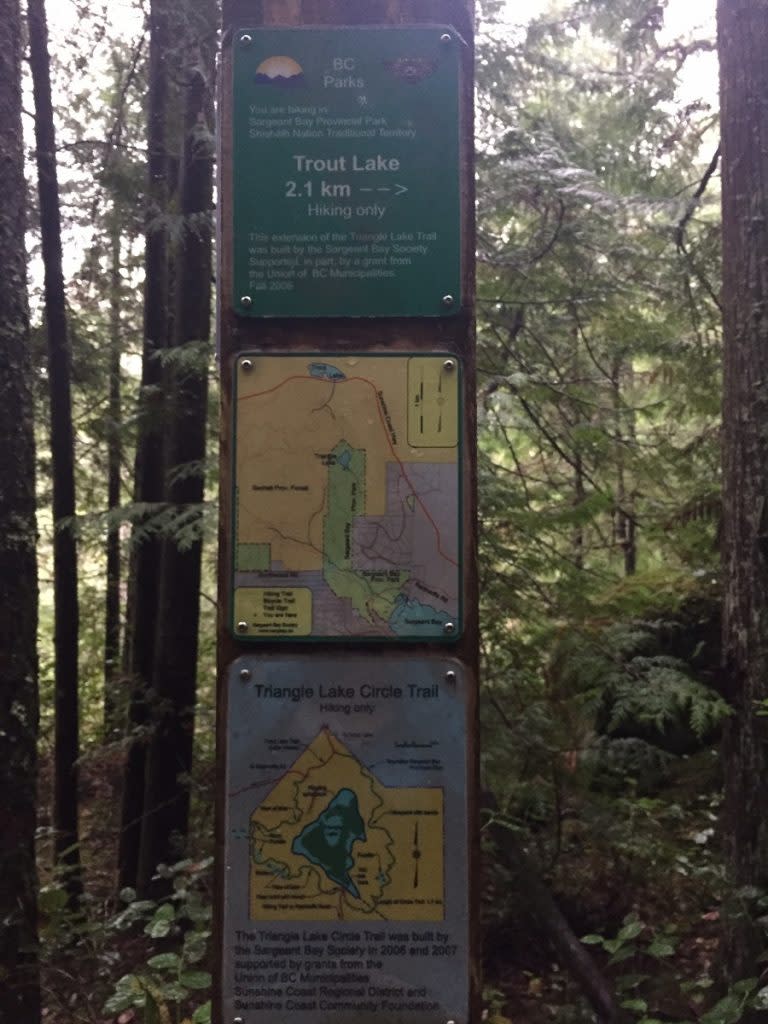 A combination of soft, leaved covered paths with roots and rocky scrambles make for a fun and interesting trails, despite waiting to have any viewpoint until over 3km in when you reach the lake itself. Once at the lake, there is an immediate viewpoint straight ahead with a nice bench to rest. If you choose to do the entire loop around the lake (about 1.7 km) you'll enjoy the rolling hills with multiple views over the boggy lake. 
According to the Sargeant Bay Society, "Triangle Lake is not actually a lake, but a true bog, a special type of wetland that is quite uncommon at low elevation on the Sunshine Coast. It is almost entirely surrounded by rocky ridges and receives its water only from rain." This bog is home to a unique eco-system and it's important that hikers respect the area for its fragile plants and animals. Beyond the tree frogs and old growth trees, the signage explains that Triangle Lake is also located on the traditional territory of the Sechelt First Nations. In shishalh language, the lake is called "S-ch'ewk'", meaning "Fried Bread Lake". With its woody debris covering much of the lake, its easy to understand!
Directions
Follow Hwy 101 north from Sechelt for 7 km until you reach the community of Halfmoon Bay. Take a left onto Redrooffs Road, once you pass the entrance to Sargeant Bay Provincial Park on your left, you'll want to pull over in the pull out immediately on your right. There are several yellow posts and this is the trail head to Triangle and Trout lake.
The trails of the Sunshine Coast offer a wide array of experiences for travellers of all levels and walks of life. Ranging in length, difficulty, and experience, the trails on the Sunshine Coast are the epitome of the pristine beauty and epic landscapes of British Columbia.
Join the adventure and share your photos with us on Facebook, Instagram, Twitter, or YouTube using #sunshinecoastbc. Head here for more information on hiking routes on the Sunshine Coast.