Valentine's Day is synonymous with love, but romance doesn't have to stop there. On the Sunshine Coast, you can bond with your loved one year-round, whether that's a picnic with a view or a night spent under the stars. Here are five ways to up the (romance) ante on your next trip.
For Partners Looking to Rekindle the Spark: Hunker Down at a Cozy Cabin
A secluded getaway to the Sunshine Coast offers plenty of chances to slow down and reconnect with your partner, whether that's over a game or cards or a meal shared between two. Cabins and cottages are perfect for rekindling the spark, allowing you to cozy up by the wood stove with a glass of wine or take a relaxing soak in a hot tub set deep within the forest. For an extra special treat, book a massage with Ihana Coastal Massage, a mobile massage therapy service that brings relaxation to you.
So where should you whisk your better half away to? You can't go wrong with architecturally stunning Pointhouse Suites in Sargeant Bay, a charming A-frame surf shack cabin in Tuwanek, yurt cottage in Lund, or the geodesic domes at Backeddy where you can stargaze from the comfort of bed. There are hundreds of properties to choose from in communities across the Coast, with popular destinations including Sechelt, Halfmoon Bay, Pender Harbour, Roberts Creek and Lund.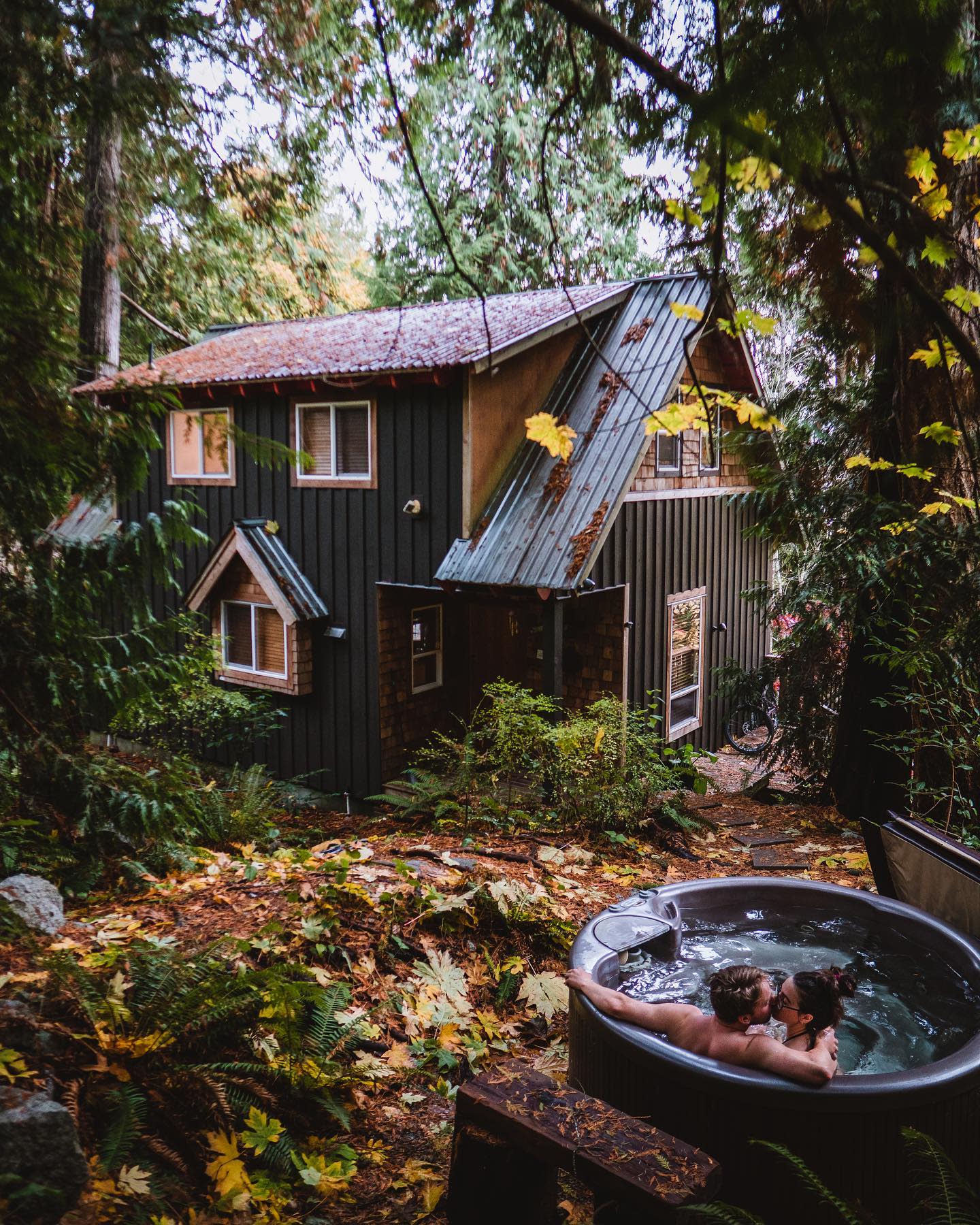 For Stressed Out Couples Looking to Relax: Book a Stay at a Spa Resort
Full-service resorts with on-site spa amenities are perfect for stressed out lovers looking to relax. At Rockwater Secret Cove, there's nothing to distract you from finding a state of zen — except for the views. In summer, the resort's open-air spa tents are perched right at the ocean's edge where you can take in sweeping vistas of the Pacific Ocean and be lulled to a state of bliss from the sound of the waves crashing gently below you. During the winter months, treatments take place in the spa cabin where the cozy atmosphere sets the mood for a perfect pampering experience. In Pender Harbour, find the ying to your collective yang at Painted Boat's outdoor spa garden, which features a series of hot pools (including a warm cascading waterfall), cold shower, firepit, and more. Access to the spa garden is only available with a treatment, making the hardest decision of your stay whether to book in for a massage, facial or manicure.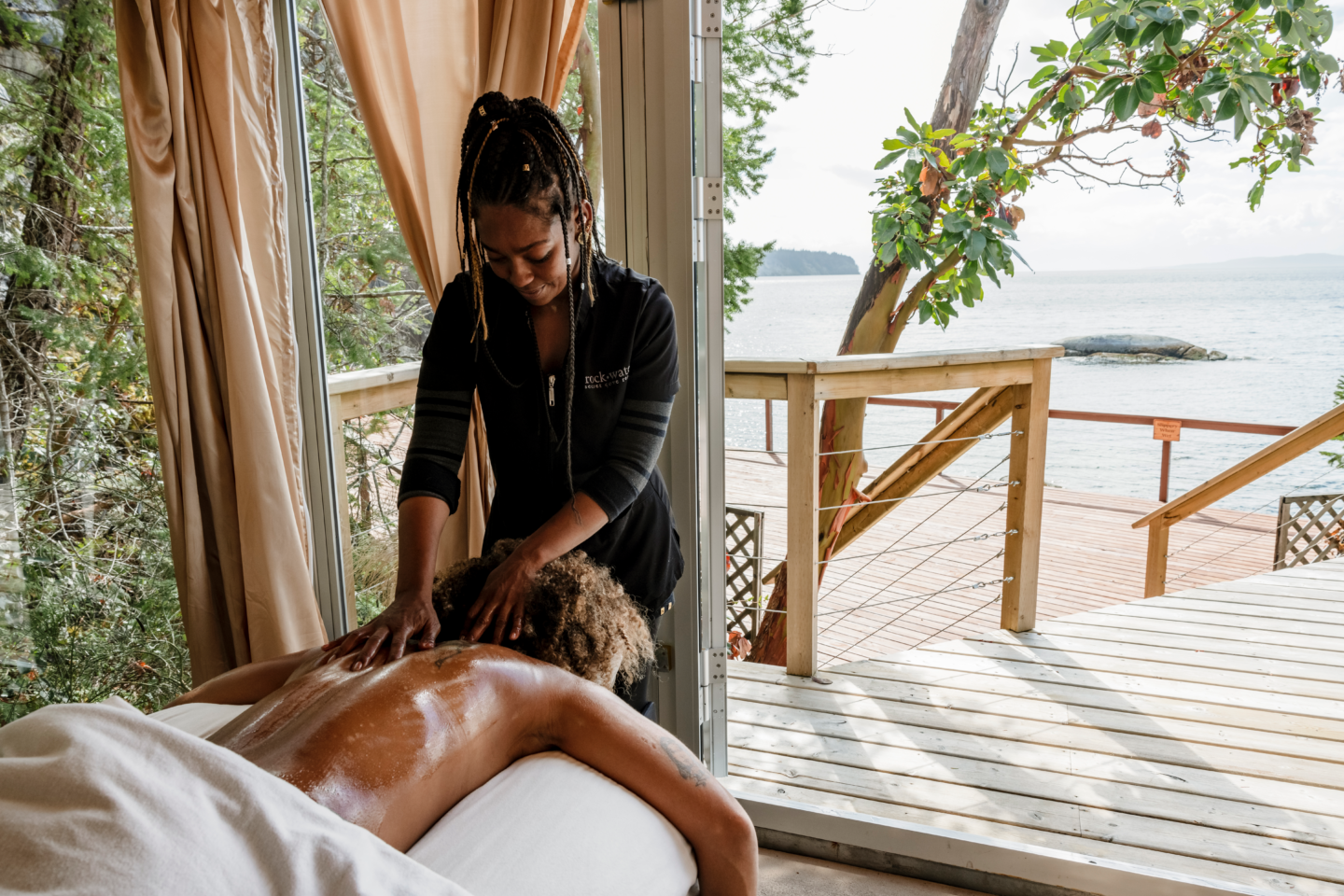 For Lovers on a Budget: Plan a Wallet-Friendly Date
Romance doesn't need to be expensive — all you need is the right setting and person to share it with. On the Sunshine Coast, scenic spots provide the ultimate backdrop for any manner of dates. Coopers Green Park is the perfect oceanside setting for a picnic, with plenty of wooden tables and a wide, flat grassy area. (Make your picnic extra special and bring a grazing box from Good Fridays Gibsons and a bottle of Sunday Cider.) Get your hearts racing with a hike up Soames Hill in Gibsons or Pender Hill in Pender Harbour and share in the spectacular views from the top. Stroll hand in hand along Willingdon Beach in Powell River and look for orcas or humpback whales coming up for air in the distance. If your idea of a date involves spandex or running gear, try the scenic 13-kilometre, wheelchair-accessible loop around Inland Lake, popular with cyclists and runners.
Brought fido with you? Head to the off-leash Bonniebrook Beach, a popular sandy strip linking Gibsons and Roberts Creek where both you and your pup can play. During summer months, Winegarden Park in Gibsons regularly plays host to live music while the west-facing spit at Davis Bay is arguably the best (and most romantic) spot to take in the setting sun. Catering to a history buff? There's nothing like a historic locale to set the stage for romance, and not only does Powell River's National Historic Townsite District have charming architecture in spades, but this neighborhood is also home to a brewery, public market, restaurants, cafes, art galleries, and an indoor climbing wall.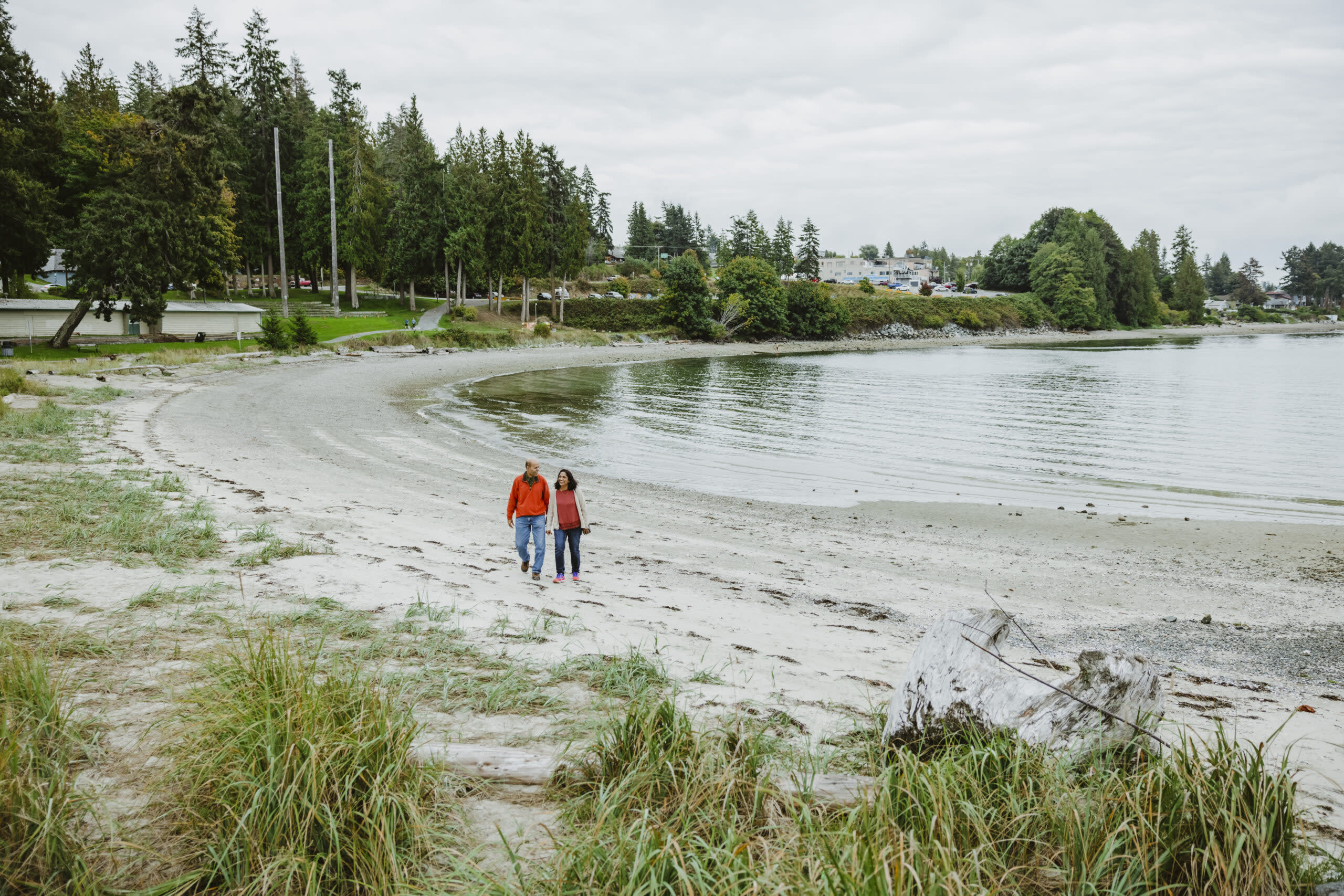 For Lovers Who Like Grand Gestures: Try a Once-In-A-Lifetime Adventure
With a whole host of bucket list-worthy adventures, the Sunshine Coast is the perfect spot to say "I love you" in the most unforgettable way. Sunshine Coast Air's Flights to Flights tour is an epic treat for the beer lover in your life, with a scenic tour over the spectacular Sechelt Inlet sandwiched between visits to the Sunshine Coast's breweries, cideries, and distilleries. If that doesn't appeal to your palate, Sunshine Coast Air offers plenty of other flights, which take you to some of the most exclusive and majestic spots on the Coast, including the white-sand beaches of Thormanby Island and the snow-capped peaks of the Coast Mountain Range.
Planning to visit in summer? Book a stay at Indigenous-owned and operated Klahoose Wilderness Resort in the heart of Toba Inlet and try heli-SUP'ing—you'll be flown to a snow-capped peak deep within the Coast Range where you can paddle along a turquoise blue "river" (caused by the snow melt) in the alpine. Or opt for a luxury yacht charter through magnificent Desolation Sound with your sweetheart. Grand gestures come in all shapes and sizes and if the above trips don't appeal to you or your significant other, perhaps a multi-day hike on the Sunshine Coast Trail—Canada's only and longest free hut-to-hut route—will. Prefer to bike? From Powell River to Gibsons, you'll find some of the best mountain bike trail systems on the West Coast, with plenty of stops for beer and food available in between.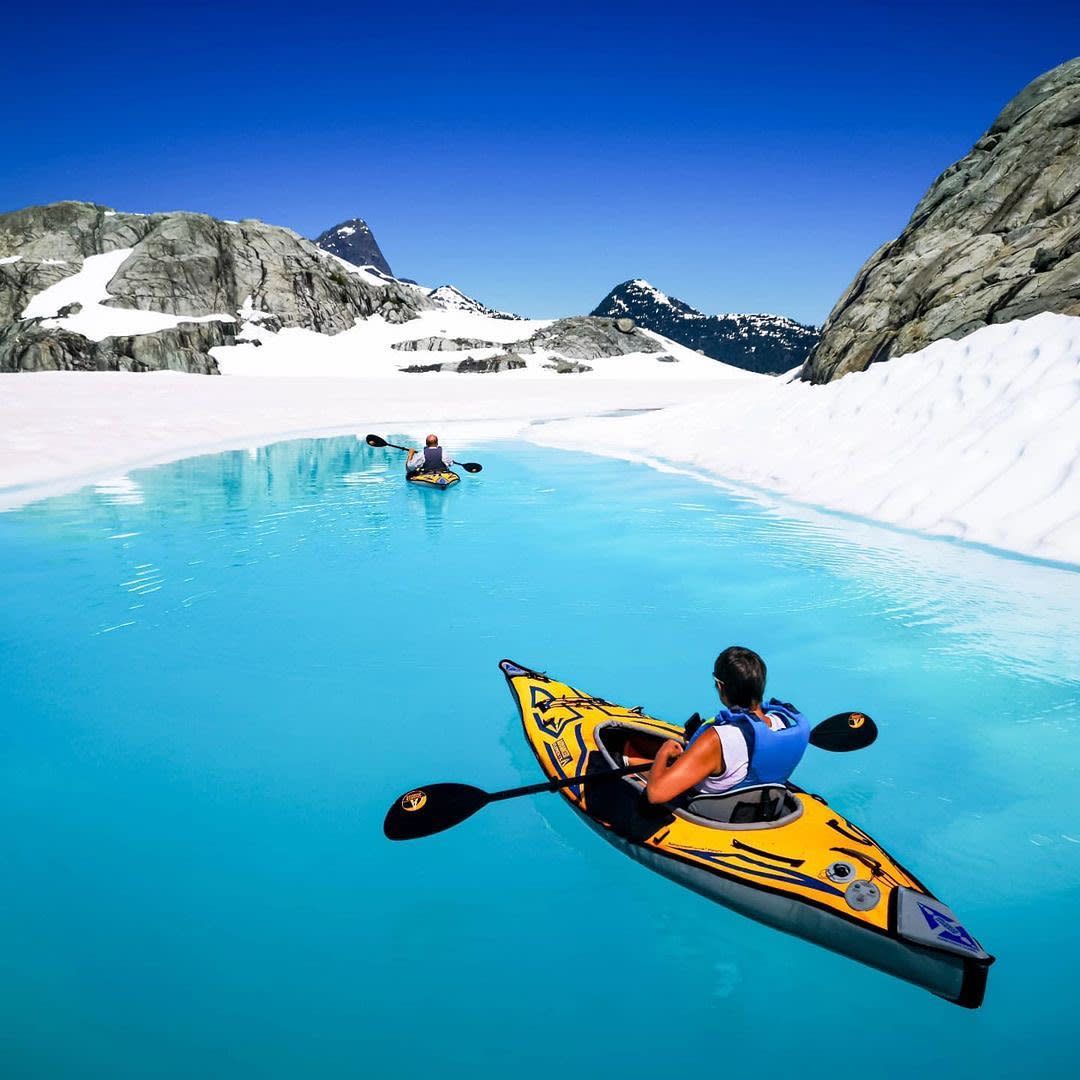 For Committed Couples: Say I Do on the Sunshine Coast
Looking to get married on the Sunshine Coast? The Sunshine Coast can make your wedding dreams come true. Popular venues include West Coast Wilderness Lodge in Egmont and High Beam Dreams in Gibsons, but don't rule out eloping by heli or floatplane either. Intimate oceanfront ceremonies offer a taste of a destination wedding without the headache and price tag while cascading waterfalls provide a spectacular backdrop for photos and vows. Across the Sunshine Coast, you'll find plenty of vendors to help make your special day run smoothly.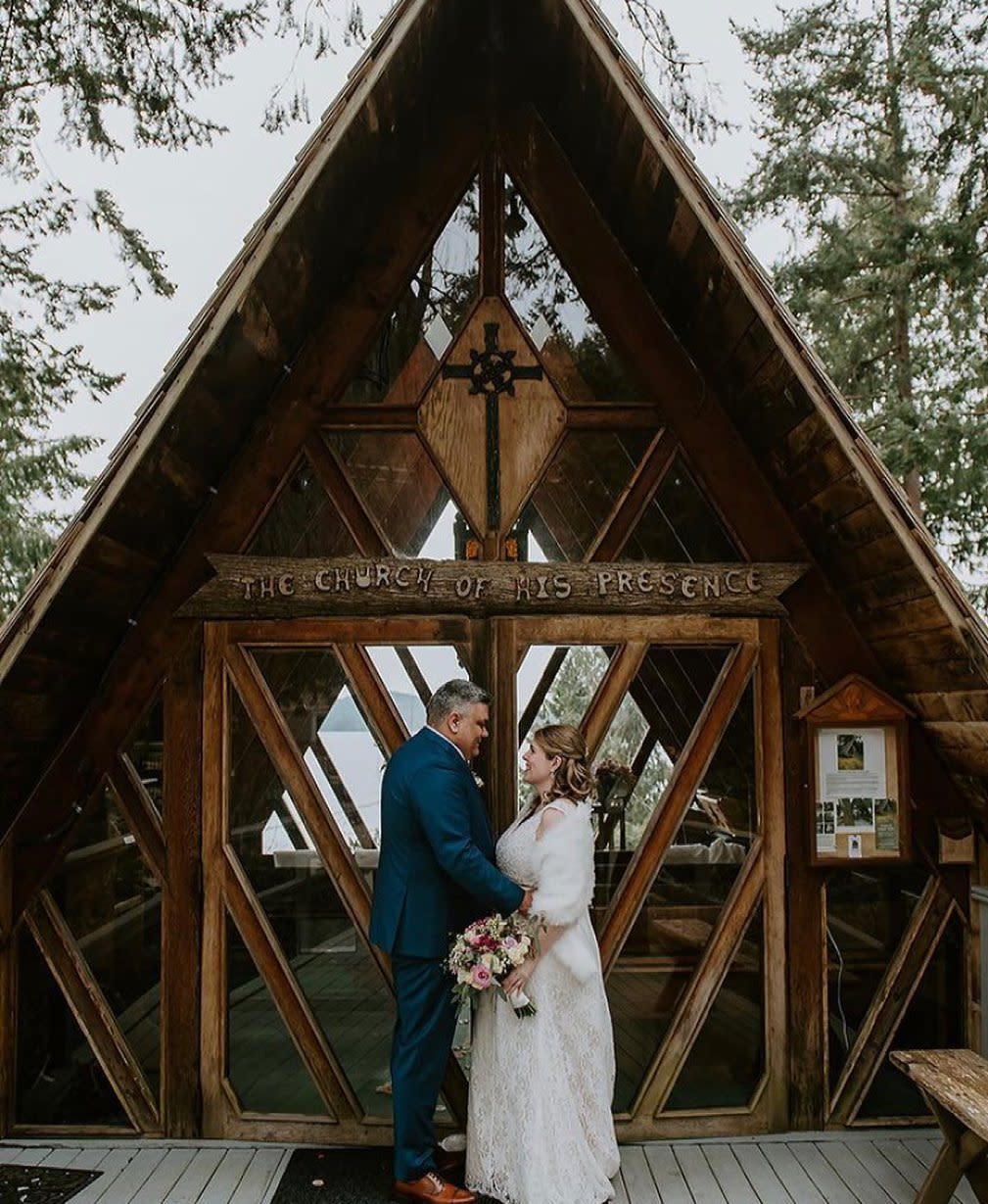 Find other activities to plan with your special someone on the Sunshine Coast.