The Sunshine Coast has wilderness at every turn, but for those times when you want to immerse yourself in nature — with a few of the nicer perks of civilization — head to these resorts. 
Whether you end up stargazing from a geodesic dome, relaxing on your own private island or wind up with front row seats to Desolation Sound, you'll get to experience, up close and personal, the quiet solitude and spectacular scenery of the Sunshine Coast. 
 
1. Backeddy Domes, Egmont 
Stargazing just got a whole lot cozier. Located at the Backeddy Resort and Marina in Egmont, these circular tented domes have a harbour-facing front bay window, along with several smaller porthole-like windows, where you can take in the rugged scenery of the waterfront, and as night falls, the twinkling stars above. Each dome comes equipped with a queen bed, table and chairs, and a full-length curtain to divide the front sitting area from the bedroom when it comes time to sleep (if you can tear yourself from the view outside that is.)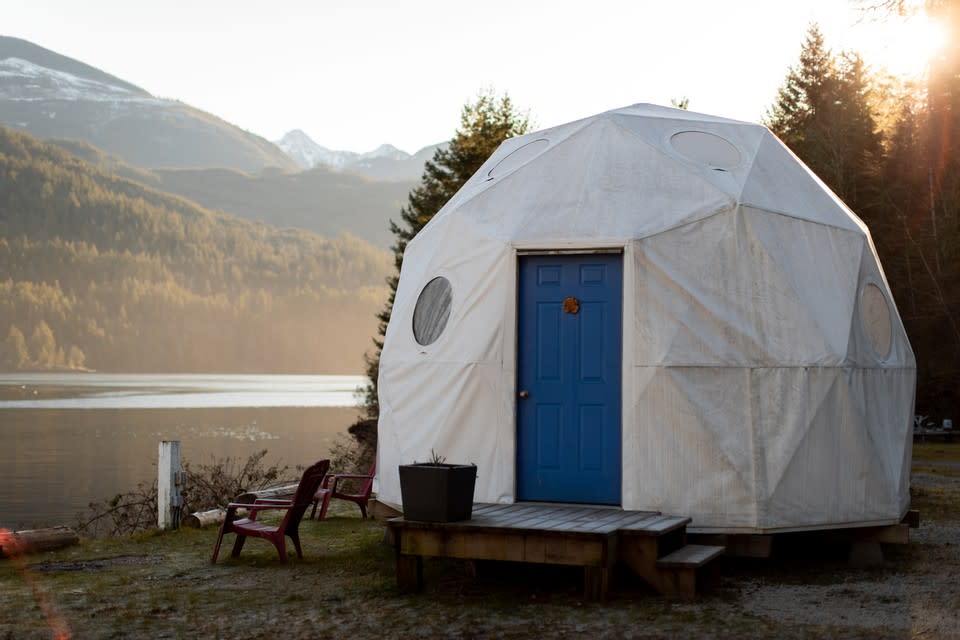 2. Klahoose Wilderness Resort, Desolation Sound
Only accessible by boat or air, the off-grid Klahoose Wilderness Resort is perched at the Northern entrance to Desolation Sound Marine Park in Homfray Channel. This all inclusive, luxury eco-resort, owned and operated by the Klahoose First Nation, will immerse you in the cultural and natural significance of the area. From witnessing a traditional greeting when you first arrive to learning the Klahoose names for the wildlife you see out your front door like qaykʷ (eagle), you'll bear witness to the ancient and energizing forces of this spectacular part of the Coast. You'll find two types of accommodation on offer: comfortable and well-furnished rooms (two with ocean-facing private balconies) in the main lodge or separate private cedar cabins that sleep up to six guests. 
 
3. Out There Off Leash, Egmont
There's no better way to immerse yourself in nature than staying on a private island. At Out There, Off-Leash, you can sleep among the trees in the private treehouse, at water's edge in the glamping tent, or curled up in a bohemian-inspired yurt with a wrap-around sun deck perfect for wildlife spotting, stargazing and sunbathing. You'll find kayaks, SUPs and snorkel gear available, so you can explore every nook and cranny of Nelson Island, but to truly chill out in nature, we suggest lounging in one of the many hammocks strung up across the island.
 
4. Alfie the A-Frame, Tuwanek
The rural (and charming) community of Tuwanek, located along stunning Sechelt Inlet, is where Cabins on the Coast and this picture-perfect A-frame cabin is located. It also happens to be Airbnb's second "most-wishlisted" property across all of Canada and for good reason: tucked into the woods and mere steps from the water, Alfie feels like it was built and designed with nature in mind. With two decks (one that opens up directly from the loft and almost literally into the trees), tons of windows and natural light, and wood walls and floors, it's hard to know where the outdoors begin and the indoors stop.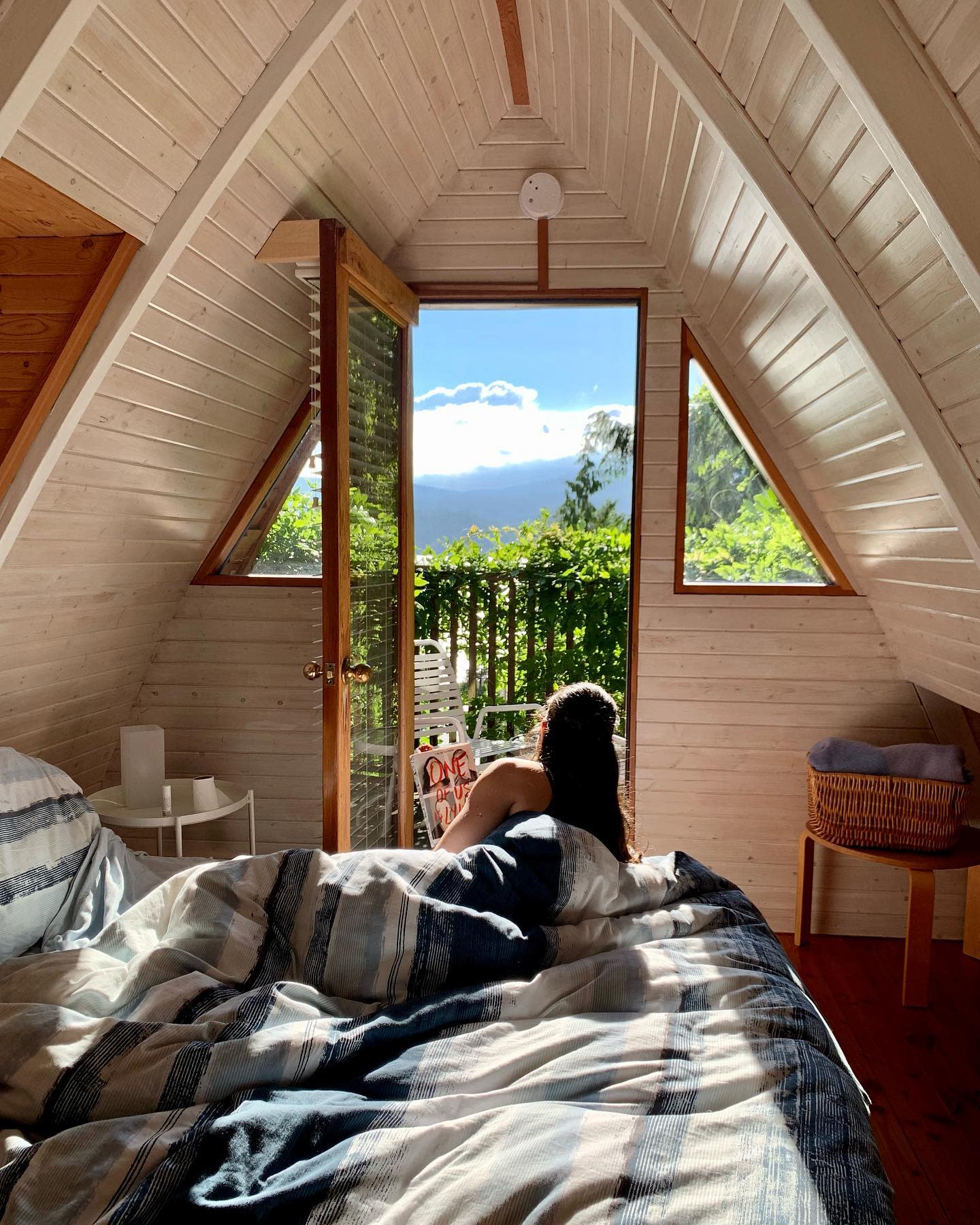 5. Cabana Desolation Eco-Resort, Desolation Sound
Apart from wilderness marine campsites, you won't find any other accommodation located directly in the heart of Desolation Sound except for the off-grid Cabana Desolation Eco-Resort. This all inclusive, eco-resort (inspired by the ones you find in Costa Rica), features a series of well-spaced cabanas and resort structures that all blend seamlessly into their surroundings thanks to the use of locally milled Western Red Cedar and Douglas fir and open-air design. Although the resort was originally conceived as a base camp for sea kayaking tours, the "chill & immerse" tour lets people choose to spend their time exactly how they want (and that could be doing nothing at all).
 
6. West Coast Wilderness Lodge, Egmont
With one of the best views on the Sunshine Coast, you'll see why West Coast Wilderness Lodge chose the name they did. Overlooking the north end of Sechelt Inlet, and framed by forest and ocean, this Egmont-based wilderness resort offers prime coastal and forest scenery (and accommodations here let you choose either one), plus one of the best patios for dining and drinking on the Coast. The patio alone offers up 5,000 square feet of deck space, with unobstructed views of the water. While the restaurant and patio are open to the public, only guests can take in the sunset from the cliffside hot tub. 
 
7. Rockwater Secret Cove Resort, Secret Cove
Tucked away on a rock bluff in Secret Cove, just north of Sechelt, Rockwater Secret Cove Resort's tenthouse suites offer glamping accommodations with unobstructed views overlooking the Strait of Georgia. Each tenthouse suite is connected by an elevated forest boardwalk and range in distance from the water. Choose from the premium tents just mere steps from the water's edge or the private suite overlooking your own secluded cove. During the day, relax with a spa treatment in one of the tenthouse spas (summer only) and enjoy the cool ocean breeze.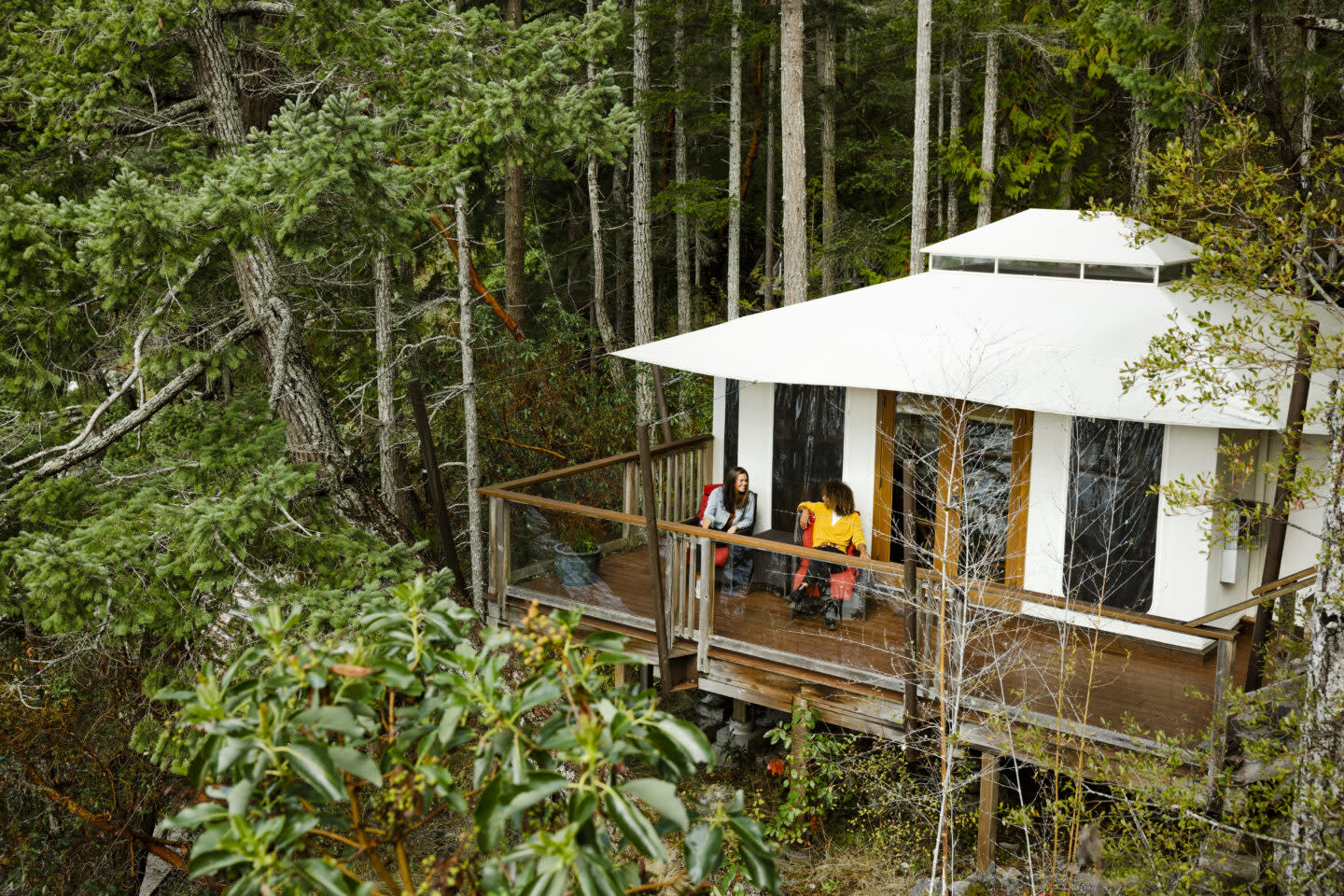 8. Ruby Lake Resort, Madeira Park
This 80-acre nature resort is located at the edge of one of the Sunshine Coast's most stunning lakes. Although Ruby Lake is a popular destination in summer, you'll find plenty of solitude and quiet at the resort, with a range of accommodations tucked away in the forest. At Ruby Lake Resort, guests will find a choice of rustic safari-style tents, wood cabins, and quaint cottages situated next to a lagoon which is home to hundreds of fowl and other small critters. A canoe is available for guests to use for free; catch sunrise on the lake as you leisurely paddle its calm blue-green waters. There are also rowboats and standup paddleboards for rent. 
 
9. Desolation Sound Resort, Lund & Desolation Sound
Desolation Sound Resort is located in beautiful Okeover Inlet in the Lund & Desolation Sound area. The rustic yet comfortable accommodations (there are chalets and apartments) and facilities don't distract from the main event: the wilderness. Spend your days paddling the shoreline, enjoying guided boat tours, and hiking nearby trails.
 
10. Pender Harbour Resort, Pender Harbour
Located on a quieter section of the Sunshine Coast, Pender Harbour Resort's forested yurts and private waterfront wood cabins — complete with big sun decks and spectacular ocean views — feel miles from civilization. Although the resort features a number of cabins for rent and communal gathering areas, you'll find plenty of space for quiet reflection and solitutde here too. Our suggestion? Rent a cabin with a hot tub; they're perched on the sun deck and overlook the resort's marina so you can soak the evening away while you watch the sunset dip below the horizon. Looking for more even more solitude? Rent a kayak or boat from the resort and spend a day exploring the secluded coastline.