They say you eat with your eyes first, and there's nowhere this is more true than at a restaurant with a view.
On the Sunshine Coast, restaurants serve up good eats (and drinks) alongside plenty of scenic vistas. Forget choosing your entree; the hardest decision you'll have to make is whether to dine by the ocean, at a bucolic farm, or in view of soaring snow-capped mountains.
Here are 12 Sunshine Coast patios with picture-perfect views. 
Inlets Restaurant, West Coast Wilderness Lodge, Egmont
With over 5,000-square feet of space, and plenty of seating, you're near-guaranteed a spot on this roomy (and popular) deck overlooking Jervis Inlet. Perched atop a craggy bluff, and with unobstructed views of the islands, mountains and forest below, Inlets Restaurant offers al fresco dining at its finest. There's a variety of seating available; table and chairs for eating along with lounger-style seating for those times when even food might distract you from the view. When it comes to the menu, you'll find rotating dishes with a focus on local and seasonal ingredients, such as pistachio crusted rack of lamb and garlic spot prawns.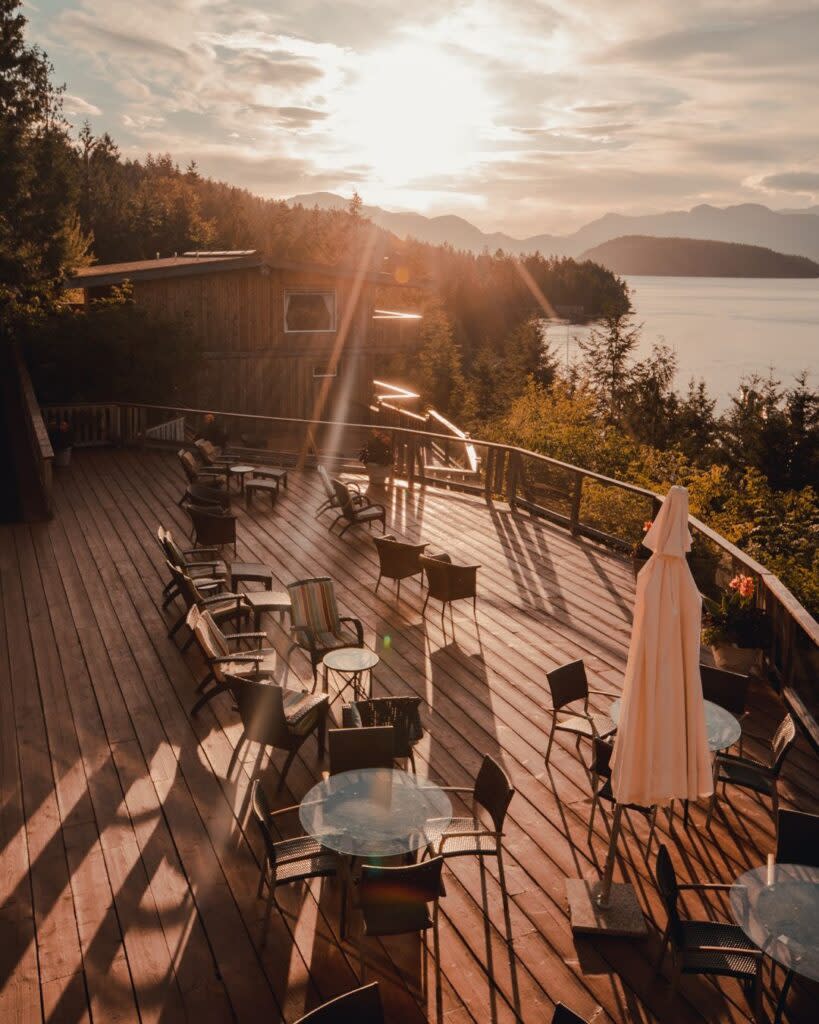 Coastal Cookery, Powell River
Situated along Powell River's main drag, the patio views from Coastal Cookery overlook the Strait of Malaspina and the soaring mountains of Vancouver Island beyond. With ceiling to floor windows, the interior is not lacking for views either and boasts a warm ambiance thanks to its Redwood Cedar bar and Alder and Fir finishings that reflect Coastal Cookery's west coast surroundings. That same influence is found throughout the menu, with dishes like Salt Spring Island mussels and the Backyard BBQ Beer Can chicken, made with Vancouver Island chicken and seasonal vegetables.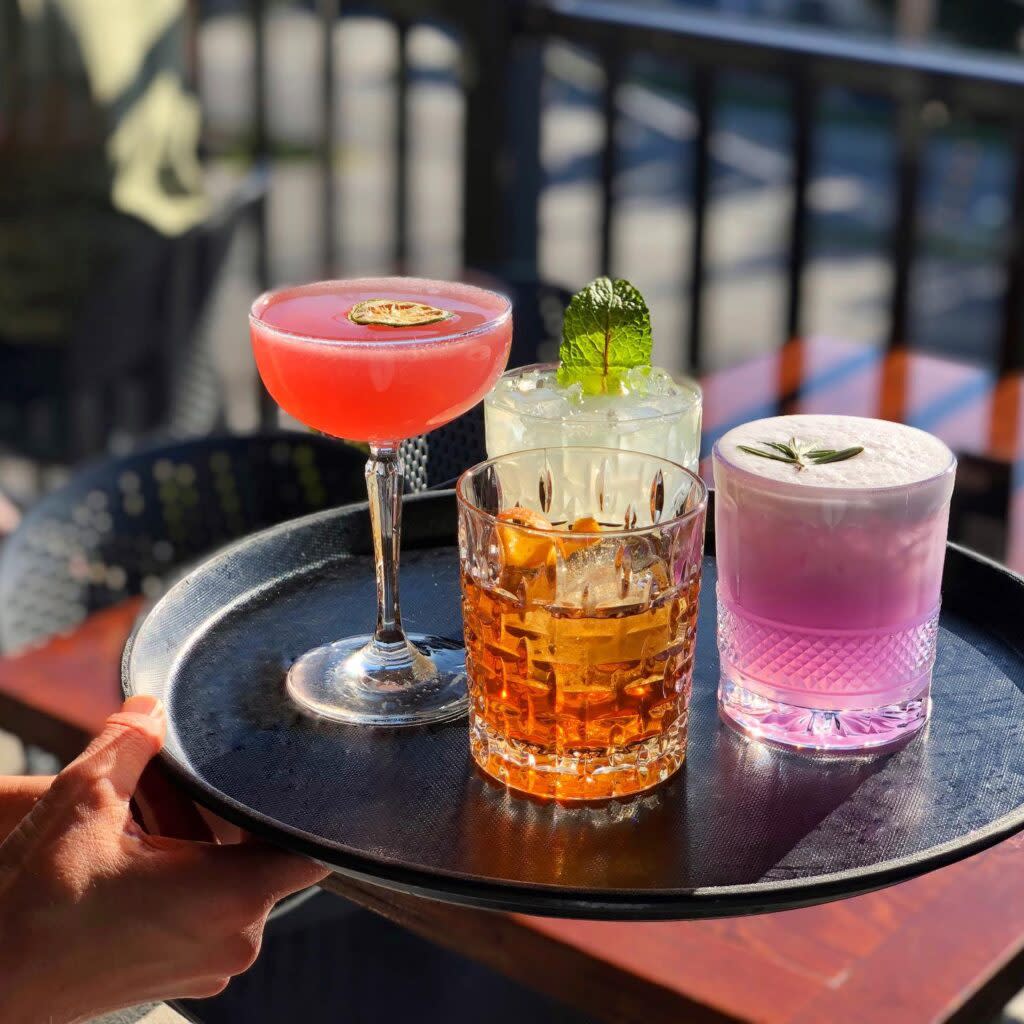 The Lighthouse Pub, Sechelt
This restaurant location doubles as the terminal for Harbour Air, which means you'll get a front row seat to floatplanes arriving and departing into Sechelt Inlet. The two-tiered outdoor patio at the Lighthouse Pub has stunning views of the marina and further beyond into the fjord-like Sechelt Inlet, with soaring walls on one side and the rolling bucolic hills of West Sechelt on the other. Snag a spot and a round of beers and pub appies, like mariner mussels, deckhand prawns, and sweet potato planks to share among friends. (Families take note: the adjacent Buccaneers Restaurant next door has a kid-friendly menu and the same great views.)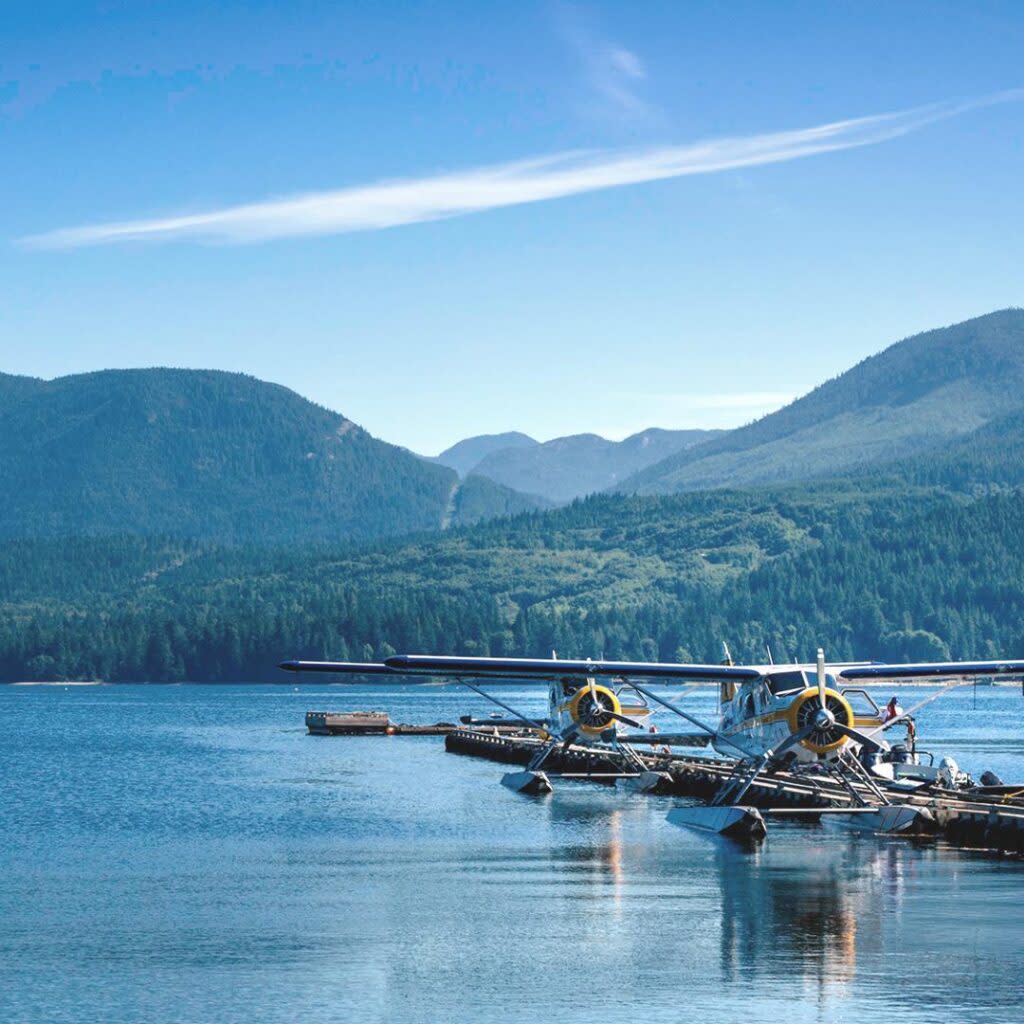 Lunitas Mexican Eatery, Gibsons
One word: elote. The Mexican street-style corn (that's grilled corn slathered with cotija, mayo, lime and Tajin salt) at Lunitas is so popular it's rarely available. That's not to say the taco flights, queso fundido, and giant burritos aren't strong contenders either. But possibly the best thing on the menu at Lunitas is the view: with a prime location along Gibsons Landing's pedestrian-only sea walk, the second-floor patio overlooks the charming harbour where, over a margarita, you can watch boats pull in and out of the harbour, kayakers paddle to Keats Island, and eagles looking for their dinner too.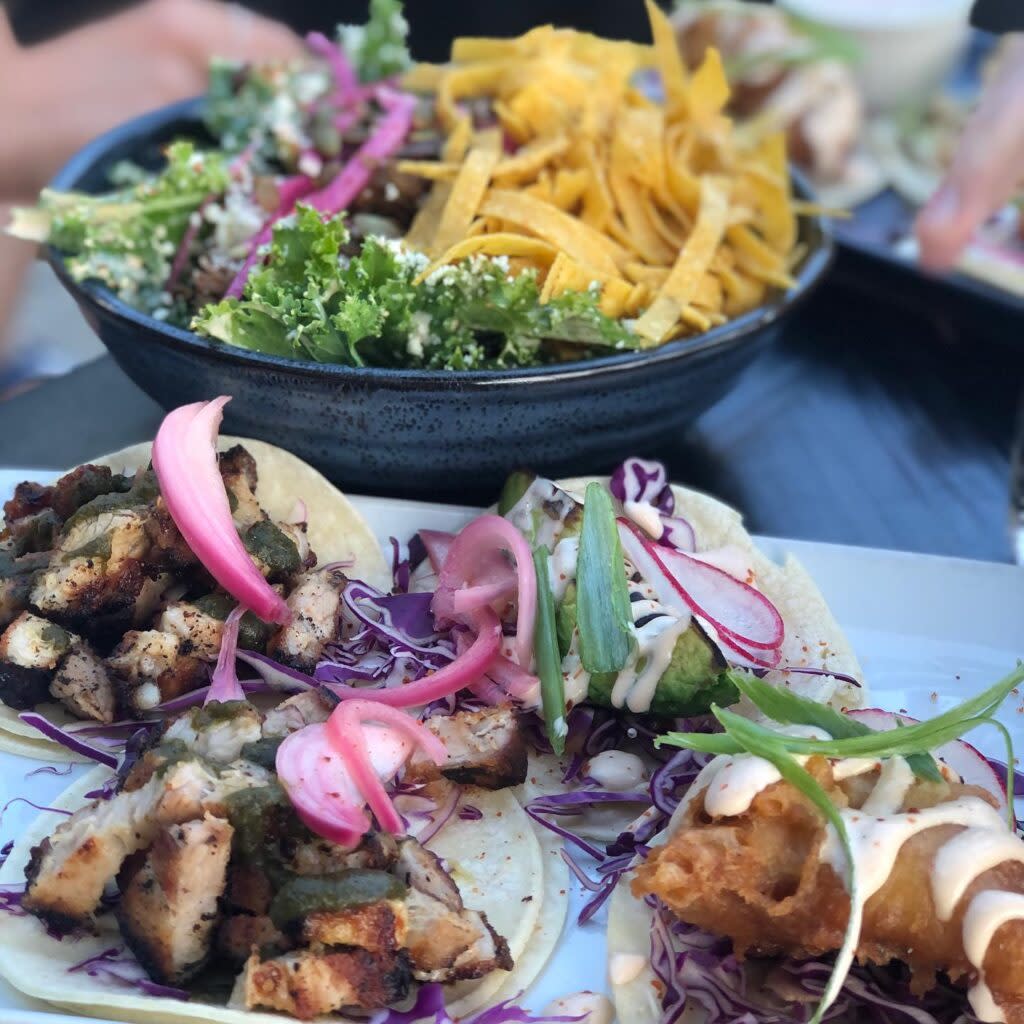 Brickers Cider, West Sechelt
This idyllic West Sechelt cider farm doesn't have ocean views, but shows off a different — and equally beautiful — side of the Sunshine Coast instead. As a semi-rural region, the Coast has plenty of rolling farmland that is home to farmers, growers, and in this case, cider makers. Flat sun-drenched West Sechelt boasts perfect growing conditions for making crisp, dry cider, which you'll find on tap at the charming Brickers Cider taproom. Grab a cider flight and a spot on one of the picnic tables and take in five acres of gorgeous orchard views around you.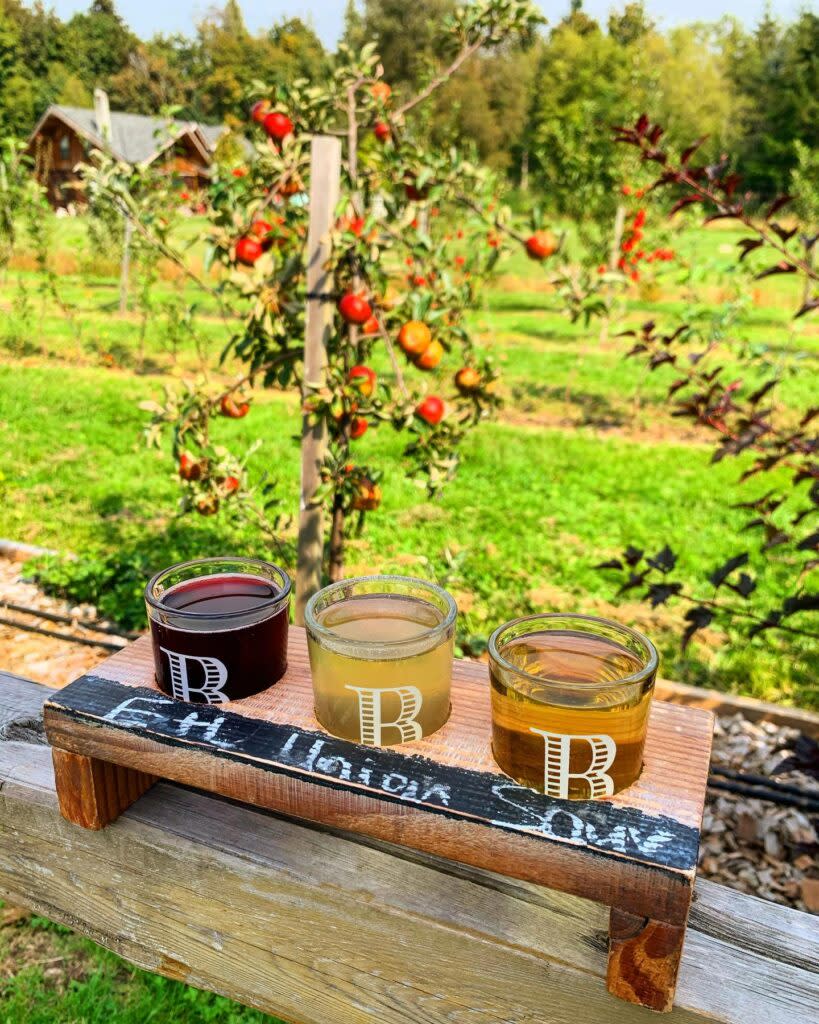 The Boardwalk Restaurant, Lund
The Boardwalk Restaurant is the closest to waterfront dining you'll get. This atmospheric restaurant is situated at the end of a wooden boardwalk in Lund where over crispy fish 'n chips you can scan the shoreline below you for crabs and other critters, watch boats pull in and out of the harbour, or look for gulls, eagles and other birds circling above you. While fish 'n chips is a staple, you'll also find burgers, tacos, salads and more.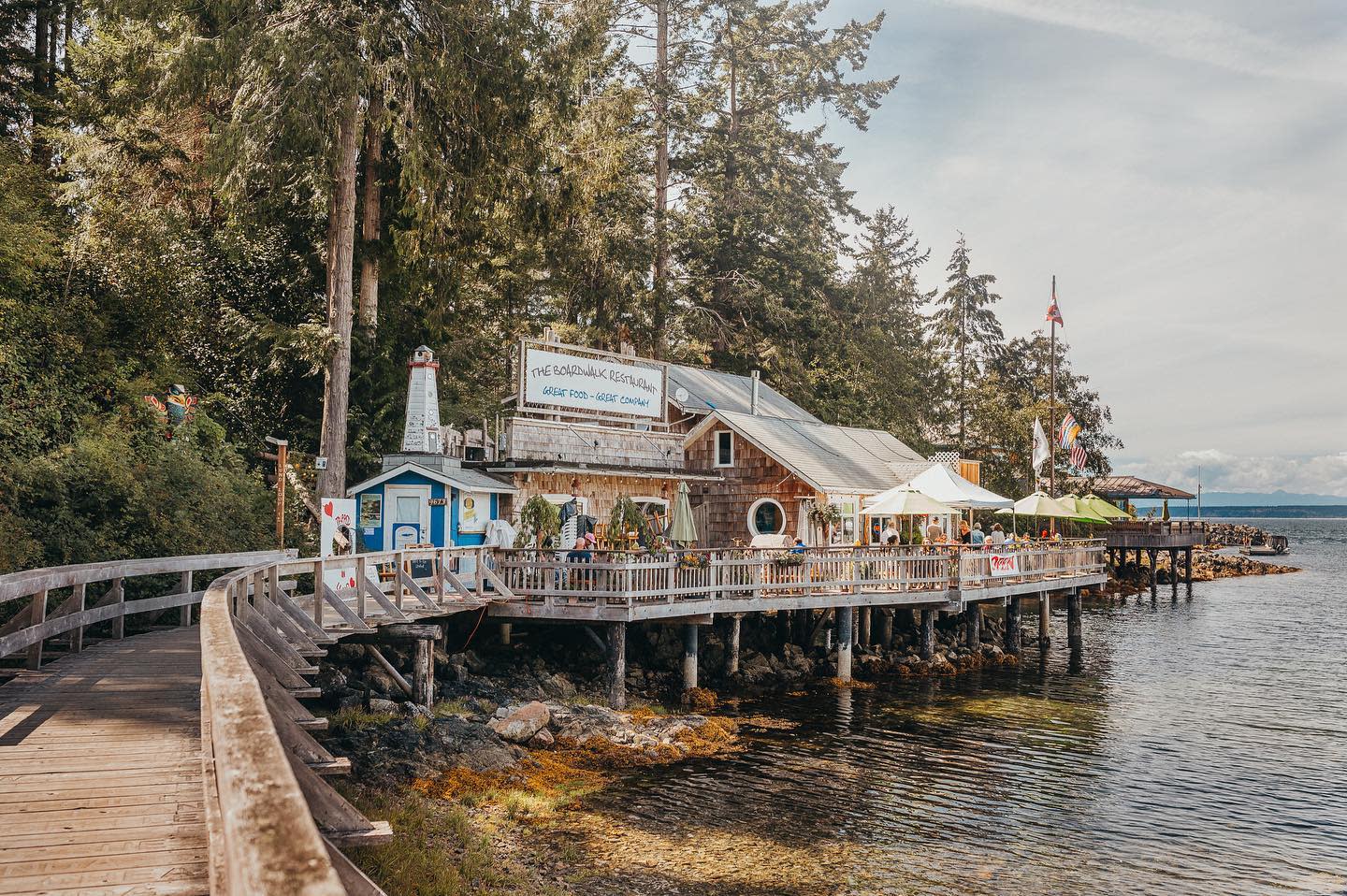 The Grasshopper Pub at the Pender Harbour Hotel
Located at the top of a hill just off the highway, The Grasshopper Pub overlooks Madeira Park and the Grasshopper Marina below. The Grasshopper Pub has space for everyone, whether you're looking for a scenic patio for a happy hour pint post-hike or a family-friendly restaurant that can accommodate the kids. So what to order? Pub favourites and a selection of delicious Indian dishes (tip: get both in the Butter Chicken Poutine) that come from the chef's own archive of family recipes.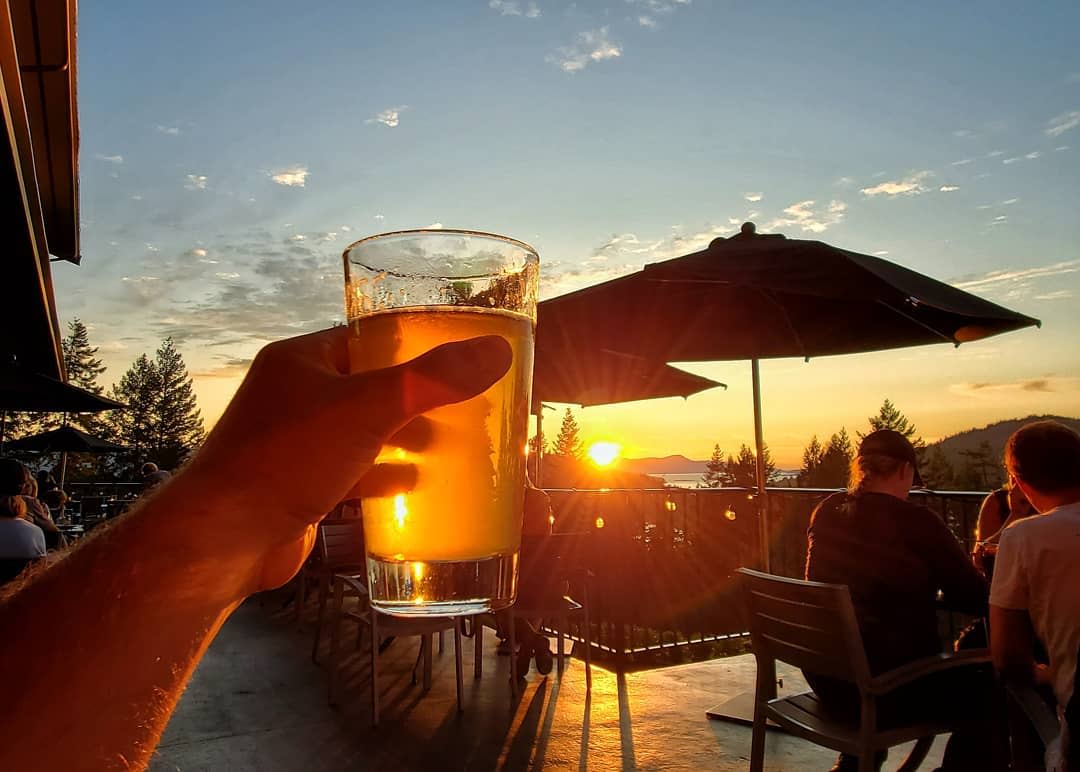 La Trattoria, Ruby Lake Resort
Adjacent to Ruby Lake, this go-to Northern Italian trattoria at Ruby Lake Resort is where swimmers, paddlers and sunbathers will head following their day at the lake. The patio sits under a wooden pergola next to the Lagoon (and its resident birds) but if you've had enough of the elements, the restaurant also features scenic views of the lake. Abundant greenery, a well-stacked wine list, and twinkling lights await diners, who can explore Chef Aldo's comfort fare, such as classic pasta dishes, wild game and oceanwise seafood (often made with local ingredients grown on-site).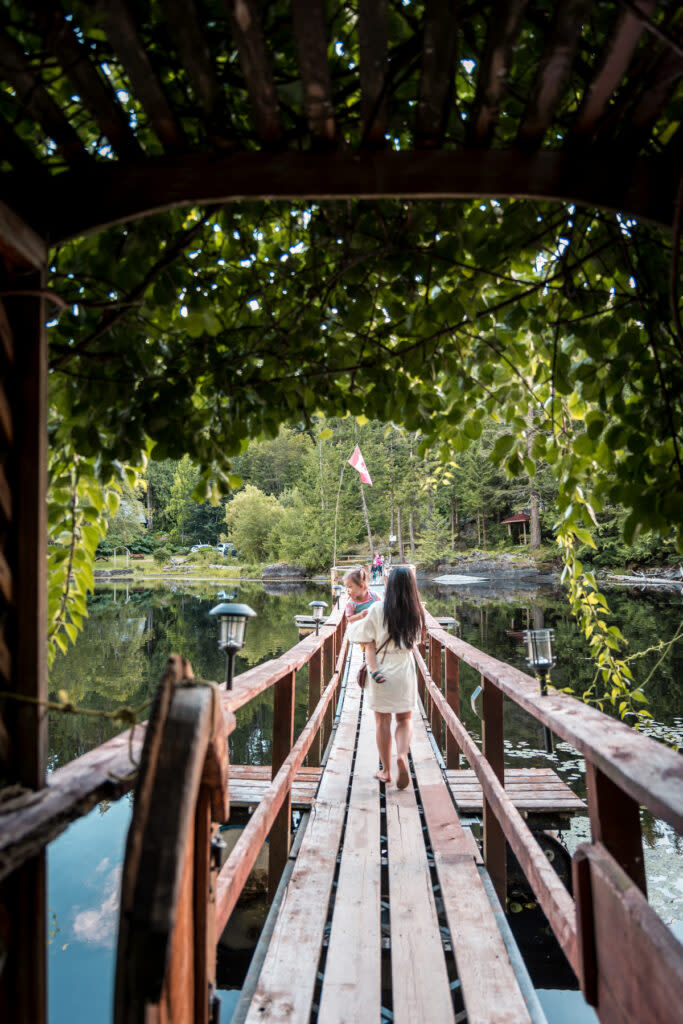 Drift Cafe & Bistro, Gibsons
Sure, if you're on foot, the hill to Drift Cafe & Bistro is a brisk workout, but it's also the same reason that makes this stunning patio worth the walk. With its hillside location, set above Gibsons Landing, this compact but cozy patio features sprawling views of Keats Island and the southwest side of Gibsons. Come for the views but stay for the thoughtful menu, which includes dishes such as slow cooked pork belly, Fisherman's Market ceviche, and Catch of the Day, alongside a well-curated wine list and beers from Gibsons local breweries.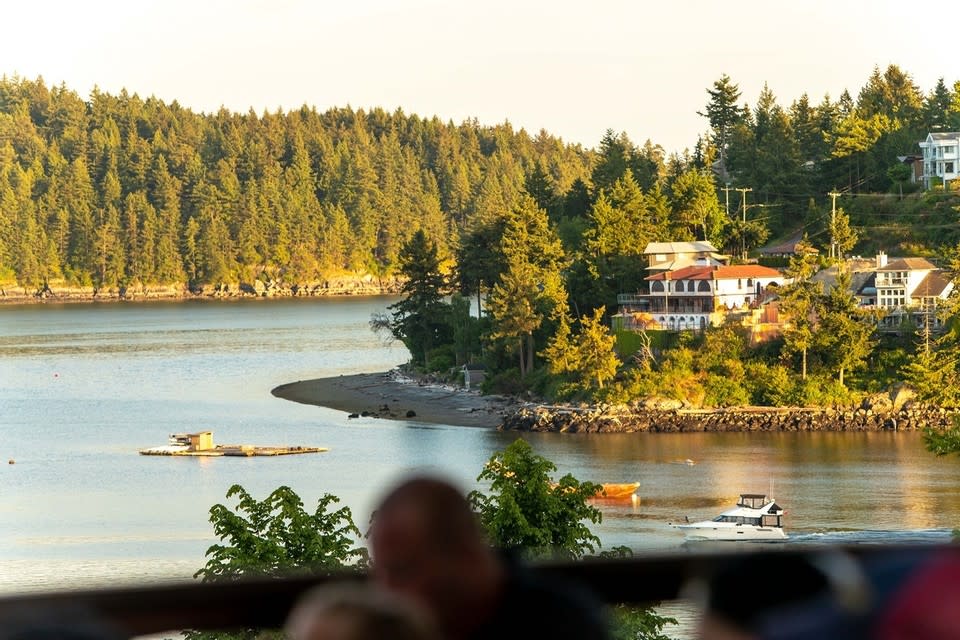 The 101 Bar & Grill, The Lund Resort at Klah Ah Men
Steps from the Lund Harbour, this casual eatery serves up pub favourites like burgers, fish 'n chips and a variety of appies, including crab cakes and calamari. Take in views of the harbour while you eat, then stroll to nearby shops and galleries post-meal. Heading to Savary Island? The 101 Bar & Grill is located mere steps from the water taxi; fuel up before heading over and post-trip, reminisce about your time on Savary Island with a beer or glass of wine.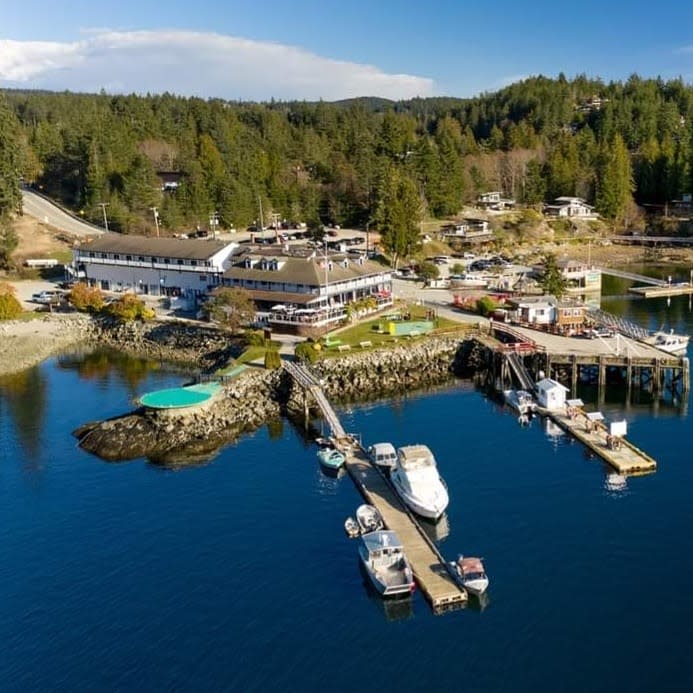 The Laughing Oyster, Lund
Set in a wood cabin on an orchard that slopes down to the Lund shoreline, The Laughing Oyster arguably boasts one of the finest views on the Sunshine Coast: the long arm of Okeover Inlet backed by the Coast Mountain Range at the doorstep to the awe-inspiring Desolation Sound Marine Provincial Park. The Laughing Oyster is conveniently located next to Okeover Marina making it a go-to stop pre- or post-adventure into Desolation Sound where diners feast on seafood classics like fresh oysters, battered fish and grilled wild salmon.