Indecisive about how to spend your upcoming getaway on the Sunshine Coast? We've got you covered. This itinerary gives you the best of both winter worlds, from snowy snowshoe trails to indoor activities (think cozy cafes, spas, and art galleries) where you can relax and recharge.
 
Day 1: Explore Gibsons 
Your trip starts on the 40-minute ferry ride from Horseshoe Bay to Langdale on the Sunshine Coast. Grab your camera (or binoculars) and take in the stunning coastal views, including the snow-capped peaks—a preview of the alpine adventures to come. Upon arrival, make your way to Lower Gibsons, a charming and quaint waterfront area home to shops, restaurants, cafes, and scenic harbour views. Keep energized with a coffee from Beachcomber Coffee before strolling Gower Point Road.
Hungry? Grab lunch from Emelle's Bistro at the Gibsons Public Market before backtracking to the heated patio of Gibsons Tapworks' for a flight of beers. If it's winter cocktails you're after, Lunitas Mexican Eatery has an extensive holiday menu of alcoholic and mocktails. (Both Tapworks and Lunitas are great spots to take in the aforementioned harbour views.) En route to your accommodation (click here to find cozy places to stay across the Coast), swing by The Kube, equal parts gorgeous home goods store and artist gallery, or Sunday Cider for tasty beverages to sip on next to the woodstove.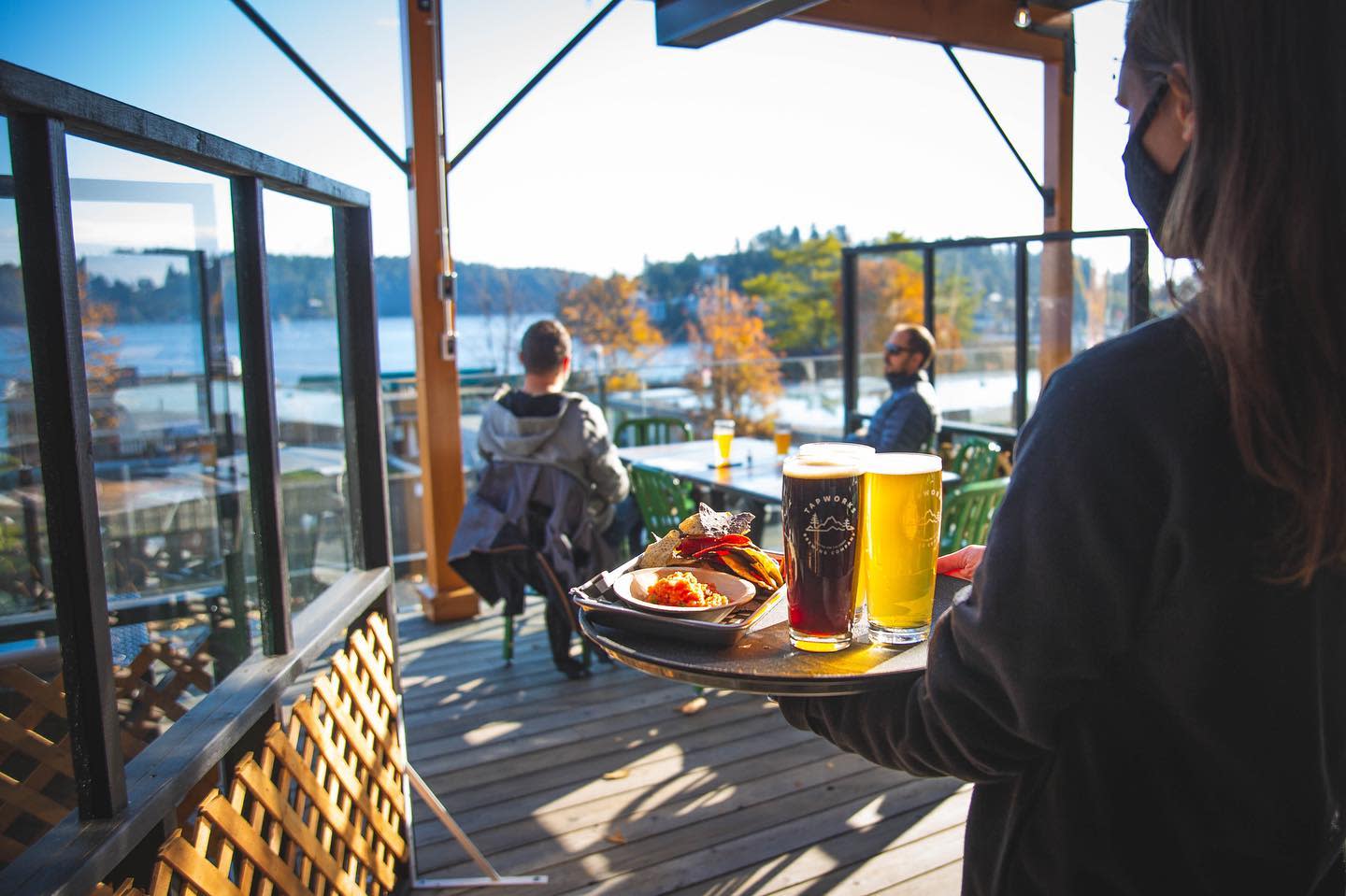 Day 2: Hit the Trails, Two Ways
Today's adventure will have you strapping on snowshoes and lacing up hiking boots, so make sure you're well-fuelled beforehand. Strait Coffee has grab-and-go breakfast items, along with in-house roasted coffee, and is conveniently located next door to Alpha Adventures, your guide to this morning's snowshoe adventure in Dakota Ridge.
Post-snowy trails, ditch the snowshoes for hiking boots and make your way to Cliff Gilker Park in Roberts Creek for an easy four-kilometre wander through lush green forest. Refuel at The Gumboot Cafe before making a visit to Bruinwood Estate Distillery where you can take home ingredients for your very own seasonally-themed Snowball Cocktail. Dinner options abound on the Coast, but if you feel like staying inside, grab charcuterie and snacks from Plethora Fine Foods in Sechelt and make a delicious spread to nibble on back at your cabin or hotel room.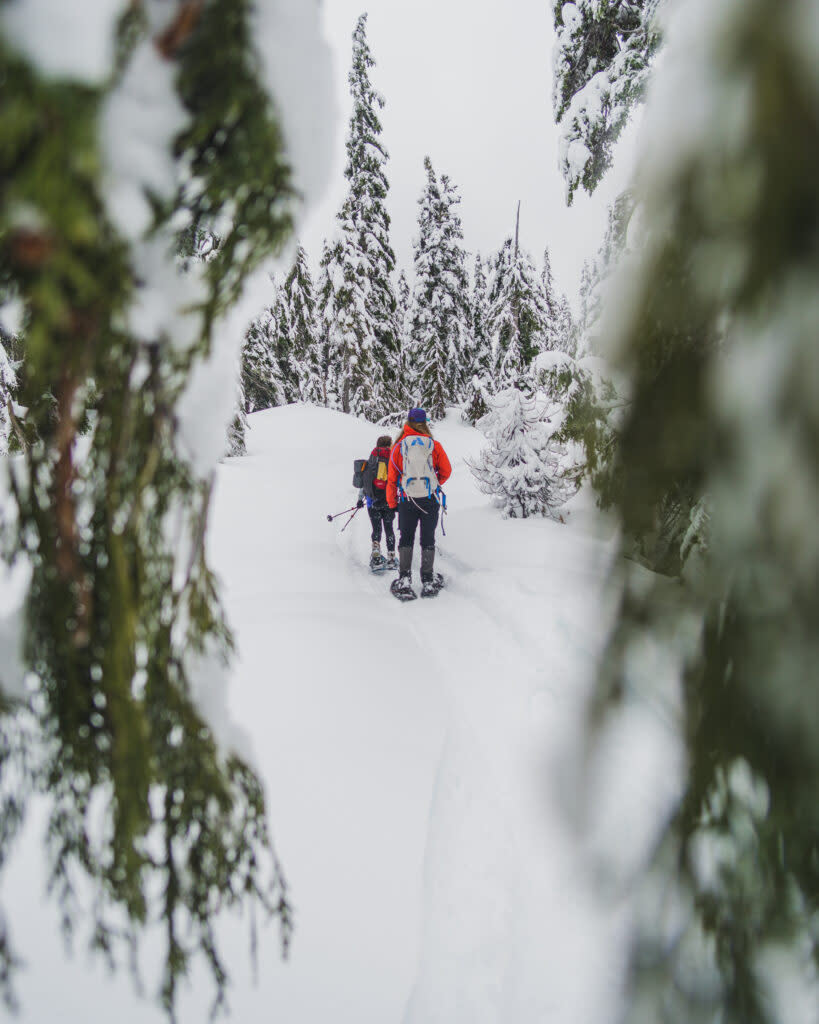 Day 3: Artful Rest
The Sunshine Coast is all about slowing down and it isn't hard to find a leisurely pace. You could go art touring—the Sunshine Coast is home to one of the largest concentrations of artists per capita in Canada. A personalized guided tour with Sunshine Coast Art Tours allows you to meet them without the added effort of planning it yourself. Or, you can opt for a blissful afternoon soaking in the steaming hot waters of the Spa Garden at Painted Boat Resort. You need to book a treatment to gain access to the spa garden making whether to get a massage or a facial the hardest decision of your day.
How you choose to wind down the day is up to you—wander along water's edge in Pender Harbour, try a Middle Eastern-themed cooking demo at Jamjar in Sechelt, sample seasonal ciders at Brickers Cider, or stretch your legs on a brisk walk of Sechelt's seawall.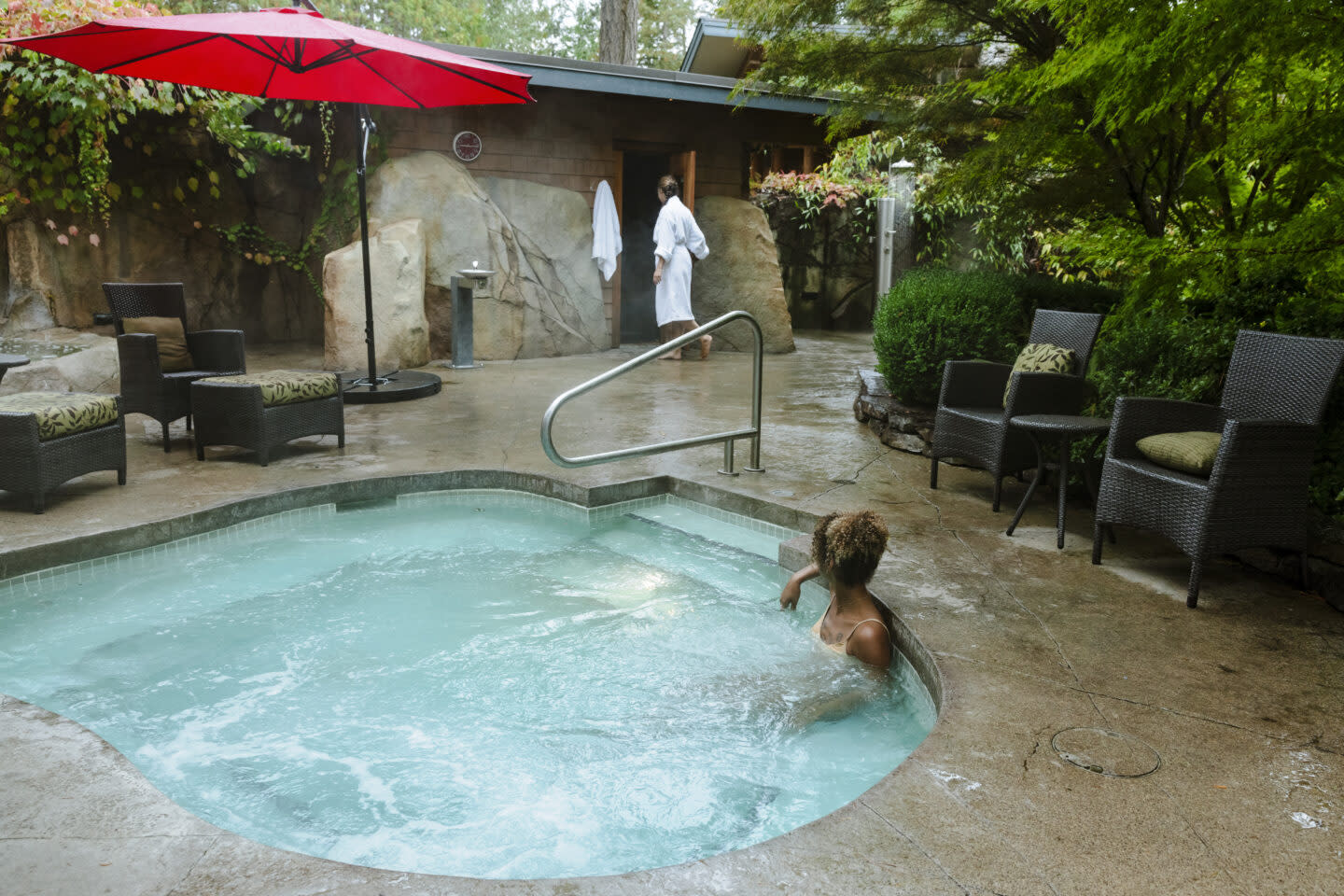 Day 4: Powell River
Check out of your accommodation and make your way via ferry to the adventure capital of the Sunshine Coast: Powell River. Here, you'll find plenty of powder stashes in the snow-draped mountains around Powell River, including the well-used and much beloved Knuckleheads. This winter recreational haven boasts good access to snowshoe and cross-country ski trails and two cabins where you can warm up at day's end. If you're looking for gear rentals, head to Mitchell's Canoe, Kayak & SUP, Sales and Rentals.
Another one of the best vantage points for taking in Powell River's stunning mountainous scenery? The water. Book a fishing charter and spend a full- or half-day angling for winter chinook. Or take your coastal explorations even deeper. If you're an experienced scuba diver, bring the neoprene and suit up to traverse the shoreline along Willingdon Beach Park. Water visibility is best in winter and there's plenty of access, plus numerous freshwater lakes, in the area. Sufficiently chilled by this point? Head to Costa Del Sol where you can dine on belly-warming Latin-infused dishes from one of their heated outdoor domes.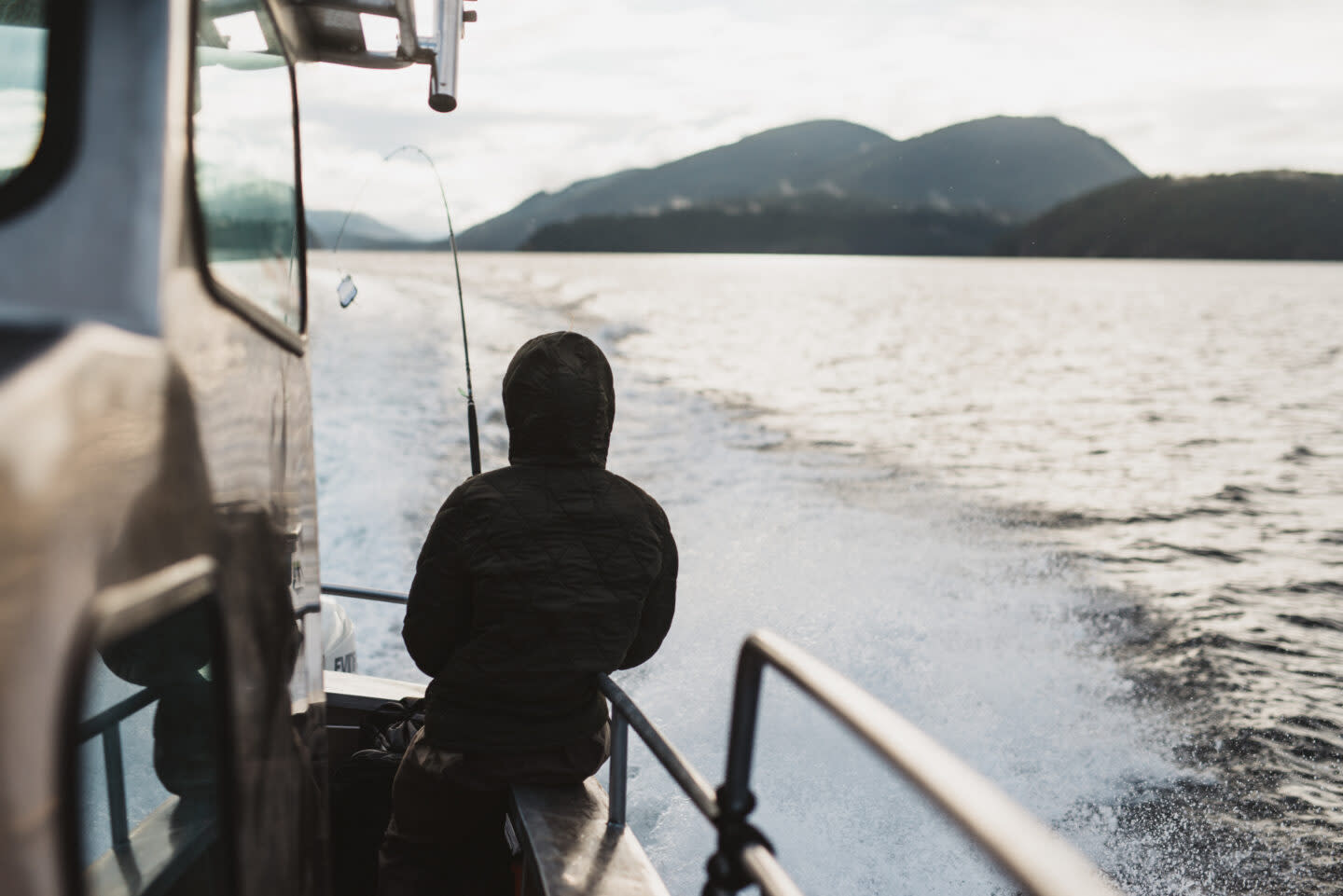 This is where your trip ends and your return home starts. You can make the Powell River to Gibsons trip in a day, with time for lunch in Sechelt, or stretch out your return over 48 hours and explore the Sunshine Coast's quieter (but no less interesting) communities of Egmont, Pender Harbour, Halfmoon Bay and Secret Cove, and Roberts Creek. 
If you're in the mood for a longer road trip, make your way to Vancouver Island via ferry from Powell River to Comox where you can ski at Mount Washington, mountain bike trails in Cumberland, and continue your coastal road trip scenery along Highway 19A to Nanaimo and then back to the Lower Mainland.