There are a tangle of mountain bike trails spread throughout the Sunshine Coast (385 km to be specific), most of them housed within one of many trail networks throughout the area.
Each trail network has its own distinct flavour and features, shaped by the hands of its trailbuilders or sculpted by the temperament of nature's elements. You'll find tight and twisty cross-country trails that keep your legs spinning. Or wide-open descents that let gravity do most of the work. Committing rock rolls and wooden ladders that are built into the earth's contours. Or rolling paths that are heavy on scenery and less on skill.
But with so many choices, where do you even begin to point your wheels? We've highlighted the most popular mountain bike spots around the Sunshine Coast to help you narrow down the decisions. Just pick your riding style below and follow our suggestions to explore the best of the Sunshine Coast on (and off) the trails.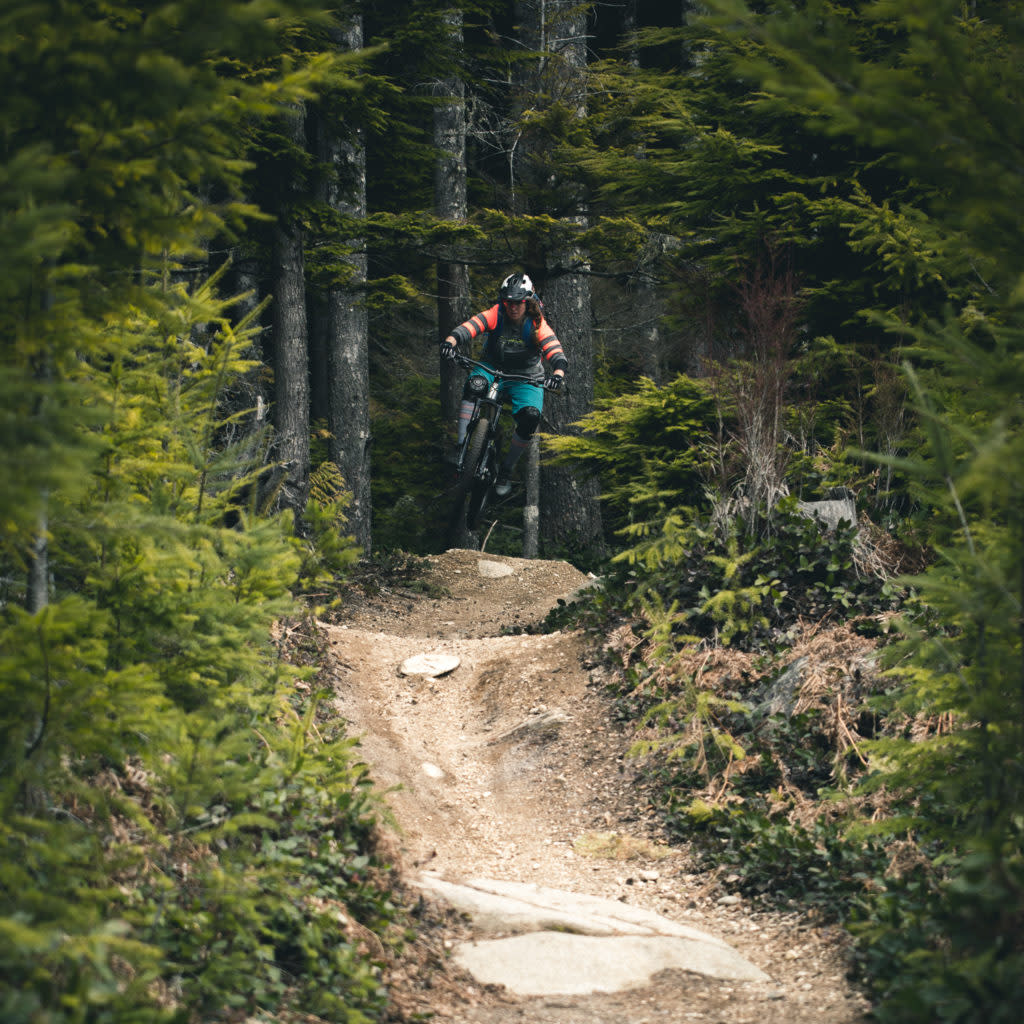 Christopher Peters / Dirt Coast Photography
Tour de Sunshine
Your style: To sample of all the staples
Zones to ride: Robert's Creek, West Sechelt
What to expect: Flow, climbs, descents, roots, rocks, moss, bridges, jumps, and everything else imaginable
Why: If you take all the iconic features, scenery, terrain, and riding styles from around the Coast and jam them into a cohesive network of trails, you'll get two prominent trail networks: Roberts Creek and West Sechelt. Roberts Creek is a huge net of enchanting trails designed to be linked together — either by pedaling or shuttling — and scaled to any length of ride, with a mind-blowing amount of variety and freeride freedom. West Sechelt harbours just as much variety but suited for the more XC-minded, with tighter and rootier lines to pick through.
Where to apres: Hatch plans for your next ride over a pint at Gibsons Tapworks, where communal seating brings you closer together to friends and strangers alike. From brewing custom beer for the Coaster 50 bike race to hosting weekly mountain bike film series throughout the summer (every Thursday, 7pm), the microbrewery's support for riding pours strong like the beer they brew.
Where to connect: A leg burner of a bike race, the annual Coaster 50 is a challenging cross-country race every May, with 50- and 21-kilometre course options that bring out the area's hardest climbs, fastest descents, and friendliest riders.  
——————————————————————————————
Roll with It
Your style: Finding rhythm and balance
Zones to ride: Halfmoon Bay, Sprockids
What to expect: Easy-riding trails and skills parks to build up your confidence
Why: It can be tough to please a motley crew of riders with varying abilities or find novice trails for new riders, but multiple zones seamlessly bring both together. Halfmoon Bay is loaded with easy-to-navigate trails (and a pumptrack for practice) to give new riders a strong foundation to mountain biking. Connor Park and Kinnikinnick Park, in particular, include gentle paths and trails, where the only major features are the scenic landscapes of the cedar forests. Technical XC features, like wooden bridges and short-but-punchy climbs, are gradually introduced on more difficult trails.
Sprockids is just a few minutes from the Langdale Ferry Terminal, its easy access extending beyond the trailhead. Practice loops and stunts let new riders get comfortable on their bike, while trails get progressively more challenging the further up the mountainside you go. But with plenty of ride-around options, Sprockids is an encouraging site to push your limits a little further the higher you go.
Where to apres: The 101 Brewhouse + Distillery has a little of everything for everyone. Beer, spirits, and tasty bites to accommodate even the pickiest of palates.
Where to connect: Weekly group rides, facilitated by the Sunshine Coast United Mountain Bikers and the Powell River Cycling Association, are open to the public. Inquire about the rides on their Facebook pages.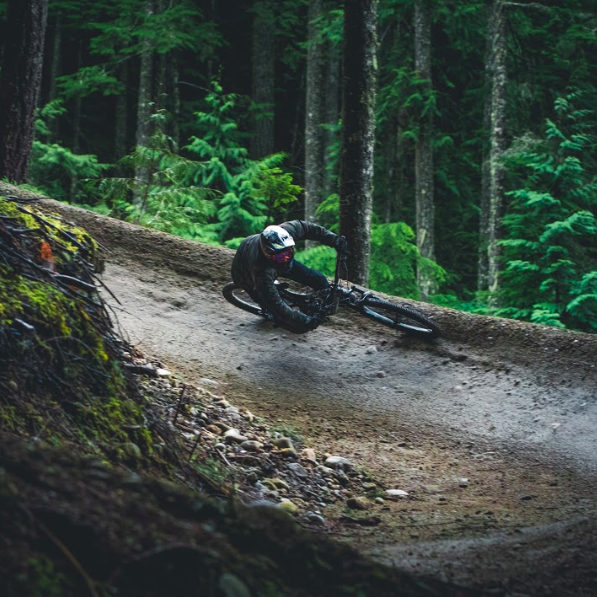 Christopher Peters / Dirt Coast Photography
——————————————————————————————
Shredfest 101
Your style: Big thrills and adrenaline
Zones to ride: Coast Gravity Park, Wilson Creek
What to expect: Knee pads, full-face helmets and a full-on adrenaline rush
Why: Just because the Sunshine Coast operates on "island time" doesn't mean that things move slower. Coast Gravity Park is a playground built for speed by riders who live for jumps, berms, and gravity-fed flow. World-class riders frequently come to the shuttle-accessed park for advanced jump trails like Flight Deck, while wide, easy-riding trails like Dirt Wave let progressing riders find a smooth rhythm.
For more balance of uphill pedaling and downhill coasting, Wilson Creek — a newer zone that requires good route-finding skills or insight from a local — is peppered with technical and steep rock slabs that will take you into "full send" mode. Be sure to link El Dorado to Rio Grande on your ride, and look for a few committing rock rides off the main drags.
Where to apres: Keep the adrenaline spiked with a caffeine or sugar rush at The Bakery in Sechelt, with made-from-scratch sandwiches, desserts and specialty coffee.
Where to connect: The "base lodge" at Coast Gravity Park is an open-air shelter with couches, bike racks, a fire pit, a grill, and the converging point of all bike trails — meaning it has all the components needed to rub shoulders with the greater downhill community.
——————————————————————————————
Adventure Riding
Your style: Exploring off the beaten path
Zones to ride: Powell River, BC Bike Race route, Lower Sunshine Coast bikepacking route
What to expect: Long days in the saddle and putting your navigation skills to use
Why: No matter how you cut it, simply getting to the Sunshine Coast is an adventure (accessed only by ferry or plane), so carrying the theme onto a bike is perfectly fitting. Long or multi-day rides are plentiful, and crowds are sparse — especially when you cruise north to Powell River, where the riding feels just as remote as getting to the North Coast itself.
Length is key for both the BC Bike Race and the Lower Sunshine Coast bikepacking route, both covering triple-digit kilometres as they traverse the overgrown coastal rainforests. And a sense of adventure is mandatory. They aren't zones, per se, but the marquee rides are such an accomplishment and iconically BC that they stand up on their own merit.
Where to apres: A visit to Persephone Brewing on the Lower Coast will have you befriending the free range chickens and roosters that roam among the tangled vines of hops growing on the farm. Board games, lawn games and rotating events pop up often, too. Or switch into retro game and arcade mode at Townsite Brewing in Powell River.
Where to connect: Swap tales with other travellers and cyclists at Up the Creek Backpackers B&B, an eclectic house in Roberts Creek with affordable shared and private rooms, and just down the road from Roberts Creek trailhead. Be sure to catch the BC Bike Race, July 5-17, 2018, for inspiration on how to step up your next bike adventure.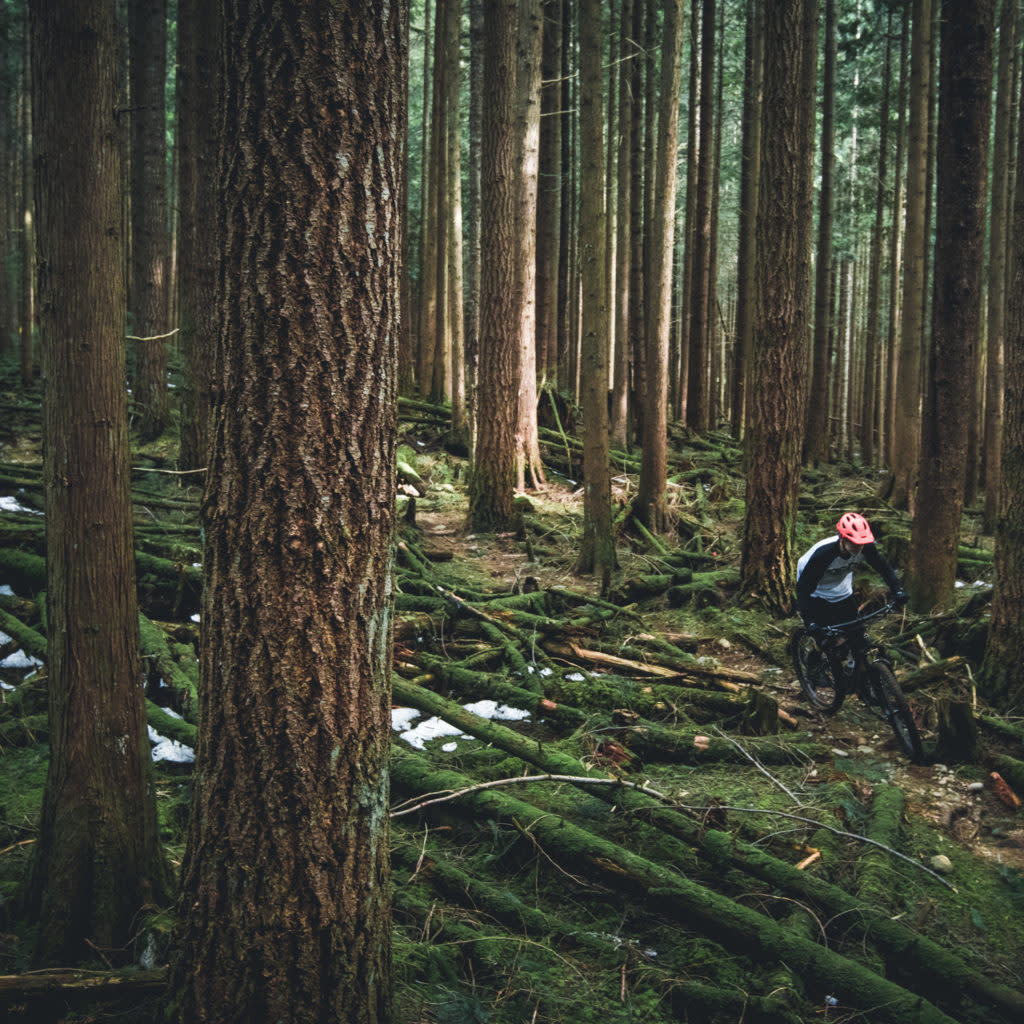 Christopher Peters / Dirt Coast Photography
---
Explore more: