On the Sunshine Coast, accommodations are as creative as the people who live here. Here are 8 unusual places to stay, ranging from an Airstream trailer to a former courthouse from the 1930s.
Tin Can Ranch, Gibsons
If you've ever coveted sleeping in a sleek vintage Airstream trailer, here's your chance. Tin Can Ranch is a ranch-style property that features a renovated 1970s Airstream trailer, complete with an outdoor cedar-lined shower, a spacious sauna, and sun-drenched private deck perfect for lounging. With its central location in Gibsons, you can walk to local breweries and restaurants, although with a small kitchen, on-site games (bocce, anyone?), and a firepit you might just find it hard to leave.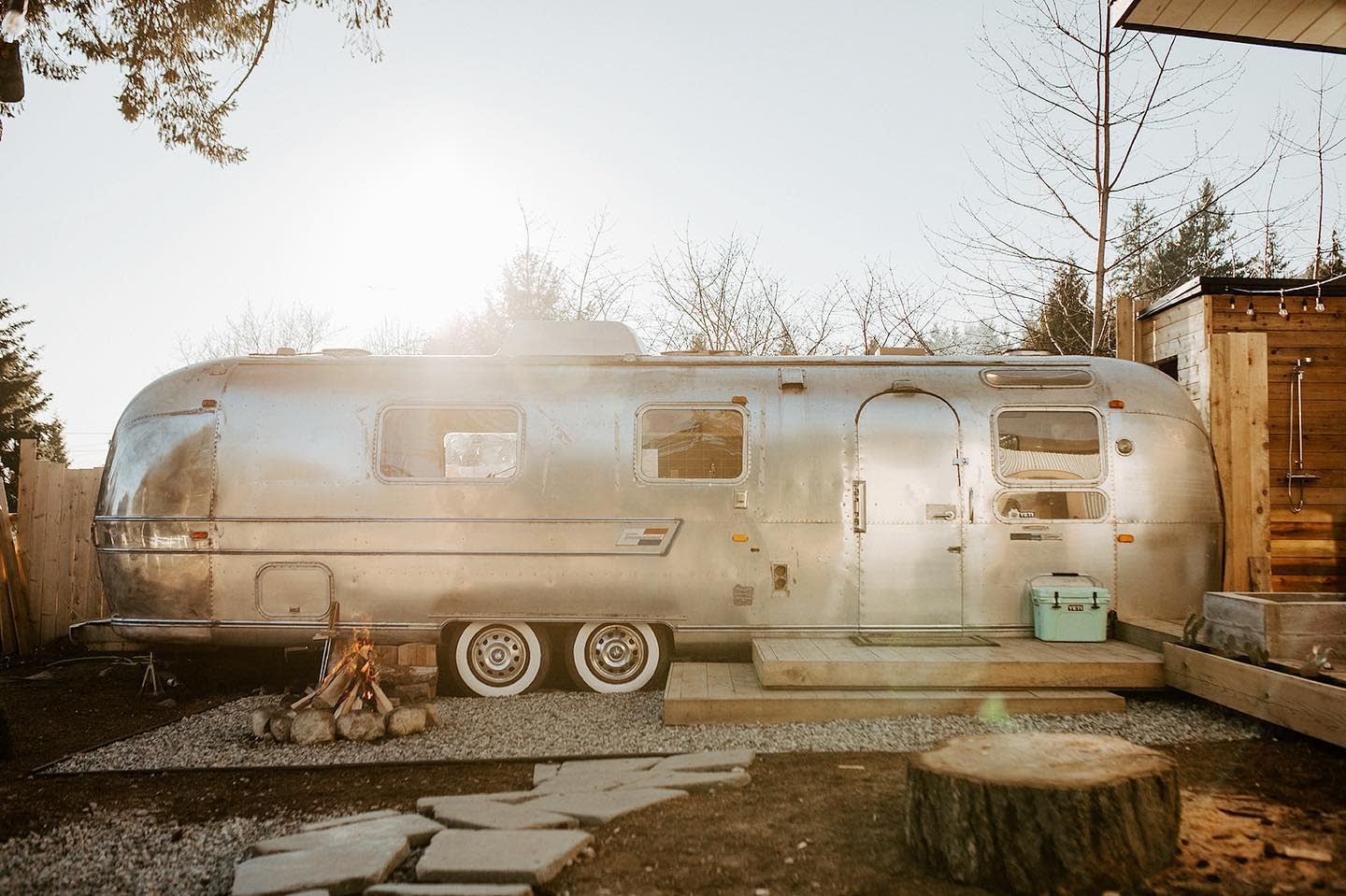 Old Courthouse Inn, Powell River
Located in the Historic Townsite of Powell River, this 1939 tudor-style building was once a former courthouse and police station that has since been converted into a boutique inn. At the Old Courthouse Inn, you'll find eight cozy rooms (each of them one of the former rooms of the courthouse, including the judge's and juror's chambers, furnished with a mix of antiques and collectables. Down the street, you'll find Townsite Brewing, art galleries and the Townsite Market, which houses a variety of shops and restaurants under one roof.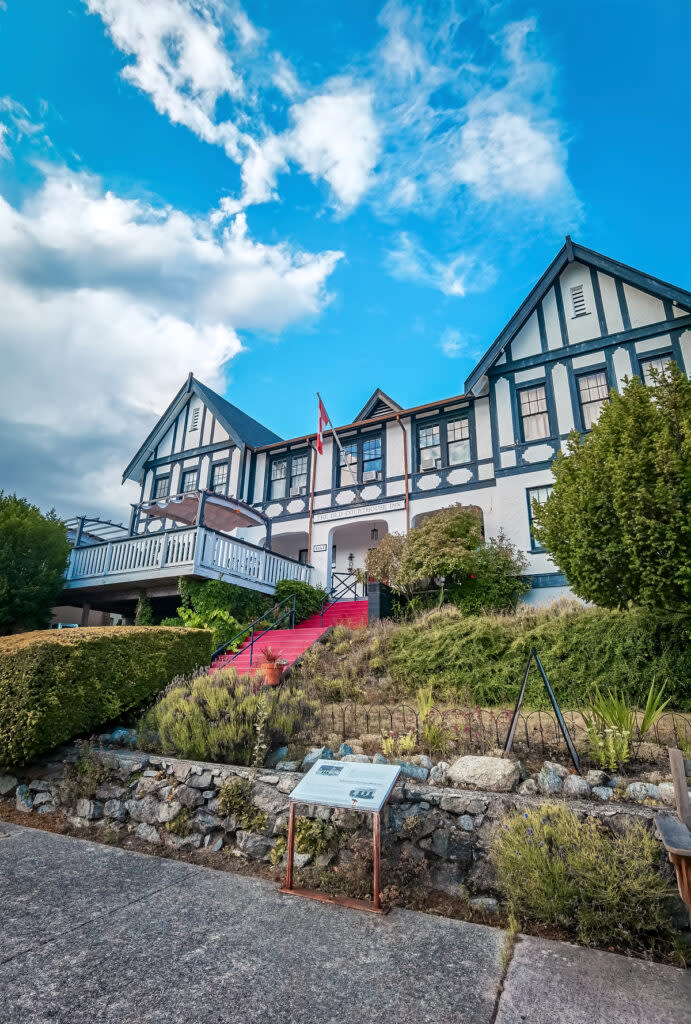 Alfie the A-Frame, Sechelt 
Alfie the A-Frame is Airbnb's second "most wishlisted" property across all of Canada and for good reason: this lofted A-frame cedar cabin has whitewashed walls, wood floors, a clawfoot tub for soaking, and a foliage-framed sun patio with incredible views of the scenic Sechelt Inlet. Situated 10-kilometres from the town of Sechelt in a quiet cabin community, your best bet for a weekend stay is to stock up on supplies, bring a book (or two), and relax into the laid-back Sunshine Coast rhythm.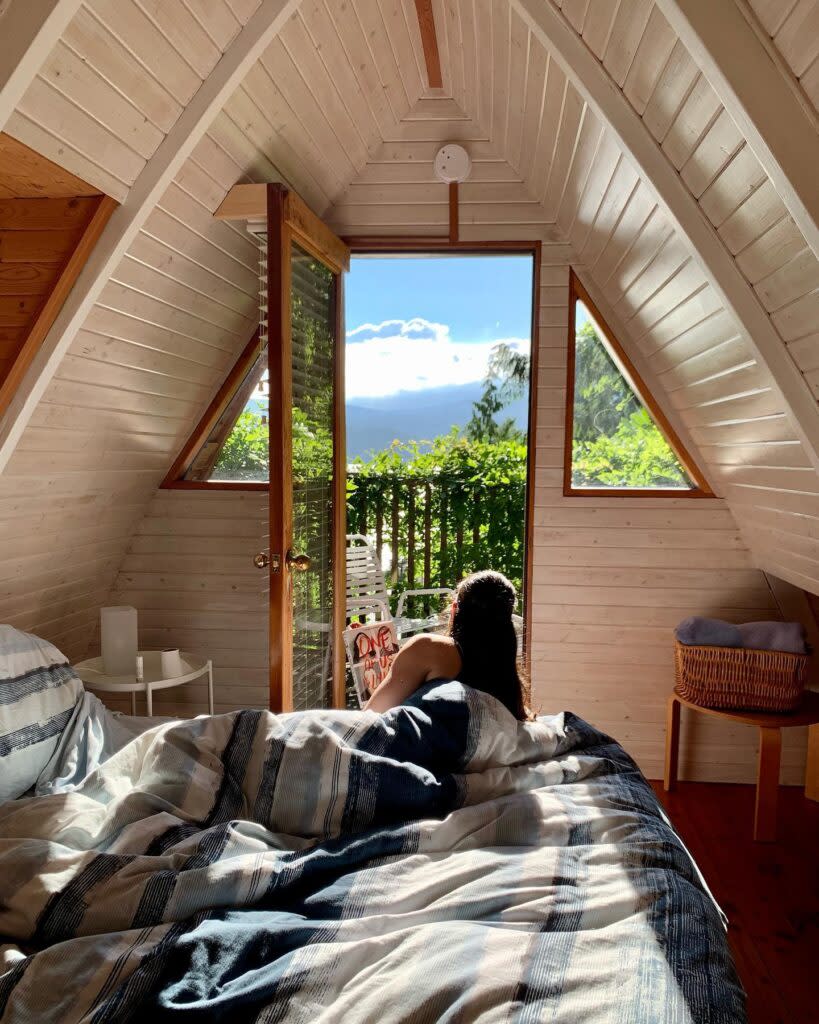 Bed 'n Beachcomber, Gibsons
Coffee and a view? You'll find both at Beachcomber B&B, an industrial loft studio overlooking Gibsons Harbour and located directly above Beachcomber Coffee in Gibsons Landing, making your commute to caffeine mere steps away. (In fact, you'll find multiple ways to brew a cup directly in the suite.) This compact apartment doesn't have a kitchen but its central Gibsons locale means you're a short stroll from delicious eats and drinks (the Pink House Bistro, Sushi Bar Nagomi, Leo's Tapas and Grill, Molly's Reach, Gibsons Tapworks, Buono Osteria, Lunitas Mexican Eatery, Smitty's Oyster House, Barefoot Gecko, Gibsons Public Market and Drift Cafe & Bistro are all located within a block of the bnb).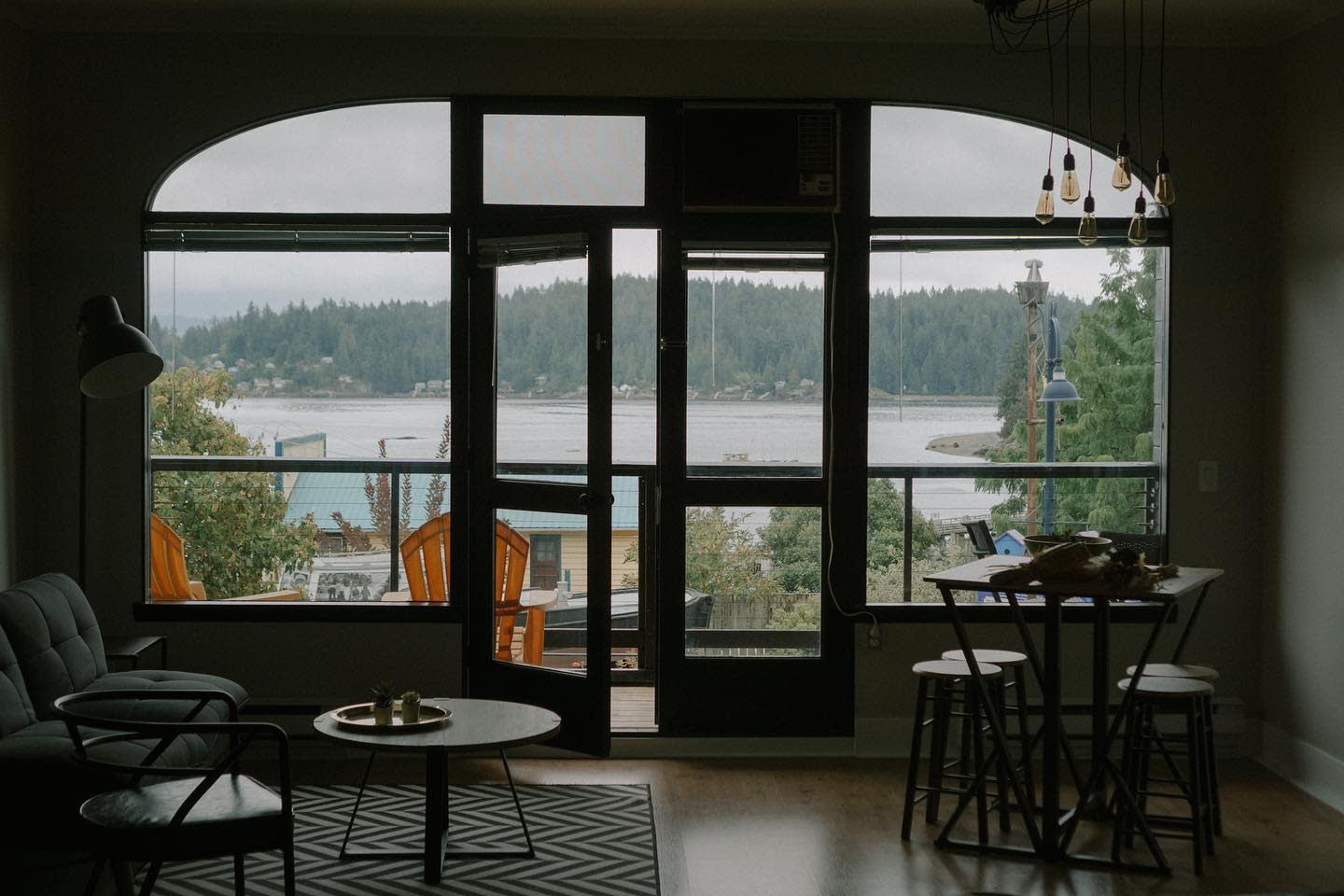 Bali Casa, Halfmoon Bay 
Bali Casa is the ultimate hedonistic retreat. From the architecturally designed infinity pool, built into cascading rocks, with a sightline that disappears into the horizon, to the outdoor kitchen with a wood-fired pizza oven, to the full scale gym (where personal trainers, yoga instructors and fitness experts can be arranged upon request), to the greenhouse, set on a sloped terrace from the main lodge, where you can forage for ingredients for dinner, this private retreat takes the meaning of self-care to a new level.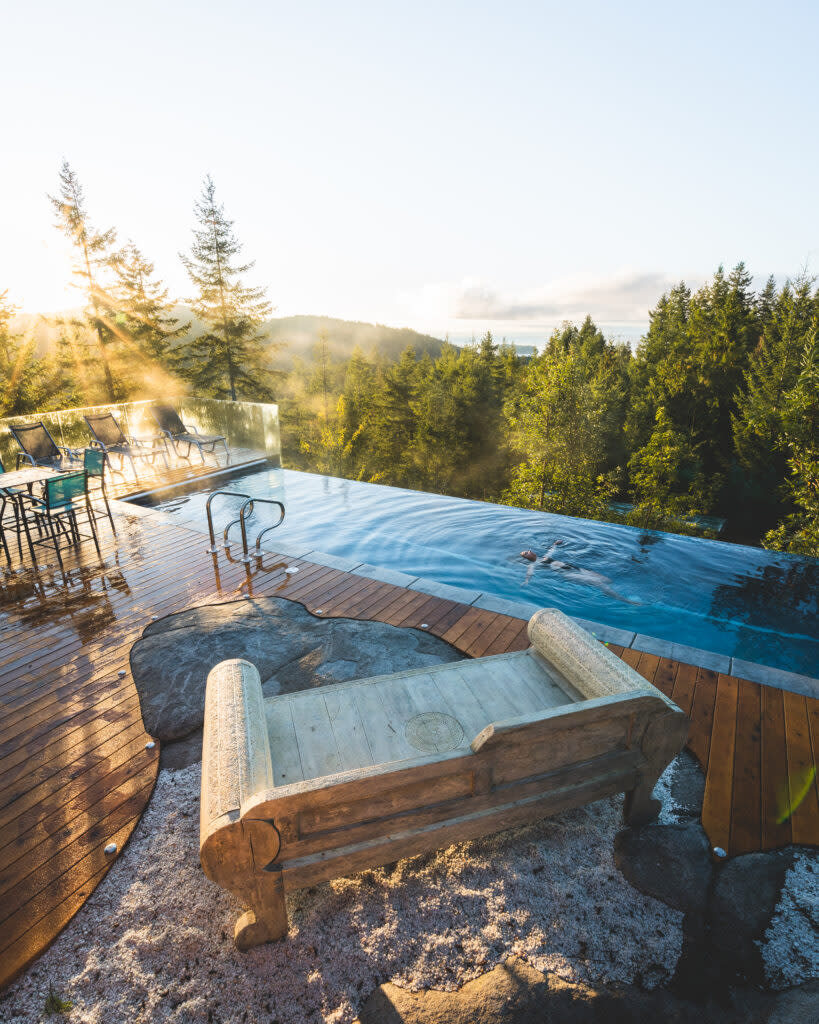 Pointhouse Suites' Studio ISO, Halfmoon Bay
Pointhouse Suite's Studio ISO is partially made from two 8x20 shipping containers, although you wouldn't know it from this cedar-wrapped, West Coast-style studio, tucked away in the forest in Sargeant Bay. The property's many windows bring the outdoors (and the light) in while the tastefully decorated interior has cozy furniture and rugs scattered throughout. Bring the yoga mat and stretch out on the stone-clad patio or find relaxation in the hot tub as you gaze out into the forest. If the locale and views don't inspire you, their commitment to sustainability will: Pointhouse Suites focuses on green initiatives, such as passive solar features, efficient waste and grey water treatment and other conservation-focused initiatives. 
Finn Bay Farm Retreat, Lund
Yurts are great for when you feel like camping, but want to leave the gear at home. At Finn Bay Farm Retreat, located in Lund, you'll find a traditional Mongolian-style yurt located on an idyllic 13-acre property. Finn Bay features a separate cottage that includes a main living area for lounging and cooking, plus a full bathroom, and the yurt itself, which functions as a large cozy bedroom with a queen sized bed and bunk beds. Half of Finn Bay's charm is its location at the southern approach to Desolation Sound, a short distance from some of BC's most spectacular kayaking, sailing and snorkeling, as well as Savary Island, deserving of its reputation as a tropical-like paradise with white sand beaches and warm shallow waters.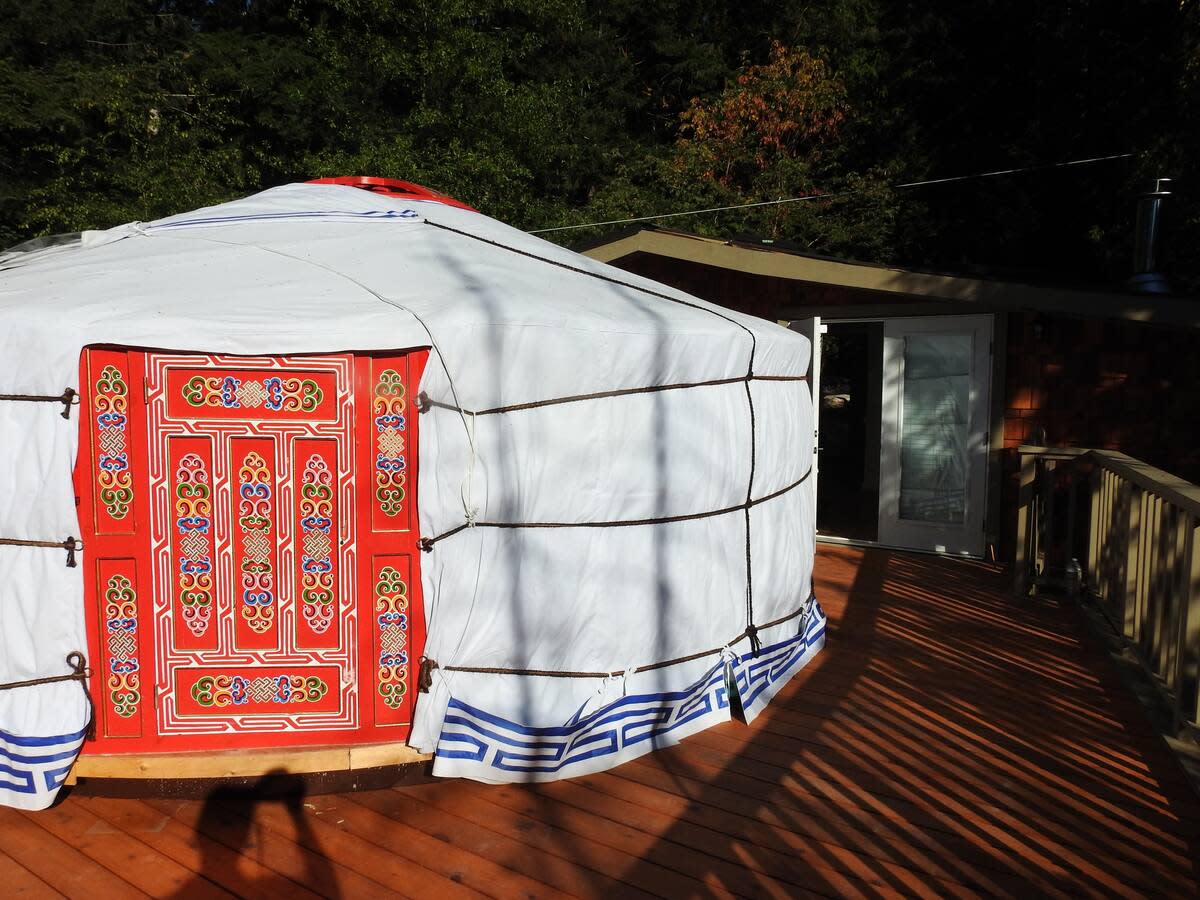 Whispering Creek Retreat, Gambier Island
Gambier Island has long attracted those seeking a different type of rhythm, and at Whispering Creek Retreat, you'll find just that. There's the retreat's seven acres of private woodland featuring two yurts and canvas tents built on wooden platforms tucked away in the forest. A nearby waterfall and fern gully to explore, plus access to the beach and ocean just a short stroll from the property. At night you can soak in the wood-fired hot tub or sit around the fire. And of course, if the rhythm you're seeking is best served with a margarita, you'll find that too. The rustic open-air Tiki Bar and kitchen space brings its own good vibrations and it's where, on most nights, you'll find guests and the proprietors, Keely and Eric, swapping stories.