Is there anything better than ice cream on a warm day? Thankfully, there's no shortage of places serving all things cold and creamy on the Sunshine Coast.
From your classic scoop to ice cream sandwiches to boozy milkshakes, the following ten spots serve up mouthwatering frozen treats, many of which are made using local ingredients.
Read on to find your next cone, sundae, sandwich or shake. Keep in mind that many ice cream stands on the Sunshine Coast–especially the more rural locations–are only open seasonally. Be sure to check in advance for hours of operation.
e.b.'s Ice Cream, Sechelt 
Conveniently located along the seawall in Sechelt, e.b.'s is a charming take-away shop selling delicious cones, pints, and sundaes. The ice cream comes from beloved Rocky Point in Port Moody, as well as their own small-batch custom creations. There's the classics, such as cotton candy, bubble gum, and chocolate as well as one-offs like the New Zealand special Hokey Pokey (plain vanilla mixed with chunks of honeycomb toffee). Prefer something lighter? The citrus-forward sorbet flavours are a great palette cleanser, especially in between more decadent bites of double chocolate raspberry and espresso flake (who said you can't get more than one scoop?).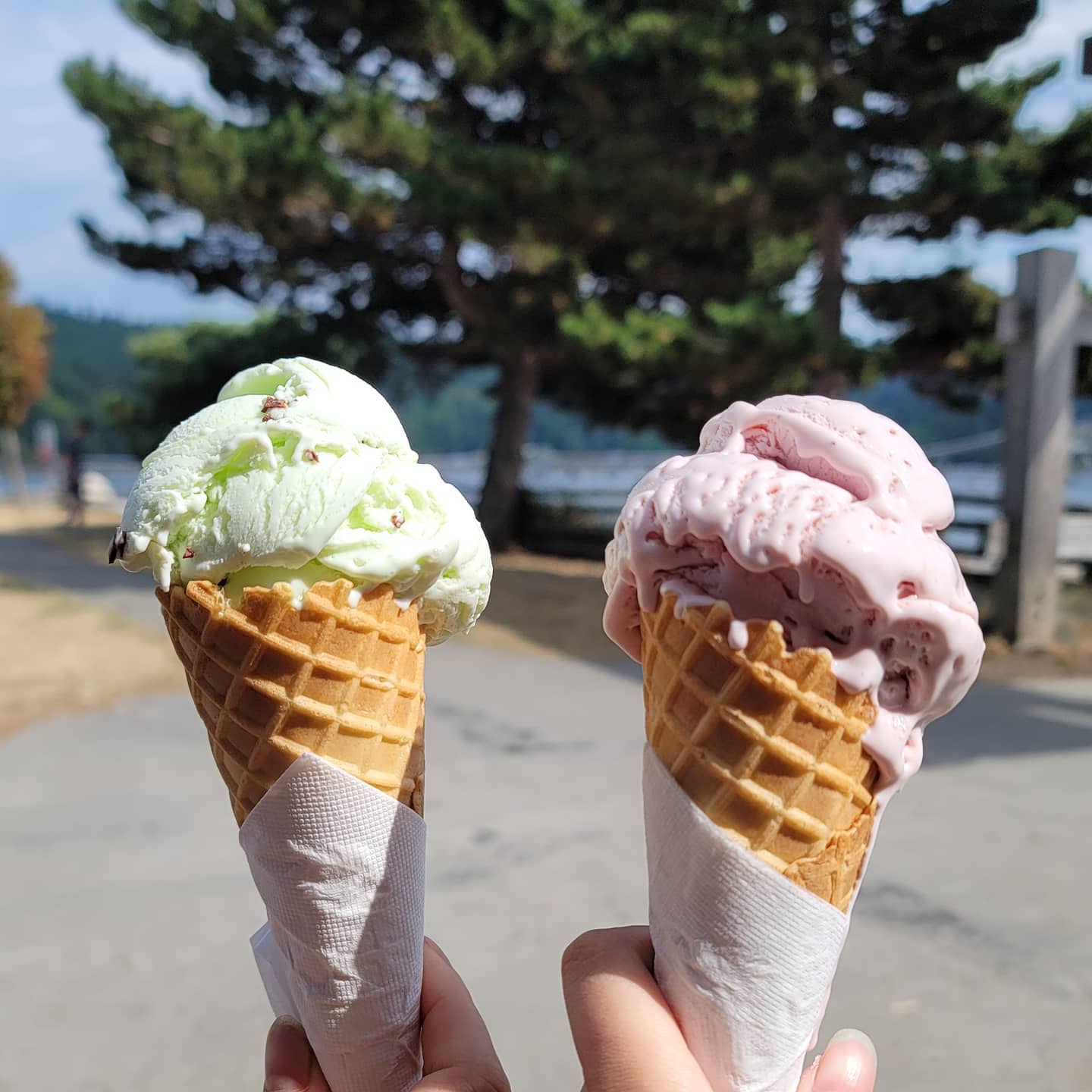 Mike's Place, Gibsons
It's hard to miss Mike's Place—just look for the lineup of gelato-hungry locals (and visitors) milling outside of this Lower Gibsons institution. Mike's has been churning out a wide array of decadent, rich, and velvety gelato since 2003. Made in-house using fresh and all-natural ingredients, you'll find 42 flavours to choose from, including Italian-inspired options like tiramisu or limoncello to more indulgent choices, like raspberry cheesecake or the ultra-rich hedgehog. Looking for a dairy-free option? Try one of the lactose-free versions, from raspberry pomegranate to coconut milk chocolate. Take your cone to-go and eat outside on the sidewalk patio or stroll down to Gibsons Harbour in search of coastal views and marine life.
Little Spoon Ice Cream 
While this small-batch creamy is newer to the Sunshine Coast, having opened only a few short years ago, the purveyors behind Little Spoon have deep roots when it comes to all things ice cream. (You can read about that here.) Now, they're selling the (seriously delicious) product of years of collective experience across the Coast. Their lineup of inventive ice creams starts with a commitment to sourcing the best in organic, local, and sustainable products. There's the Cinnamon Summer Berry, a cinnamon-infused cream swirled with blackberry plum jam. Or, the vegan Miso Caramel, a cashew and coconut cream blend with caramelized sugar and miso that makes a salty-sweet delight. Grab a cone from their summer stand at Sunday Cider, or swing by Persephone Brewing, Jamjar Canteen, or Goodacre Market to grab a pint (or two) to take home. We'd be remiss not to mention they serve highly addictive ice cream sandwiches, too.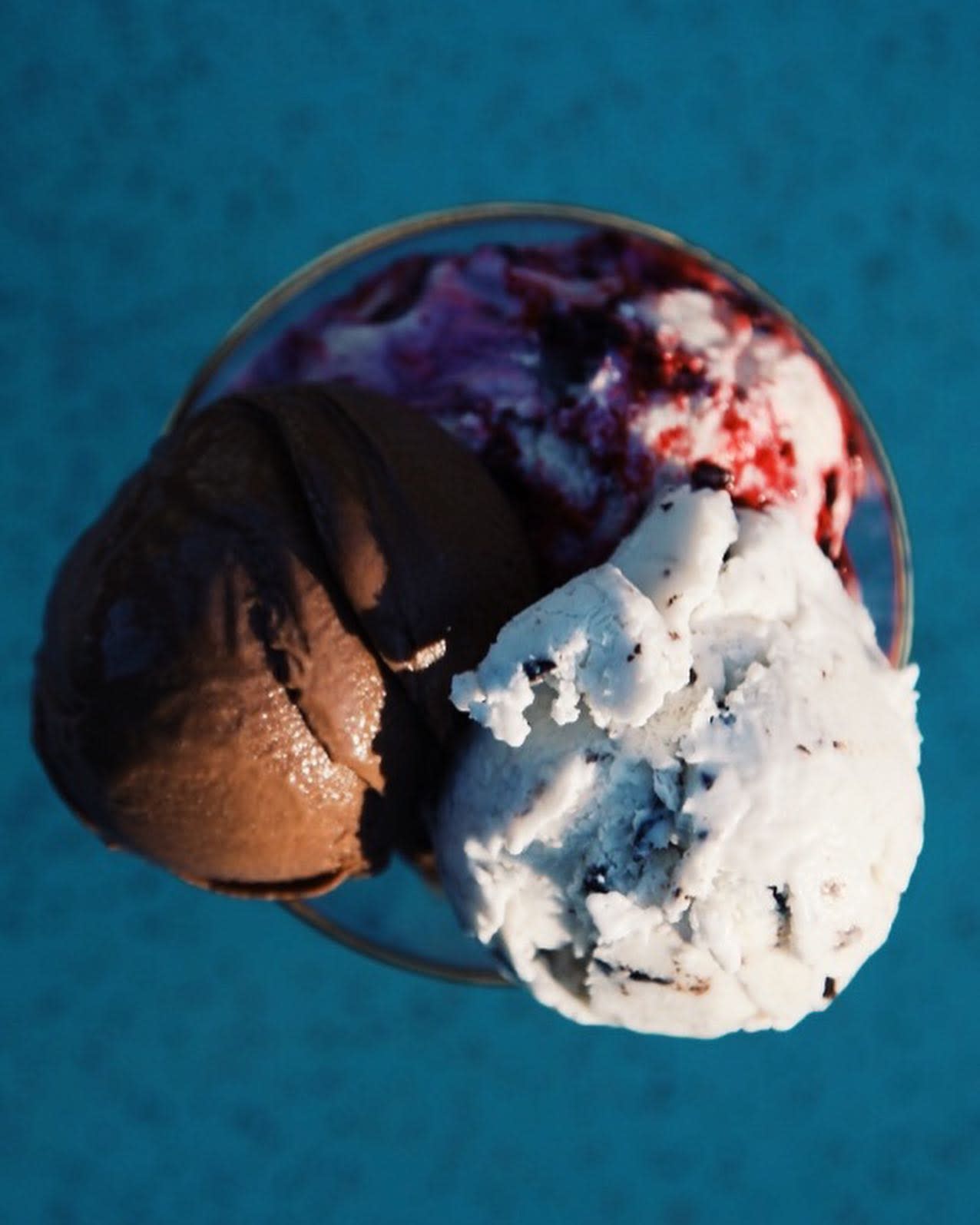 Barnabus General Store, Keats Island 
There's nothing like that quintessential summer spot that you visit each year for your daily ice cream cone. For Keats Island locals and frequent visitors, this happens to be the Barnabas Landing General Store. It also happens to be the only general store on the island, but don't let this fact deter you from thinking the ice cream cone isn't worthy of a visit alone. Located on a sprawling farm on the north end of Keats Island, just a short ferry, boat or paddle from Gibsons, this community gathering place serves up refreshing drinks, farm-fresh produce, and of course, ice cream. If you're not staying on-site at the Landing, you'll need to make the walk (or bike, though it can be hilly!). But trust us, the reward is sweet.
Molly's Reach, Gibsons
Some classics should never change: the iconic Molly's Reach sign, for one. And milkshakes. Luckily, you can find both at this eponymous restaurant (just look for the aforementioned signage and bright yellow exterior), which whips up decadent and oh-so-delicious milkshakes, served with a red and white straw, whipped cream and yes, a cherry on top. It's the perfect nostalgic-inducing treat on a hot, sunny day, ideal for both kids and adults alike. (Adults can also choose to have theirs spiked, if you're in need of an extra pick me up). Post-shake, wander down to the Gibsons Harbour or stretch your legs on the seaside path that hugs the waterfront from the public market to Amours Beach.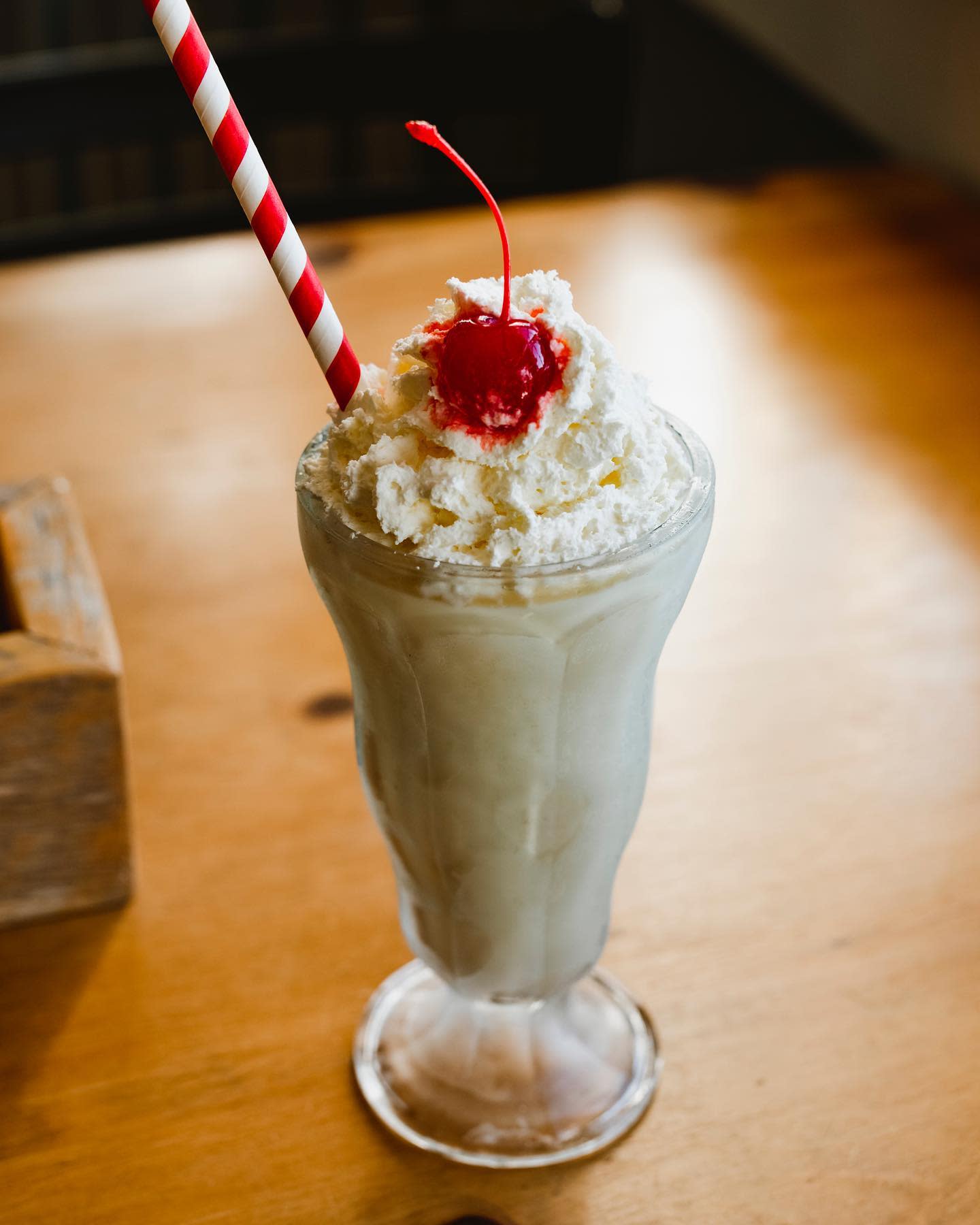 Folly Artisan Food Shop, Roberts Creek
Small-batch french custard-style ice cream? An idyllic garden in which to eat it? No, you're not in France, you're at the Folly Artisan Food Shop, a charming take-out window tucked behind the Gumboot Restaurant in the heart of Roberts Creek. While the menu changes frequently, depending on what's available and in-season, we can guarantee you won't be without a delicious treat to sample—Folly is also part artisan chocolatier, serving up bean-to-bar chocolate, gooey pecan clusters, and salted caramels. If you're a plant-based eater, try one of their handmade "nice creams," made with coconut and cashew milk.
Wild Scoop Ice Cream, Powell River
This artisanal ice cream shop is anything but ordinary. Wild Scoop serves small-batch, handmade ice cream (made with grass-fed dairy from Vancouver Island) in hand-rolled waffle cones. Their wildly inventive flavours take inspiration from their backyard (literally, as in Backyard Mint) and rotate depending on what's in season and available. Cult-favourites include the Peanut Butter & Jam Brioche, Maple Nettle, Pistachio and Pink Peppercorn, and  a salal, elder, and huckleberry combo. You can also make your own soft serve blend—just pick a base (classic vanilla, creamy vegan coconut, or banana) and add in your own fruit swirl, or sip on a kombucha float. Ice cream sandwiches and pints are available to take home.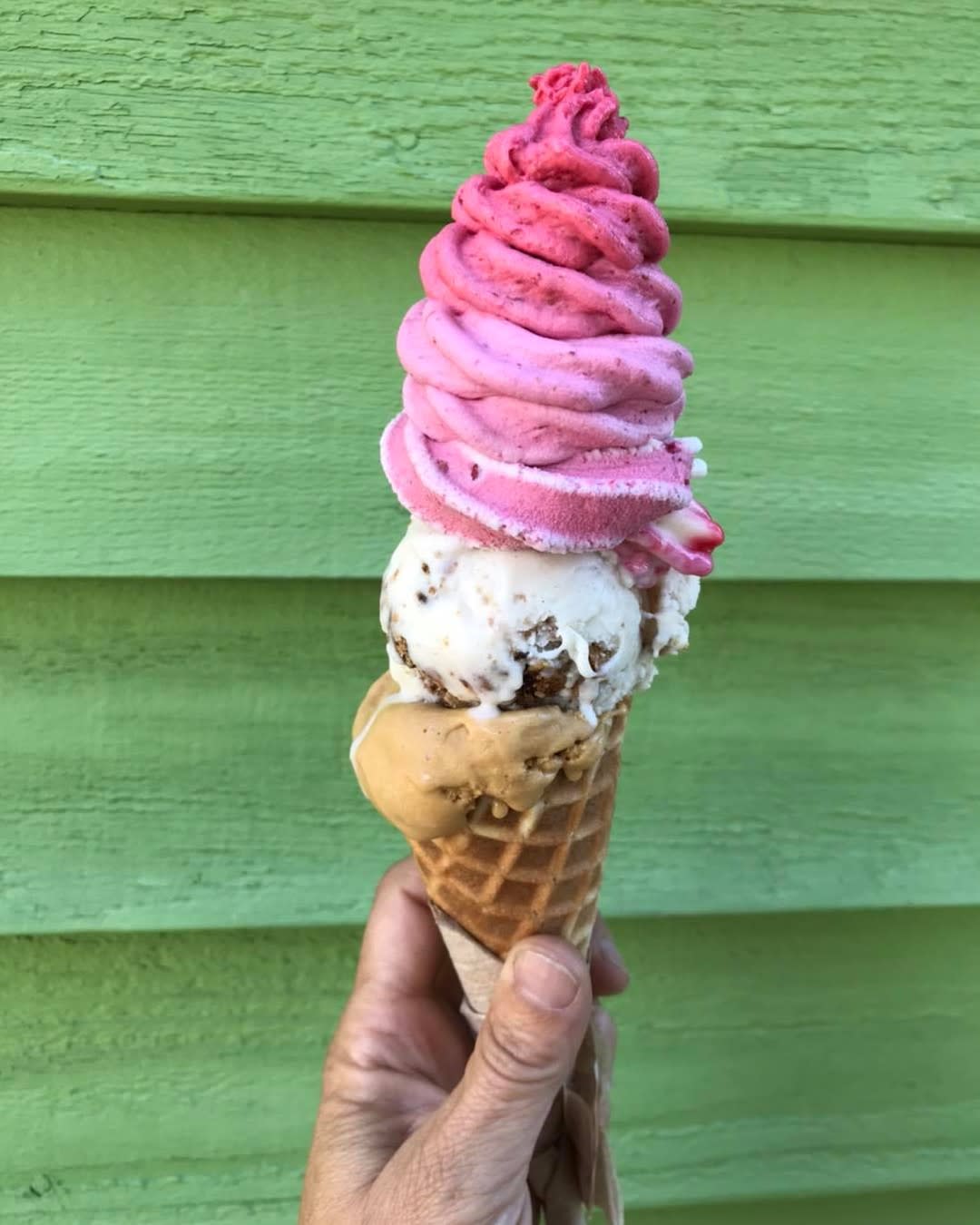 Hardy Har Ice Cream, Hardy Island
This one might take the (ice cream) cake as the most remote shop on the Sunshine Coast. Hardy Island is tucked away just offshore from its more well-known neighbour Nelson Island and faces Saltery Bay. There are no roads in or out (it's only accessible by boat or floatplane), and the island is home to mostly a handful of summer cabins—as well as one ice cream shop. Located along the only-dirt-road towards the northeastern side, this simple, cedar-clad takeout window serves up BC classic Island Farms ice cream in a variety of flavours, along with tasty baked goods and drinks. There are a few tables and chairs scattered outside where you can enjoy your cone in the shade, but we think it's best eaten en route to the beach where you can wash away any sticky remains with a refreshing dip.
Last Stop Lund 
Life is short, eat ice cream. Words we can get behind, and the motto for Last Stop Lund, a beloved ice cream sandwich stand selling fun and tasty treats. These handmade sandwiches are the stuff of local legend, and for good reason: small batch ice cream, sorbet, or vegan "nice cream" is piled high between two delicious cookie bases. The menu changes frequently, but that's all the more reason to seek out the flavour of the week. Past options have included a buttered popcorn ice cream on a double chocolate peppermint patty cookie, a strawberry shortcake crunch, and a sour cherry sweet custard on brown sugar burnt almond cookies. Grabs yours at their stand in Lund or on occasion at Farmers' Markets in the Powell River area.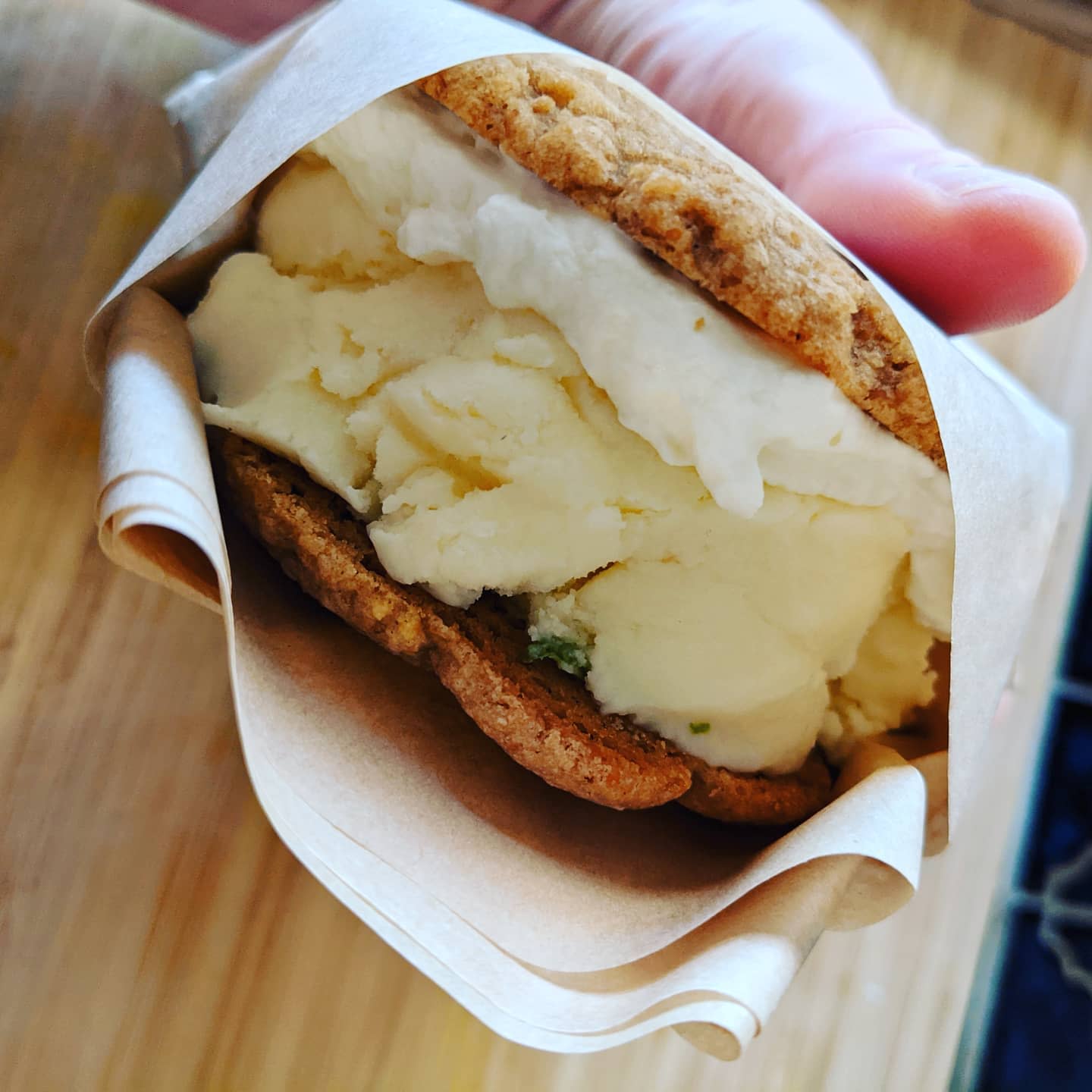 Sugar Shack, Savary Island
The Sugar Shack is just one of the three retail, storefront businesses on Savary Island (besides Riggers Pub and the general store), which tells you how much of a staple this sweet treat shop is to both residents and visitors alike. Set in a candy-coloured and nautical-themed building on the west side of Savary Island, this summer-only stand serves all the classic frozen treats, from ice cream sandwiches to single and double scoops to popsicles. There's also an assortment of candy and chocolate bars if you're craving something else. While the Sugar Shack is a destination in its own right (and an ideal mid-bike stop), you can also find their crowd-pleasing, cool treats at the Savary Island Farmers' Market and from their roving ice cream truck. 
Plan your visit to the Sunshine Coast here.